Commentary 14 Jul 2012 06:56 am
My Politics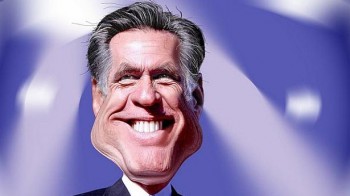 - Politics is starting to heat up, and I'm in heaven. I've got the Yankees doing great and have watched Mitt Romney on the run this past week. He's pouting that the President hasn't been fair when his campaign suggested that Romney may have committed a felony. Those papers said he was with Bain Capitol through 2001, and Romney said he was only the President, CEO and head of the company. He wasn't running it for the last two of those years. Hard to imagine someone who was President, CEO and Head of the company but who had nothing to do with the company. He may have been flying East for two years to attend Board Meetings, but he wasn't involved. This Presidential season is going to be a good one.
_________________________

Oskar Fischinger's Raumlichtkunst


Images © 2012, Center for Visual Music
.
- This past Wednesday I went to the Whitney Museum for the installation celebration of the show Oskar Fischinger's Raumlichtkunst (Space Light Art – A Film Environment). This is a recreation of a multiple screen film event that Fischinger developed in Germany in 1926, where it was first shown. It was recently restored by the Center for Visual Music in Los Angeles with Cindy Keefer acting as curator of the piece. Barbara Fischinger, the daughter of Oskar and Elfriede, was in attendance for the opening.
The exhibit features three full sized screens of abstract animation playing side by side by side. There are multiple media being utilized in the animation, and they all move with their own life. There is traditional cel animation, wax cutting, cut out animation and all done in multiple runs through the camera using bi-pack. The three films are looped, but they are not synchronized so that every showing is different. Working with Fischinger's original 1920s nitrate film, the Center for Visual Music restored the 35mm film via traditional photochemical processes, then transferred them to HD, digitally restored the color, and mounted this 3 screen recreation. The music playing includes a piece by Varese and two by John Cage.
The film is screened in a small screening room with plenty of standing room and a long bench in the rear. Heidi and I had met John Canemaker and Joe Kennedy at the event, and we went in together. There were one or two people standing and about four on the bench. Just enough room for Heidi and me to squeeze onto the bench, and the woman next to me got up and left. This led to the others on the bench leaving. It left John, Joe, Heidi and me alone in the room sitting. A private screening. We were able to talk about the film as it ran and enjoyed discussing animation stuff (Ones or Fours; bi-pack; reuse working with the negative etc.) Of course, it didn't take long for the room to take on many more people, and we quieted down. We sat through the whole thing at least twice, then went out to talk with Cindy Keefer once we saw here.
In these days when experimental film usually means representational pseudo-surrealist exercises, it's nice to see true experimental animation. Thoughts of Hans Richter, Walter Ruttman, Viking Eggeling and other great experimenal filmmakers from the 20s in Germany run through your head and create a real desire to see more of it.
Cindy Keefer and the Center for Visual Music has to be commended for the restoration of thispiece. It feels every bit a part of the 21st Century even though it was created more than 80 years ago. It's very much in keeping with other exhibits currently on view at the Whitney.
You can purchase some of Fischinger's work on line – here.
And, by all means, if you're in New York get to the Whitney to see this film. It will be there until October 28th.

_________________________

Blue Sky's Continental Drift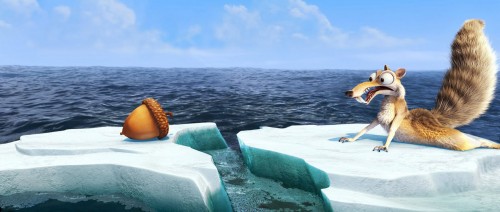 - The next night, Thursday, I saw the latest installment of Ice Age in 3D. Talk about wanting experimental films back again. As a matter of fact, I really didn't want to go to it, but went just the same. The crowd at the Academy screening room totalled no more than 10 people, maybe 4 members, 3 of us animators. (Where were the other dozen animation members?) I walked out of Ice Age 3 so expected I might do the same this time around. The story on that one was dreadful.
All the same, this film. Ice Age 4, was actually modestly entertaining with a hit and miss script loaded with many bad jokes. All of the film's humor (except for the annoying Scrat character) were verbal jokes – not quite what I'd aim for in animation. There were spurts of good animation and excellent performances by some of the voice actors. Others like Ray Romano, Queen Latifah and Denis Leary aren't actors, so the performances we get are not very good. John Leguizamo and Wanda Sykes are good, but Peter Dinklage gives the film's best performance. As a matter of fact, whoever animated his character, the Pirate leader, does the film's best animation as well. It made the film worth watching.
I've always liked the art direction of Blue Sky so had no problem settling in to that world, and John Powell's music was, as expected, first rate and professional. However, I do somehow wish that the Blue Sky films had more of a sense of lyricism, a tighter synch with the musical score. They never seem to quite get that part of the animation world, a part that can be the magic in a film if it's done well.
I thought this was worth seeing, but not worth rushing to. It's probably the same review I'd give Madagascar 3 if I'd seen it, and I'll see it toward the end of the year when the Academy gets around to screening all the animated features for us.
The NYTimes starts with an extremely positive review, but that's for a Simpsons short that plays with Ice Age 4. Then it turns quite negative with A.O. Scott's review disliking the feature.
"They come close to inspiring a new theory of prehistoric extinction: All those species clearly died from the hot air that gathered in the atmosphere as a result of their inability to shut up for even a minute.
"It may be too much to expect novelty — then again, why shouldn't we? — but a little more conviction might be nice. "Continental Drift," like its predecessors, is much too friendly to dislike, and its vision of interspecies multiculturalism is generous and appealing."
And Elizabeth Weitzman in the NYDaily News also is down on the film:
Something has surely gone wrong when there is not a single moment in "Ice Age: Continental Drift" that equals the four-minute "Simpsons" short that precedes it.
Likewise Kyle Smith's negative review in the NYPost:
The best part of "Ice Age 4" happens before it begins, with a funny five-minute short featuring the Simpsons.
_________________________

Poe's Stamp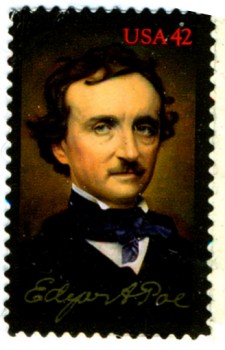 - When you're making a film called POE, people tend to give you Poe stuff. My sister, a while back, gave me the stamp pictured above when the US Post Office released it. I just thought I'd share it with you.
In the meantime we're working away at the opening. I've finally got a storyboard I like and we're now finishing off the animatic and will begin animating it very soon. It's got a tight deadline since we'd like to have it ready to go to Toronto to try selling at the film festival in September.
_________________________

Barrier's Review and Interview
Mike Barrier gives us the second part of the Phil Monroe interview. A solid read. He also reviews Brave. Some things are worth waiting for.

_________________________

Giraf's Fest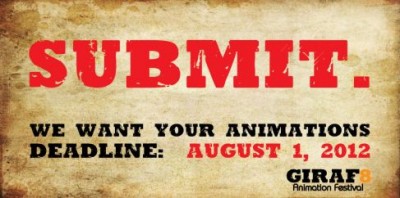 - The GIRAF Animation Festival has a final call out for submissions. The deadline for submission is August 1, 2012. I was curious about the Festival and when they asked that I try to help get the word out, I thought why not. I like that it's in Calgary. Wasn't that the place where they shot all those SCTV shows?
So here's the info from their email:
The 8th annual GIRAF (or the Giant Incandescent Resonating Animation Festival) is looking for Animation submissions, in all styles, genres, lengths, and mediums. Our programs are a strong eclectic mix of animation, representing the best of the medium from Claymation to CG. We focus on presenting indie, experimental, and underground animations that push boundaries through new techniques, unique visions, and stimulating subject matter. Our 2011 program featured visiting artist David O'Reilly, and 3 of the 5 Academy Award nominees for Best Short Animation!

We DO NOT CHARGE A SUBMISSION FEE, and encourage short and feature length local, national, international, and student submissions.

Animators can submit online at: www.giraffest.ca
3 Responses to "This Week"
on 14 Jul 2012 at 12:05 pm 1.Charles Brubaker said …

I may check out ICE AGE 4 just for the Simpsons short that precedes it. What did you think of that, Michael?

on 14 Jul 2012 at 2:27 pm 2.Michael said …

The Academy didn't show the short with the feature. They never do. I'll see it when we vote for eligible short subject screenings in Novemeber. It'd be nice to see it nominated. 2D 2D 2D.
Leave a Reply