Articles on Animation &John Canemaker &repeated posts &Tissa David 22 Jul 2012 04:46 am
- The 1975 issue of Millimeter Magazine is an animation issue. There are a number of enormously informative articles. I was rereading a copy of the magazine, this past weekend, when I came across the Close Up section, wherein a couple of bios appear.
I'd like to show one for Tissa David that was included. I assumed John Canemaker authored the piece; there is no byline. When I asked him, he responded thus: "I wrote the article on Tissa. The quotes are from my first formal interview with her. It was for Millimeter when I was the animation editor and put together special animation issues."
Tissa looks so young in that photo.
TISSA DAVID
"I am a frustrated comedienne, for sure," Tissa David will tell you, only if you ask. "I am a clown. If I weren't shy, I'd probably be on the stage." Instead she is an animator, one of the world's best and busiest, and one of the few women to have reached the top in the traditionally male-dominated animated cartoon field.

She joyfully toils in her East-Side New York apartment, a warm, plant-filled place that often smells of baked apples. Classical music swirls quietly from a radio and the glow cast from the light under her animation board gives her the look of a sorceress.

The lady has class—a fact one gathers upon first meeting, but a fact that is reaffirmed by catching a look at the creatures she is conjuring to life on her drawing board. The graphic line is strong and free, yet elegant (as is the artist); and when the drawings are flipped, the creatures move through their paces with a deliciously droll humor, a wit that is uniquely Tissa David's.

As a child in her native Hungary, Tissa saw Disney's SNOW WHITE and thought (as so many others have thought after experiencing that film masterpiece), "Now this is something I want to do." After graduating from art school, she became an assistant animator at Magyar Film Iroda in Budapest; a little more than a year later, in 1945, she was a co-owner of the Studio Mackassy and Trsi supervising all phases of production including story and camera and was sole animator of the puppet and cartoon films.

She left Hungary in 1950 during the height of the Stalin regime, and finally landed in Paris.

Jean Image Productions hired her in September 1951 and for two years she read sound tracks, planned layouts, animated, and did the entire editing of the feature-length, BONJOUR PARIS (1953). That studio closed and Tissa animated at La Comete next, a studio that had been Paul Grimault's.

"I had absolutely no relatives outside of Hungary except in the United States. So I asked for a visa in 1950. It took at that time five years to get a visa, that was still the quota system. So I came to New York…I loved the U.P.A. cartoons. I decided I wanted to work in that studio." In 1956, the United Productions of America's New York Studio was the last tenant in a brownstone on Fifth Avenue and 53rd Street slated to be torn down for the construction of the 666 Tishman Building. There was a French girl in the UPA studio and so she introduced me," Tissa recalls. "I had no sample reel. I went in once to make a sort of tryout. I was scared; I didn't speak English, so I was just waiting, waiting, and Grim came by…Grim Natwick is the history of animation and I can rave about him. He created Betty Boop and animated the character of Snow White all the way through. UPA had an awful lot of work and they needed an assistant to Grim."

At that initial meeting, Natwick boomed, "Now, you know what animation is!" Tissa quietly answered, "Animation is—animation." Natwick laughed, "You can't argue with that!" and thus began a professional partnership that lasted twelve years. "Isn't it strange," says Tissa today, "that SNOW WHITE got me into animation and I really learned my animation from Grim. I know a great deal about animation, I know I know, because even today I don't do one line without something in my brain Grim told me."

After UPA closed in 1958, Tissa and Grim freelanced as a team on countless TV commercials, and since Grim's retirement, Tissa has soloed successfully and most notably on several John Hubley projects, i.s.: Of Demons and Men (1970), Eggs (1970), Children's Television Workshop segments Cool Pool Fool, True Blue Sue, Truth Ruth and others, and Cockaboody (1973). Her latest animations include three CTW Letterman episodes, a scene in Shamus Culhane's Noah's Ark production, and over 110 feet of Hubley's Bicentennial film, People, People, People. She has just completed some experimental animation fora Dick Williams project and is now starting, also for Hubley, a TV special based on Erik Erikson's writings.

A description of Tissa David's style of animation is difficult; for while it is a distillation of the Disney influence in timing, the UPA sense of humor-through-graphic-design, and the strong, poetic John Hubley mode, it also contains a different character, unique to Tissa David, that she calls the "female difference…If the same scene is animated by a man and by me, there will be a great difference, not in quality but in interpretation. John Hubley told me I have a fine sense for detail, not in the drawing itself because I make very loose drawings, but in a scene, in expressing feelings. I am a very intuitive animator—I never know when I sit down to work what will happen."

For all her gentleness, Tissa also contains an inner core of strength exhibited in her single-minded devotion to her art. Her opinions about that art, herself and other topics, is disarmingly to-the-point: "I believe very strongly that one must know how to draw," she will offer on the subject of how-to-animate. "Even if you just animate objects, you must have a knowledge of drawing." As for her struggles securing her place in animation, Tissa will admit, "…its very hard. Women can find work in animation if they have enough will to follow through and really do it. Even today, I'm always saying if I keep busy long enough, I will become a good animator."
At the time this piece was written, Tissa was completing work on a pilot for Dick Williams' film, Raggedy Ann & Andy; this one minute piece got Dick the film over Joe Oriolo and Shamus Culhane. She would thereafter work on John Hubley's Doonsebury Special (just as he died mid film); and she was to animate for R.O.Blechman's Simple Gifts.
Here's a more recent photo of Tissa.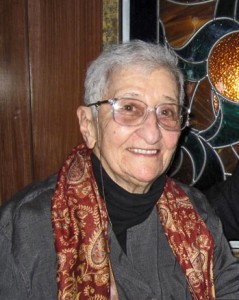 Tissa David was 91 last January.

4 Responses to "Tissa – 1975"
Leave a Reply