Animation &Animation Artifacts &Hubley &repeated posts 30 Jul 2012 04:55 am
-Tissa David animated a lot of the Electric Company pieces for John Hubley. Hubley would design and write the spots, and he would get some real pros to do the tracks. In the case of this film, I believe it was the jazz legend, Billy Taylor, who wrote the music and did so for a number of Hubley's Electric Co. films.
I'd like to post John Hubley's LO drawings and follow it up with a few of Tissa's animation drawings. John would usually do the loosest of layout drawings – usually in the presence of the animator as part of a discussion – and then hand it off to this person he trusted. Of course, the more he trusted the animator, the less he had to do in the LO.
In the case of this spot, Tissa received the following drawing. (That's right ONE drawing.)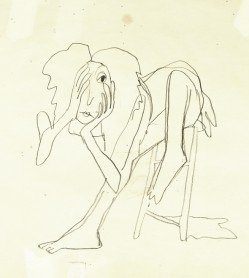 (If you click any the image, you'll
reveal the full sized animation drawing.)
Enlarge the image, and you'll notice tape marks and pin holes where Tissa attached it to her wall.
Here's a short sequence of drawings done by Tissa. The missing mouths are on a separate level. This piece is built on reuse done artfully.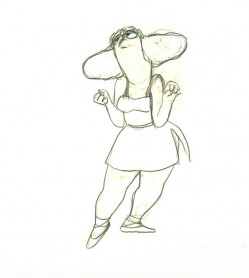 48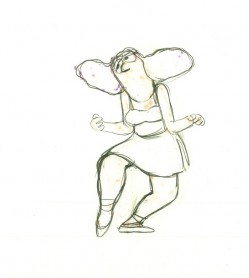 49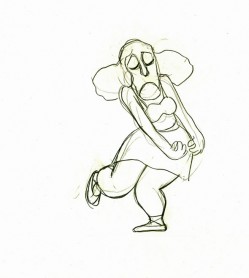 64
Here's how the drawings looked when they were colored. They were colored on heavier paper. Sharpie outlines and marker coloring. The white background was all they used for the final. The animation carried the piece.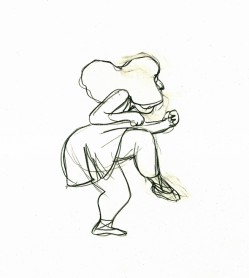 73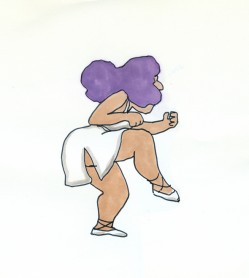 73

Finally, here's a copy of the film found on YouTube:
5 Responses to "Tissa's Glad Gladys – revisited"
Leave a Reply