Action Analysis &Animation Artifacts &Disney &Frame Grabs &repeated posts 31 Jul 2012 05:12 am
- This old post on Exposure Sheets was a popular one back in March, 2009. Today most animators work with the track and no track reading or record of the moves they've done. It'd be a nightmare to try to reconstruct what they've done in a scene. All we now have to go on is the completed scene. A lot is lost in the history of animation being done today. For that reason, I thought it'd be nice to take a look at all we can learn from one simple X-Sheet.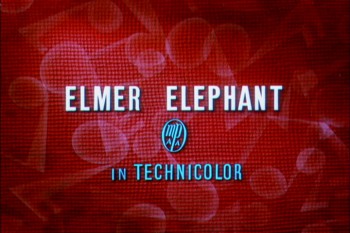 Robert Cowan sent me an exposure sheet that was tucked into an envelope in the Ingeborg Willy Scrapbook, which he owns. (Ingeborg Willy was an inker working at Disney's during the 30′s and made a photographic scrapbook of her stay.)
The sheet is from the Silly Symphony, Elmer Elephant (1935).

(Click any image to enlarge.)
The film's about a bunch of baby animals.
Elmer is the shy kid who gets laughed at by the other kids.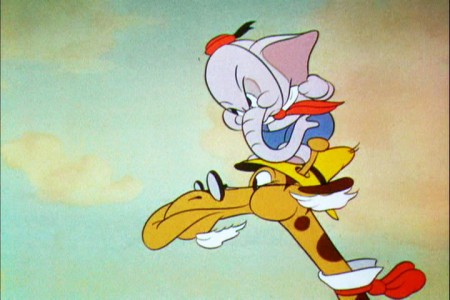 Eventually with the help of an old giraffe he saves the day by putting out a fire …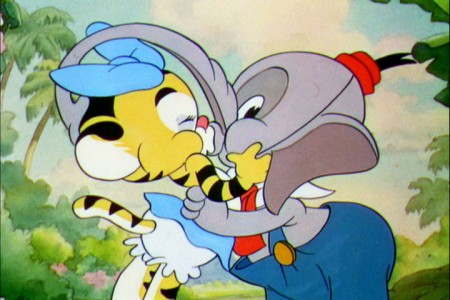 … and winning the girl.
This exposure sheet is about a sequence wherein Elmer is pushed across a row of animals and is poked and prodded in absolute humiliation.
___________________
Let's review what's on the sheet for the completely unitiated viewer:
There are several columns: Action, 4,3,2,1 and camera.
These are basic to all X-sheets. Sometimes you get 5 numerals, oftentimes you get a column for Bg. Uusaly there's also a Track column.
Below these descriptives you have lines. Each light blue line represents one frame of film. If the drawing's on twos or threes or more it's indicated as in #149. Other numbers are on ones – one frame per drawing.
In the "Action" column, the director writes notes telling where he wants some action to happen. For example: the director has noted that he wants Elmer to try to stop his turn from frames 32 through 49. The animator will follow this as best as possible.
The numbered columns represent cel levels. #1 is the bottom cel and #4 is the top cel. Most sheets also have a column for the Background so you know what number Bg is called for.
The "Camera" column indicates any special camera movements or effects. There we see a pan. The Bg is moving from screen right to left. The actual amount of the physical movement is indicated on every frame. 1/2 is a half inch, 1/4 is a quarter inch etc. Pans usually slow down as they come to a stop and gear up when they start out. This is why it goes from 1/2 to 3/8 to 1/4 to 3/16 to 1/8 to 1/16 before you reach STOP PAN.
You'll see the sound track indicated at red marked 163 top line middle of the sheet. A character is saying, "Bye Elmer." The actual number of frames it takes is broken down for you. The animator would animate the mouth accordingly.
Here are frame grabs for the part exposed.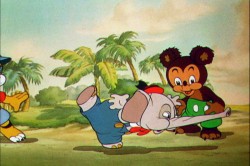 1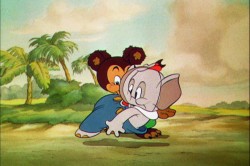 2
Let's analyze the exposure sheet a bit. (For those not familiar with X-sheets, I have more of a breakdown below.)
First off, for me it's an oddity. There seem to be two sheets combined onto the one. It's split down the middle into two full sheets – all using only one cel level.
Secondly, there are some highlighted numbers – 160 through 165.
These fall at every 32nd frame. I'm not sure why. It's not a foot (16 frames) or a second (24 frames). Is it a beat? I notice that the action calls for "ACC" at each of these markings. I assume it stands for "Accent" which would make that part of a musical tempo. Every 16th frame is also marked in red. This would be the only indication that this is what it is.
The pan moves are indicate in FRACTIONS ! I'm not sure why since it created a difficult transposition to decimals for the camera operator. I mean 3/8 of an inch equals what? Quickly now. Time is money. How about 1/16th? I have only met fractions which divided into 20ths. When did the change come in? John Oxberry, anyone?
Of course, some master checker would probably do the math before the scene got to camera.
Some of the drawings are exposed on twos, even for a short bit during the pan. This would be anathema in modern day animation, yet it hasn't gotten better.
The track reading isn't the most detailed I've seen, yet it does the job, doesn't it?
The film is directed by Wilfred Jackson. I assume the "Action" column was filled out by him. I think the animation was by Paul Hopkins.
There's a lot of information that can be pulled out from this one exposure sheet of a film done 73 years ago. Is that enough reason to advocate for continued use of the Exposure Seet?
11 Responses to "Elmer Elephant X-Sheets – recap"
Leave a Reply