Animation &Commentary 07 Aug 2012 06:20 am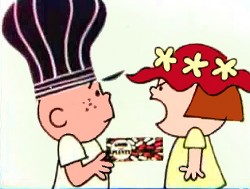 - Jack Schnerk's daughter, Mary Schnerk Lincoln, has put three of her father's commercial sample reels onto YouTube .
Just last week I found myself using one of those reels to showcase a Rowland Wilson designed commercial done for Phil Kimmelman & Ass. Seeing that reel again, brought me back to the other two reels on YouTube, and the great work animated by Jack. There are a number of well-known and collector's item commercials in these reels. Included are spots designed by the likes of Gahan Wilson, Tomi Ungerer, Charles Saxon and, of course, Rowland Wilson.
Jack Schnerk was a great animator who deserves considerably more attention. He was a strong influence on me in the first eight years of my career and taught me quite a few large principles about the business. He also told me a few stories of his work as an assistant at Disney's on Bambi and Dumbo as well as the great times animating at UPA and the difficulties of animating at Shamus Culhane's studio. Actually, he didn't tell me about his problems with Shamus; another animator did. Jack complained about the business, but never about how he was treated.
He did have an exercise which he thought was important for an animator to pass. He suggested you animate a character walking in a 360° circle away from and back toward the camera. This is a tough test of mechanical ability, and Jack is right; it's tough and can prove your mettel. (Milt Gray does just that with his somewhat vulgar character, Viagri, but the animation is impeccable. Milt's a first rate animator.)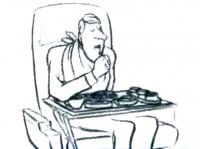 I wish I had more samples of the many scenes Jack animated that I assisted. He worked in a very distinct style – I don't think I've seen anyone else ever draw that way. Somehow, the very rough drawings weren't hard to clean up, and, though he worked very rough, he didn't leave the bulk of the work for the people following him. He was concerned about the timing and did every drawing he needed to make sure that timing worked. Most of the time we worked together, he had no chance to see pencil tests. Only on Raggedy Ann did he have that luxury, yet he was always taking a chance on the scene, pushing to some new way of doing it. I think of all those Hubley scenes that went to color art, yet Jack had done some daring moves that could have made some of the scenes go bust. None ever did.
I met Jack at the Hubley studio, then again when I worked for Phil Kimmelman. At Raggedy Ann, I dropped Jack's name as often as I could until Dick Williams finally saw him, and brought him on board. There was no doubt he would, Jack was that gifted. At least once a week at Raggedy Ann, Jack would give me some original piece of advice, and the more I followed it, the better my work grew. Something as simple as draw rough. I'd been an assistant too long, and my clean line would assure that my animation would never move out of those lines.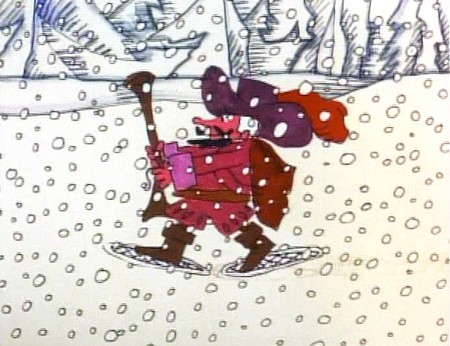 Jack Schnerk animated the French trapper sequence. There was such a rush
on the scene that I remember Jack bringing it in saying he hoped it would work.
Jack had a dark side, that I appreciated, but he also brought a lightness and individual sensibility to the work he did. He took chances in his animation and timing and sometimes failed but usually succeeded with them. That's more than I'll say for most of the animators I've met in the business.
See
Though not always the best quality, you can also watch a few of the longer, famous short films Jack animated on:
Gerald McBoing Boing by Bobe Cannon. Jack told me that this includes the first scene he ever animated, even though he didn't get credit. He did Gerald running alongside the train (starts at 4:41)
Tender Game by John & Faith Hubley
Really Rosie directed by Maurice Sendak
A Nose by Mordi Gerstein
The Violinist by Ernie Pintoff
Give Me Liberty by Ralph Bakshi is one of many bad shorts done for Terrrytoons at the end when Bakshi was in charge.
After reading this post today, Bill Peckmann sent the following note:
Hi Michael,

Your post today on Jack was just wonderful!

When I broke into the business in 1962 at Elektra Films, Jack's room was the one they put me into. It was pure heaven! As a super, wet behind the ears novice, to be in the same room with someone that had ACTUALLY worked at Disney and UPA, you gotta be kiddin'!

My luck held out further because I assisted/followed up Jack (at Focus and PK&A) on all of the print cartoonist/designer spots you mentioned today. I would have done that work without pay! The combination of Rowland and Jack on a job, I still need smelling salts.

As when we all worked on Rowland's spots, where I did those caricatures of Jack, 'Sounds of Focusville' and 'Kimmelman of the Klondike', I also did this caricature (attached) in Gahan's style of Jack when we worked on 'Carter Hall, Pipe Tobacco' together.

I will pull together Xerox copies, pencils and stats of the art of Gahan, Bob Weber, who ever I can lay my hands on, etc. of the spots that Jack animated plus a JS rough or two.
We can look forward to more of Jack Schnerk next week, thanks to Bill's collection.
One Response to "Jack Schnerk, again"
on 07 Aug 2012 at 2:28 pm 1.The Gee said …

In the third reel, there's a lot of animated lettering.

While I presume most of it, with perhaps the exception of the Chevrolet ad at the end, is hand lettered and Schnerk handled the animation, was that typical? Was it typical that the animator did it or was it something that was handed off to someone else?

I watched all three, with the second one being one I watched before. It is a lot of really nice work.

Reel one has a couple of airline commercials. The one with the line of families at an airport has one of the 360 degree runs mentioned. The kid running with the toy plane.
Leave a Reply