Commentary &Puppet Animation 11 Aug 2012 06:16 am
This has been the week of puppet animation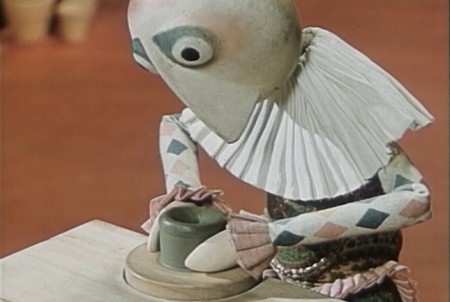 - When I was young I was into puppets. All kinds of puppets. I made puppets, all different type of puppet. Marionettes were made of wood and string or muslin and string. Hand puppets were made of muslin and other types of cloth. I never really went into sock puppets; they were too easy. But I did buy puppets. There was a whole line of marionettes made of a wood-like resin of the Disney characters I had the Tramp and Lady. I had Mickey Mouse and Donald. I had a puppet theater in the back yard, and the kids of the neighborhood would pay to see shows I put on with a couple of siblings. The candy counter made a lot more money for us.
Even more interested in animation, I spent most of my time trying to teach myself everything about film. Naturally, puppet animation was something I worked a lot. It'd take time to animate drawings and then more time to color them and shoot them. It was faster to animate puppets. Once you had the model, you could just keep going. I have all this 8mm film of different types of puppets animated. For some reason a "Twist-o-flex" Goofy running from a Lionel train chasing him down a track stands out. It was fun.
I was in love with Georg Pal's films and watched all that I could get my eyes on. I watched a lot of European animation on some of NY's local channels. They'd infrequently have stop-motion Eastern European films. Once in a while some local channel wold run Lou Bunin's feature, Alice in Wonderland, or I remember watching Jiri Trnka's feature version of A Midsummer Night's Dream. Richard Burton narrated it and did all the voices. That Sunday afternoon was heaven. I'm not sure if it was the film or the fact that I had some alone time in my house. (When you have a family of seven, you appreciate those quiet moments.) It didn't take much for me to become a fan of Trnka's work; his work sang to me. The more I looked into it, the greater he became.
This was just when Jim Henson was breaking on the scene. The muppets didn't exist yet. I give this all as introduction to what this past week has meant to me. It was a week of puppet animation in New York.
______________________

Alice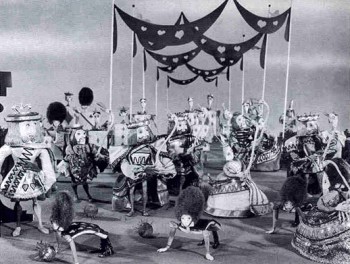 Monday night, the Museum of Modern Art had a screening of Lou Bunin's 1950 feature film, Alice in Wonderland. Heidi and I went to the screening that had about half of the seats filled. I'd forgotten that the film was shot in AnscoColor. This was post WWII, and England didn't have access to the three strip Technicolor. The film was limited to red and green colors, so everything looked chartreuse or orange. In other words, ugly.
The brown mixture grew more and more annoying as the 90 minute feature progressed. The costumes were designed to exploit the two strip color hues, and this might have been a mistake. Alice was dressed in a chartreuse and orange dress, and she might have stood out more attractively had she been wearing white. In fact, the film looks much better when shown in B&W.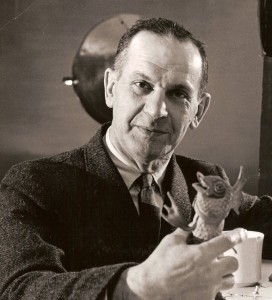 The state of puppet animation wasn't quite so sophisticated in 1950, at least as it would seem from this feature. Many clunky character moves revealed the budget constraints of the film. The magic and grace of the George Pal shorts felt missed on Lou Bunin's film, but there, again, the disparity of the budgets had to have been noticed.
I briefly met and worked with Lou Bunin in the early days of my career. John Gati, a stop motion animator in New York hired me to work on a Care Free Sugarless Gum commercial. Care Free and Trident gums undressed and jumped onto a scale with Care Free weighing more for your money. It took a week to do the 20 secs. of animation in the spot. But just as we were completing animation, we learned that Trident had changed their packaging, and we had to redo the entire spot. At the end of the second week, and the second version of the spot, we learned that Care Free would update their packaging, as well, and we had to do the spot a third time. One week's work stretched to three, but the work was getting redundant and irritating.
In the middle of that third week, Lou Bunin moved into a corner of the studio. I learned that he was doing a test spot. He was doing a version of the Lucky Charms elf as a puppet and animating it. The puppet was a beauty, and I convinced Lou to allow me to work for him (for free) to assist in the spot. I enjoyed myself for a few more days, and got to meet the man who'd made the only stop motion animated feature.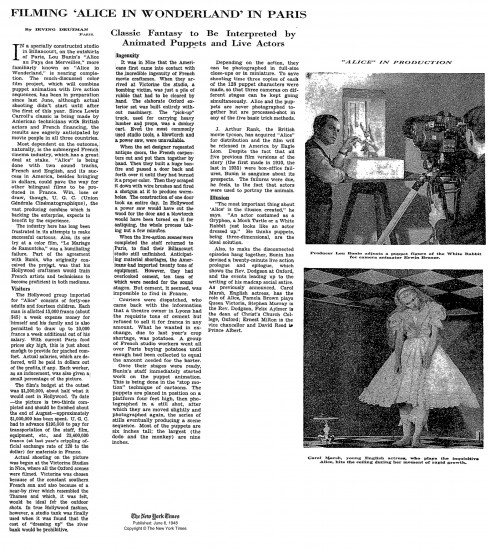 A news item during the making of Lou Bunin's Alice.

______________________

Quay Brothers
- Just 12 hours later, at 10am on Tuesday, there was a Press showing of the Quay Brothers exhibit at MoMA. I was invited, and I took the opportunity to see the show with the fewest numbers of people who would gather around the smallish artwork. They told us where to go in the Museum (which had another hour before opening) and left us on our own. I went back in the evening to the opening party. Go here to read my review.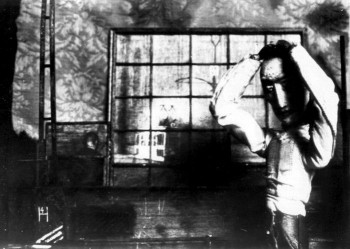 I reviewed this in detail this past Thursday. The show was exhilarating for me. Since getting the first taste of the Quay brothers back in 1980 when I saw their early film Nocturna Artificialia at the Ottawa Animation Festival. A good half of the audience didn't know what to make of the movie and were impatient. The other half were completely taken by the film and knew it was one of the best of the films we'd seen. The jury at that festival deservedly gave top prize to Tale of Tales. That was the same year that Yurij Norshtein took the world with his masterwork of a film. Indeed, Tale of Tales was (and still is) a greater film than Nocturna Artificialia. (Interesting that Tale of Tales is a cut out animation film – essentially also stop motion.)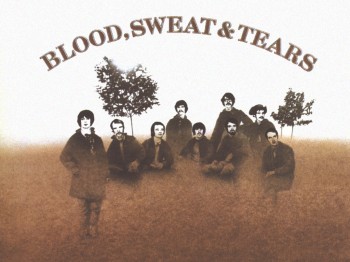 Of course, the brothers Quay are more than stop-motion filmmakers. They've done live action as well as documentary films; they've designed theater sets and books and record albums. The Blood Sweat and Tears first album cover is theirs. They were asked to design the cover without heads on the musician's bodies. According to the brothers, the record company didn't trust them to do the heads correctly; so the producers pasted hi-contrast images on the heads of the bodies, and they didn't match the graphics the brothers had done. (Actually, the story isn't properly told on the museum's wall note; they make it sound as if the brothers had decided to leave the musicians headless, and the record company had to correct the situation. At the very least, it's ambiguous and led to someone questioning the brothers during the museum's Q&A.)
______________________

ParaNorman
- Then there's ParaNorman. This film is scheduled to open next week. It's a stop-motion animated feature from Laika, the company that backed Henry Selick in the making of Coraline. They got rid of Mr. Selick, and made a follow-up feature about zombies called ParaNorman. I'm scheduled to see that film tomorrow morning in an industry screening. In fact, I've been asked to lead the talkback, a Q&A with the directors: Chris Butler and Sam Fell. Mr. Butler had been the storyboard supervisor on Coraline, and Mr. Fell had been a director of the cgi features, Flushed Away, the first non-puppet feature from Aardman, & The Tale of Despereaux.
I'll report on the event and review that film on Tuesday.
By the way, when I last spoke to them yesterday, I was told there'd be some extra seats. So if you'd like to see ParaNorman on Sunday at a 10am show try going to this link: ParaNorman. Note that they say that RSVPing doesn't necessarily guarantee a seat. At the moment, I know there are seats available; hopefully everyone will be able to get in.
RSVPs.
SUNDAY, AUGUST 12TH
10:00 AM
AMC Loews Kips Bay 15
570 Second Avenue (@ East 32nd Street)
The NYTimes today has an article about ParaNorman and puppet animation.

______________________

Some After Thoughts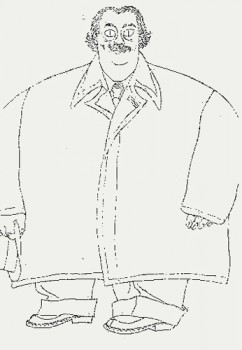 Gene Deitch's birthday was this week (he likes to point out that his birthday was 8/8 (August 8th when he turned 88.) He's still keeping the blog up and he's writing a new book. (If you haven't read his book, How to Succeed in Animation, on AWN, go get it now – it's free.
There are a couple of key things about puppet animation on his site, Roll the Credits. The information about his firendship with Jiri Trnka is worth the price of admission.It's just great reading with lots of key photos.
Gene also has a video tour of the Kratky Puppet Studio, a walk-through with Bretislav Pojar. This is a handy llittle treasure of a video. Thanks to Gene from all of us who love puppet animation.
______________________
One Response to "Puppet Animation"
on 13 Aug 2012 at 1:37 am 1.Jonah Sidhom said …

Have you seen The Emperor's Nightingale by Trnka?

I just watched it the other day, thought it was really incredible. It feels like the perfect childhood film that I never watched. I think it's funny that such a large, somewhat intimidating man made some of the most fun and innocent animated films I've seen. I can definitely see the comparison of his films to Disney's work. Considering his appearance, it would be funny to see Trnka hosting his version of a "Walt Disney Presents" type show.
Leave a Reply