Articles on Animation &Books &Rowland B. Wilson 10 Aug 2012 03:34 am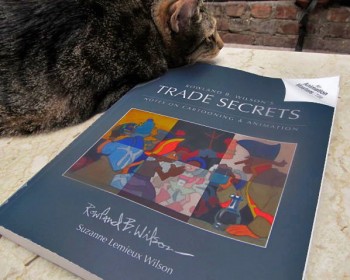 – Finally, I've received my copy of the book by Rowland and Suzanne Lemieux Wilson.
Rowland B. Wilson's Trade Secrets / Notes on Cartooning and Animation.
I'd been waiting for this book to come to me since last April when I ordered it. With barely a few hours to scan through it, I can attest to the fact that I think it was well worth the wait. There's so much there there.
The depth of information on every page is enormous, and just perusing the book, flipping the pages, takes time because the material within is elaborate and complicated. Yet, watching Rowland Wilson break down the information makes you realize what you already know from studying his cartoons: this guy knows a lot, and all of it goes into the choices he's made in every cartoon.
Consequently, with the book in my hands for only a couple of days, I can't possibly review it. It's going to take a long bit of time. I'll give you a couple of sample pages from the book, so you can see what you'll be getting if you buy the book (and let me tell you, you should buy this book. It's a gem, a masterwork of information that's near-impossible to see collected anywhere. But it takes time.)
The book gives many and varied sheaves of information. At first, I've scanned a couple of pages of thoughts on character models. Here are two:
one on women: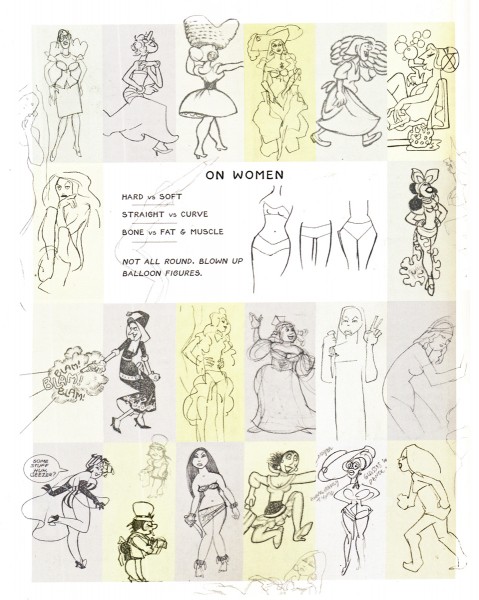 1
and one on stocky characters: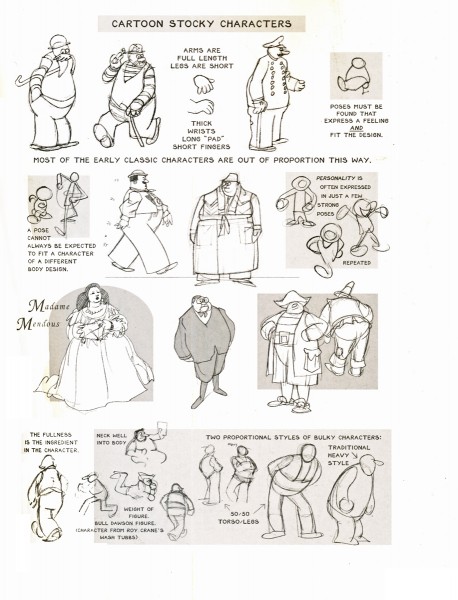 2
When he gets into the images being created, there's even a page about iconic imagery within the images being developed. Drawings within drawings.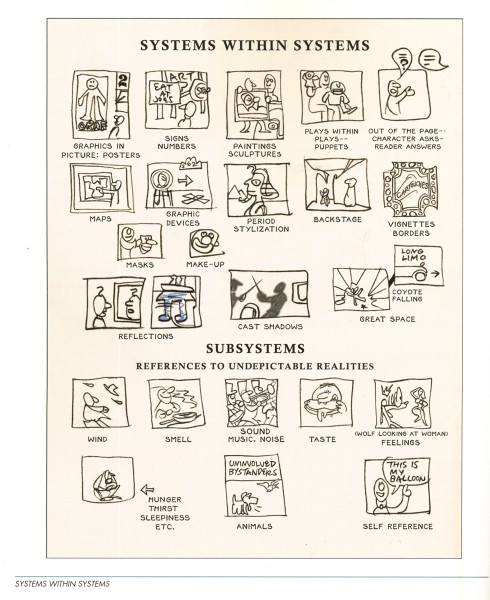 3
Rowland gets very serious about color and color theories. Here are two adjoining pages which give an overview of color created by varying lighting systems within the drawing.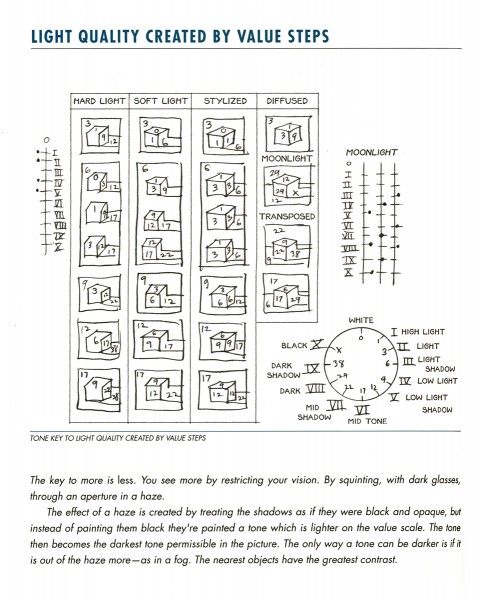 4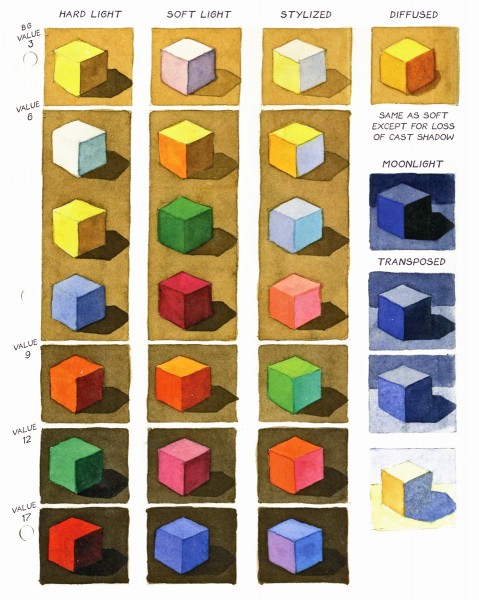 5
Then there is the section on notes by the great animators,
Grim Natwick
and
Art Babbitt
. This section comes from notes Rowland took at the Richard Williams studio when the two came through the London studio. There were lecture courses given for the studio, and this first page includes some caricatures done at the time.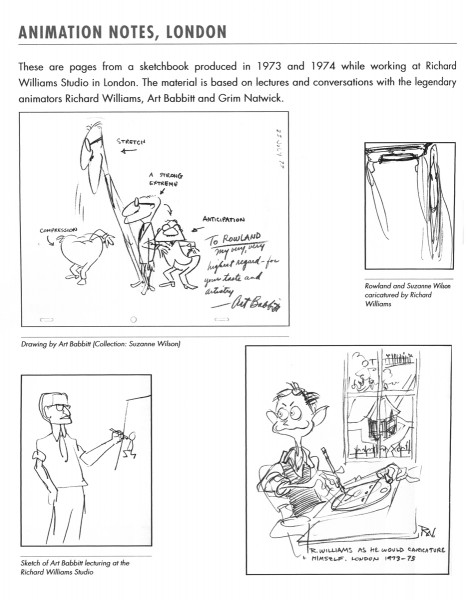 6
Caricatures done at the Williams' Studio in Soho Sq.
Here's a bit of the commentary on Grim Natwick's lessons:
GRIM NATWICK AT RICHARD WILLIAMS STUDIO, LONDON
Grim Natwick was considered one of the world's greatest animators. He gave a series of talks to animators and was also available for informal conversation during this period (1973-74). We shared the same block of flats and I talked to him often at the studio and after hours. The following is a summation of these talks rearranged according to subject matter.
GRIM AND THE TRACK— At the time Grim was here I was working on Count Pushkin Vodka (The Trans-Siberian Express animated commercial) and searching for a way to visualize dramatically a musical track. Grim placed great emphasis on the track and the importance of getting to know it thoroughly in order to draw it. At the time he was here I had not started to evolve the the theory of musical form being the basis for animation form. Although Grim never spoke of animation structure as being the same as music structure, on looking back, I see that a number of things he advocated fit into music structure. Art Babbitt's successive breaking of joints and overlapping action is comparable to the idea of sounding a group of notes in succession, rather than simultaneously. I suspect that the best animators have worked intuitively to principles that are analogous with musical principles. Grim and Art never expressed them that way, exactly.
DRAWING/ECONOMY— The most controversial theory of Grim's was to set up a series of related drawings and go into them and out of them and through them in the course of a scene. The animators here felt that the system was not economical due to the amount of mental calculation it took to incorporate a pose in a new way once you had used it. They found the numbering confusing and the doping difficult. Grim presented the idea as an economy and they rejected it on that basis.
Later in music class it occurred to me the analogy of Grim's practice with musical practice. The practice of starting with a first and second subject, going through it, repeating it, et cetera,
I think that Grim's idea could be called "using a series of HOME KEYS" (animation keys] and is vindicated on aesthetic grounds if not on economic ones.
There's plenty more where that came from.
Of course, finally, I had to copy this chapter page which includes this great self-caricature by Rowland.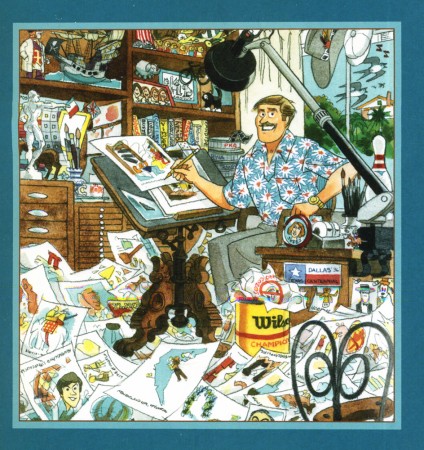 This is a book filled to overflowing with knowledge and information. It makes me realize how little I know and how much there is to learn from masters like Rowland Wilson. He talks briefly about the ad he designed/directed for Riichard Williams, Count Pushkin Vodka. Seeing this ad, alone, is enough to tell you how brilliant Mr. Wilson is and how key it is to learn from such a master. It also says a lot about the man that he spent time preparing these lessons. It also tells me how grateful I am to Suzanne Lemieux Wilson for organizing this material and getting it into shape for publication; I'm sure that was no easy task. I'll have this book in hand for quite some time to come. In a way, it compares favorably to Richard Williams' own book on animation, The Animator's Survival Kit. The difference is that Williams' book is about acting, performance, and animation; this book is about design, direction and the bigger picture.
6 Responses to "Trade Secrets"
Leave a Reply