Commentary &Puppet Animation 14 Aug 2012 03:48 am
- This past Sunday at 10am there was an industry screening of ParaNorman at a theater two blocks away from my home. I'd planned to go. I was asked to moderate the talkback, a Q&A with the directors of the film: Chris Butler and Sam Fell. Naturally, I said yes.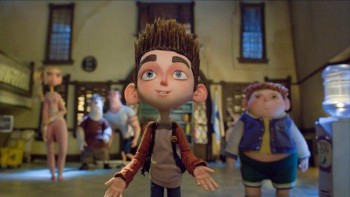 – Heidi and I arrived at 9:30; there was a bit of a line outside the theater. I was told to ask for Kia Muhammed of Focus Pictures. The doors to the theater were locked, so we had to wait until someone arrived to let me in and bring me to the Focus front desk. No other films were screening this early, so there weren't many other places to go.
I wanted to be prepared to find out how long the talkback would be; would there be mikes for the three of us as well as for audience members who were going to ask questions. I learned that they'd planned for a smaller theater but were given the one we got. That meant they cut off the front section and planned to put three tall stools there for us to sit and for me to ask questions. Easy. I'd planned on getting a bit of background information from the two directors about the genesis of the film as well as their backgrounds. Then I'd open it up to the audience's questions.
But first the film.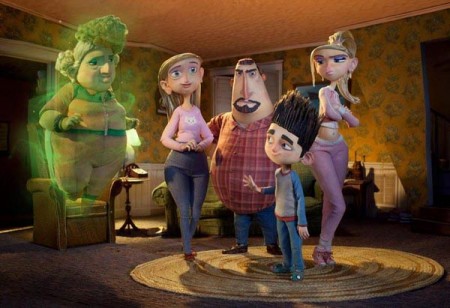 The Babcock Family
Grandma, Mom, Dad, Norman and Courtney
Laika, the producers of this 3D stop-motion film had first done Coraline under the direction of Henry Selick. Amusing that Coraline was on cable tv this morning just prior to the screening. I stopped and watched a couple of minutes. There's some beautiful animation in that film, but in some ways it also felt limited in its animation.
_________
I'm not sure if there was a bit of a projection problem, but we had no picture at first, just triumphant logo music. It then cut into a smaller screen mock-low-budget zombie flick. It didn't take long to realize that Norman was watching it on tv with his grandmother – his dead grandmother. Apparently Norman could see dead people. We learn that he gives more attention to them on his walk to school than he does to the real people on the street who just stare at the strange child.
Norman, it turns out, is being bullied at school for being a bit strange, and he has only one friend. The fat kid, Neil. These characters are beautifully developed as are many of them in the film. I also liked the voices quite a bit. Just looking over the cast, I was surprised to see John Goodman's voice on the list. He does a bit of acting this time out, so that's a pleasure to hear his character. I recognized Jeff Garland's great voice as Norman's father, but I didn't recognize Elaine Stritch as his grandmother. I'm not the biggest fan of her work. She normally chews the scenery in overacting everything she does, but I think she did a great job here.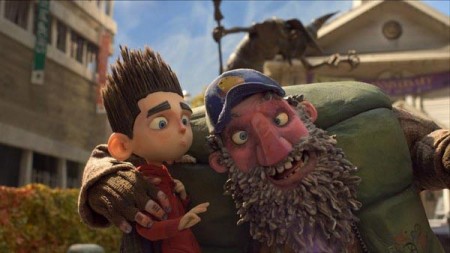 Norman with the John Goodman character
The animation was superb. Everything seemed to be on ones and beautifully fluid. There were a lot of peculiar and erratic moves that seemed totally natural to the characters on screen. The directors told us there were a number of scenes, particularly crowd shots that had some cg characters added since it would make the FX work much easier.
The climax of the film involves a lot of FX as the witch's curse is brought to a close so that the dead, seen by Norman, can go back to rest. Very arresting imagery here makes it strong visually.
My only problems with the film had to do with the story. I found it sagging quite a bit midway. The emotional wallop isn't strong enough because everything for some time seems to be at an even pace. I would have liked to see it vary a bit more, heightening and lightening throughout. This is the hardest part of filmmaking; it's something I have my own problems with, and I think it changes with experience.
I enjoyed this film more than Coraline, and I think they're onto something with the stop-motion animation. There's a tactile sense to the film that you never get with cg. I'd recommend it, and I think it'll do well.
_________
As the credits started to roll, I went outside to meet the two directors. I told them basically what I would be asking about and asked if there was anything they wanted to get across. From there we went inside to our appointed seats and microphones. The microphones, of course, turned on but didn't work. We just spoke loudly, and I instructed the audience to do the same when they asked a question.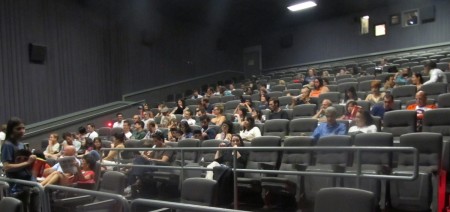 Half the audience in that kind of uncomfortable theater
They kept the lights on the audience down low, and the lights up front, where we were, a bit brighter, though I learned we were basically in the dark.
We got into it. Midway through the conversation the house lights went on, and I knew we'd soon hear our voices booming. Sure enough, the mics turned on, squealing across the theater. We just shut off the mics and resumed talking in our natural voices.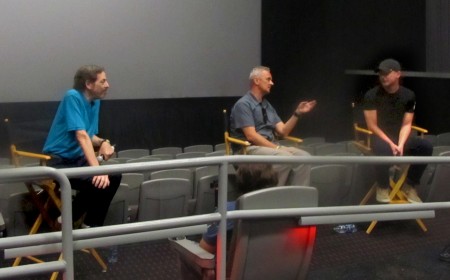 (L to R) me, Sam Fell, Chris Butler
Chris Butler was the sole credited writer, so I asked about the script. He, apparently, had started it while he was working in the story department on Coraline. He got the chance to show it to Travis Knight and sold the script as their next film. From his vantage point there was no break between the two features. Sam Fell, who'd started animating for Aardman got to direct Flushed Away and The Tale of Despereaux. From there he met with Chris Butler. The two hit it off, and they got to work together on ParaNorman.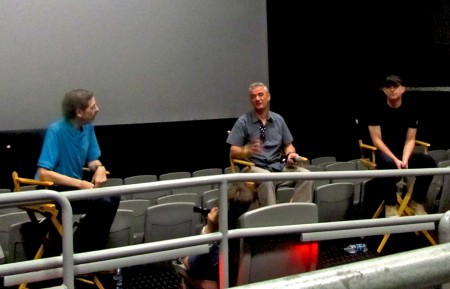 (L to R) me, Sam Fell, Chris Butler
I asked what differences had happened to stop-motion animation in the recent past since we're no longer doing the clunky animation of Alice in Wonderland anymore. He talked about playback, photography, replacement faces (which are printed out from computers so that the animation is much smoother) and apparently, they do rehearsed versions of the scenes, whether on 2s or 10s, sort of an animatic rough of the scene, so that the director will know exactly where they're going. Digital was the magic word to make the stop-motion animation better,.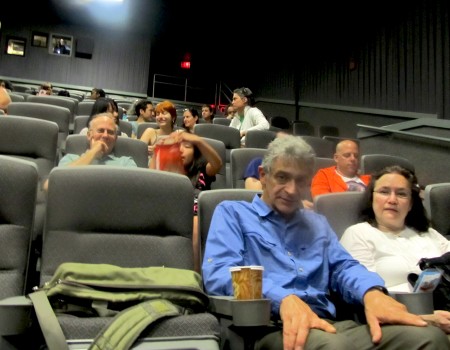 the other half of the audience
The questions from the audience typically ranged from good to dumb. Bill Plympton asked what it was like directing animation from Travis Knight, their boss. They said they didn't have to be critical since he was a very talented animator who usually did his rehearsals on 2s. Someone else asked the budget, and they said they really had no knowledge of that aspect. (What else should they have said?) There were a number of questions about the replacement faces that were printed by computer, and other questions asked about the sets – how many and how large.
Basically, the directors were friendly, courteous and pleased to be able to talk about their work. I think they'll have something of a hit on their hands.
Aside from all the other press material available on line, there's a nice slide show on the NYTimes site as well as an article about the making of the film.
There were many others from our local talent at the screening. Admittedly I wasn't paying much attention since I had the talkback on mind. Here are a few of those there that I can roll of the top of my head; they included Candy Kugel and husband, Chuck; John Dilworth and girlfriend, Marie; Bill Plympton and wife, Sandrine; Signe Baumane with a couple of her interns; and Jaime Ekkens.
5 Responses to "ParaNorman Screening and Talkback"
Leave a Reply