John Canemaker &Photos &repeated posts 19 Aug 2012 07:00 am
- Last year at about this time, Heidi and I went to visit John Canemaker and Joe Kennedy at their wonderful Bridgehampton house. That weekend I was so overwhelmed by the flush and beautiful gerden as well as the wonderful floral paintings John had done. I reported it on this blog, and was quite pleased with that post.
This weekend we're repeating the excursion and have come to a different trip. For one, as Joe told me, the flowers bloomed much sooner this year, including those that usually bloom late, probably because of the peculiar weather we've been having. Consequently, the garden looked very different this year. It is now very green without much color.
This year we had more than overcast clouds affecting the weather. Rain stayed with us on much of Saturday. I didn't mind very much, but there was little opportunity to walk through the garden with the ground so wet.
I've taken a few pictures this weekend and will add those later this afternoon once I get home, but for now I'm repeating last year's post (with some minor changes).
- This past weekend, Heidi and I spent a lovely quiet time in Bridgehampton at the invitation of John Canemaker and his companion, Joe Kennedy. It made for a very restful and enjoyable time despite the grouchy weather.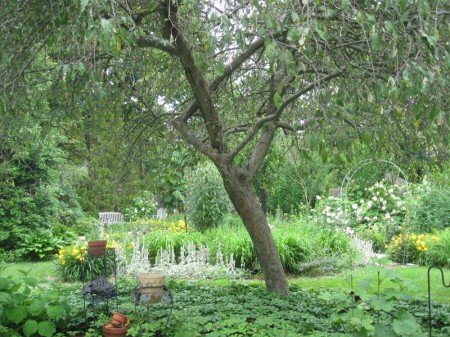 The garden gives you the illusion that it's larger than it is.
Even walking in it you feel that you could easily get lost in it.
.
The first dominant site you take with you as you visit the house is the amazing yard and the enormously colorful and tender care Joe and John have taken to cultivate their garden of a back yard. It's stunningly beautiful. It feels almost as though these plants grew naturally next to each other and happen to take the shape it's taken. The amount of weeding and nurturing and debugging is left completely behind as you bask in the warm glow of this garden with its variety of flower and shrub. It's beautiful and peaceful and inviting. I couldn't help myself over the course of the weekend; I took many walks in the area and sat and enjoyed it. I loved it.
The second thing that captivated me during the visit was a painting John had done. It sat on the wall of the guest room we stayed in. In the first few hours in the house I kept coming back to the painting. I liked it enough that I took out my camera and photographed it. As I did, I realized that there were other smaller paintings in the room, and I found them almost as lovely. There's no doubt John has been taken with the amazing garden out back, and this has helped to color these fine watercolors.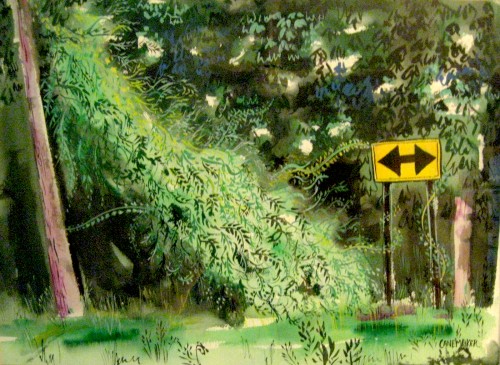 This painting obviously is not from the garden (given the road sign).
However, one can't help but feel that the life in that garden spills over
into this painting – as it does in all the others.
.
At some point in the weekend, I asked John if he minded my photographing some of the paintings in the house and posting them on the blog. John, as always, was quite open to anything I wanted to do, so I went about quickly taking some photos. I also intended to mix in pictures from the garden. After all, I see these paintings and the flora as intermingling and working together in a lovely way.
There were some problems. The paintings lost some of their verve when photographed. The delicate colors were lost, and the shape of the pictures altered. (The lens of the camera seems to have slightly distorted the frames of the images.) I saw the pictures in some way influenced by Mary Blair's work, but John took her colors and softened them. (The brashness of Blair's work has always bothered me.) In the end, I found myself adjusting the pictures slightly to try to give them a bit of the feel of the originals, but I'm not sure I've succeeded. However, better you should get to see these images than none. My apologies to John.
So, I hope you enjoy the quick tour.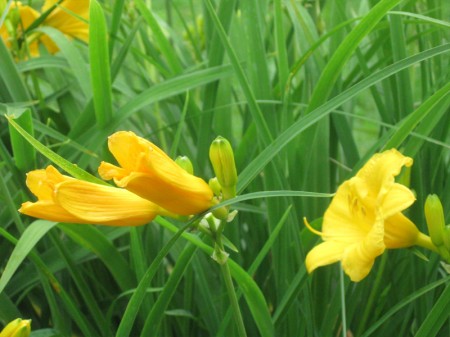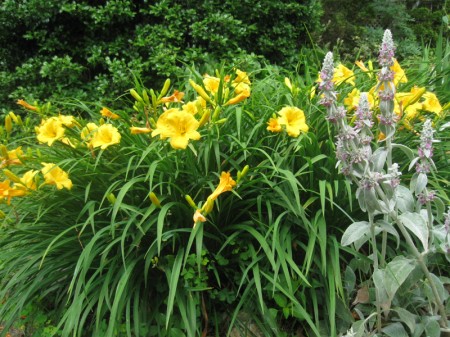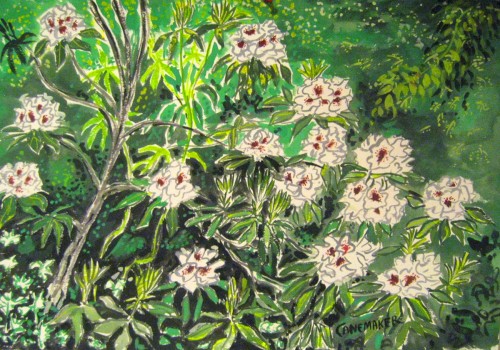 One of the larger paintings John had in his office, downstairs.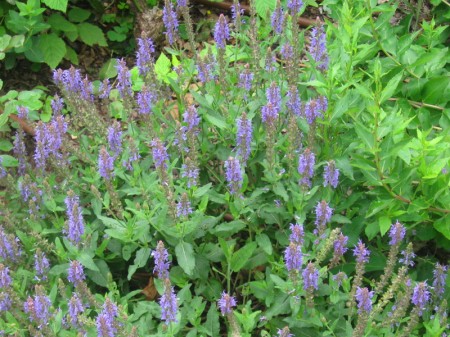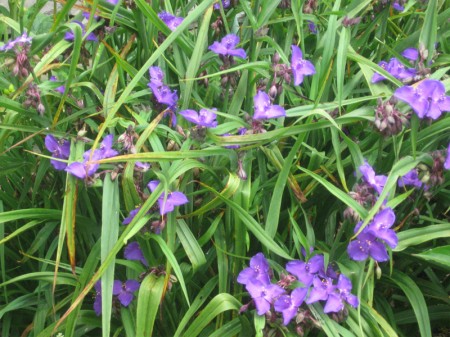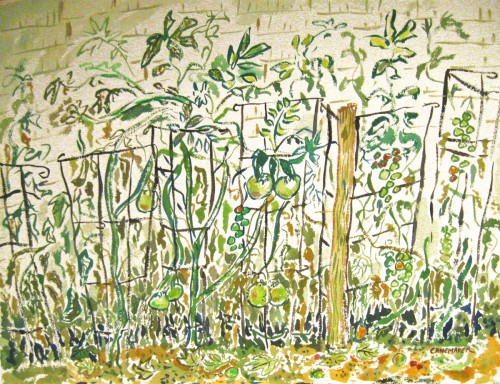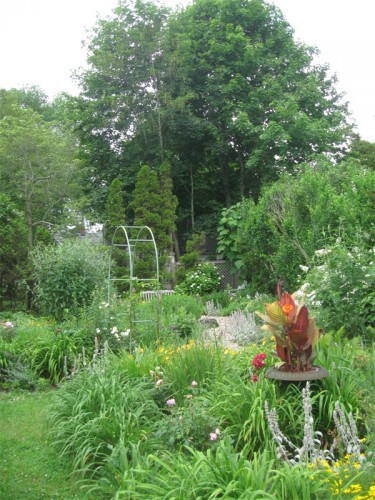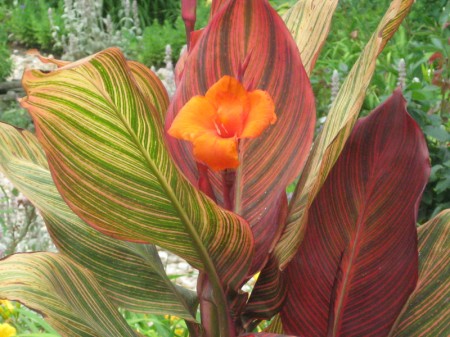 A beautiful flower that opened the day we arrived.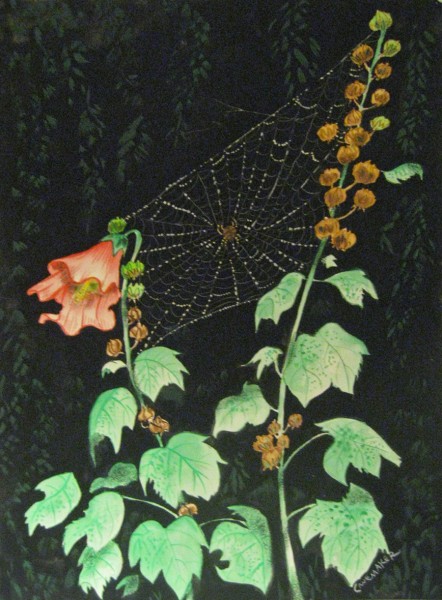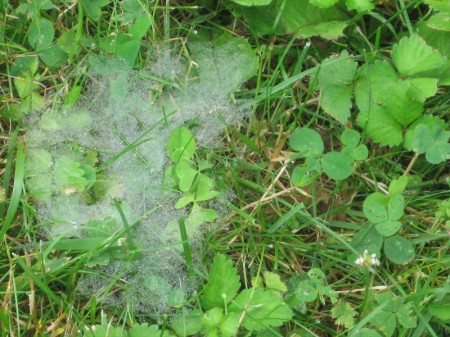 Spider web in the grass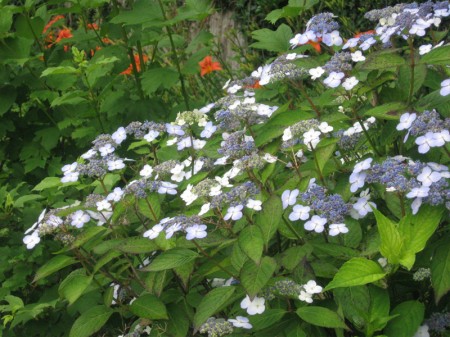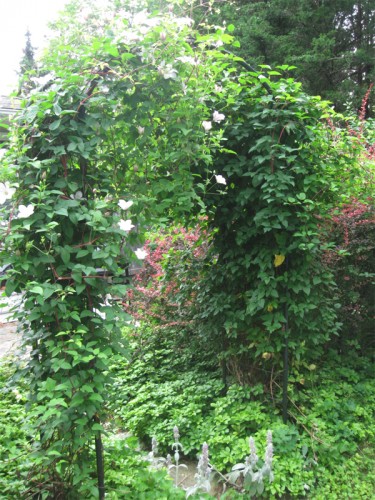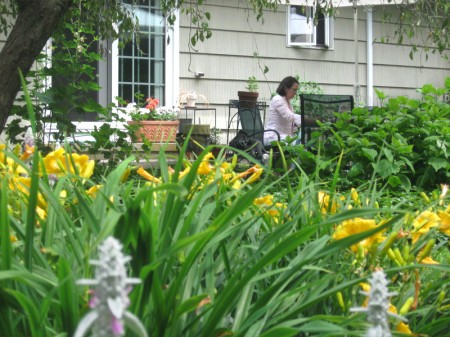 Heidi sitting on the porch just to the front of the garden.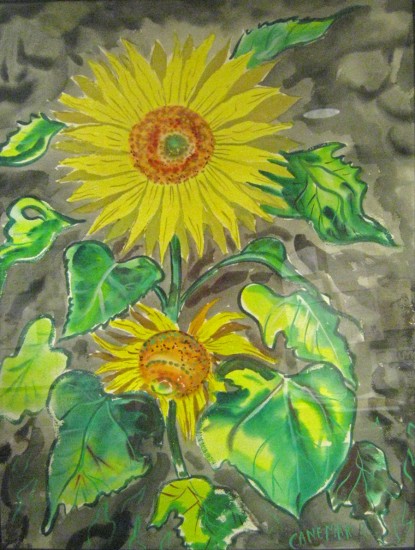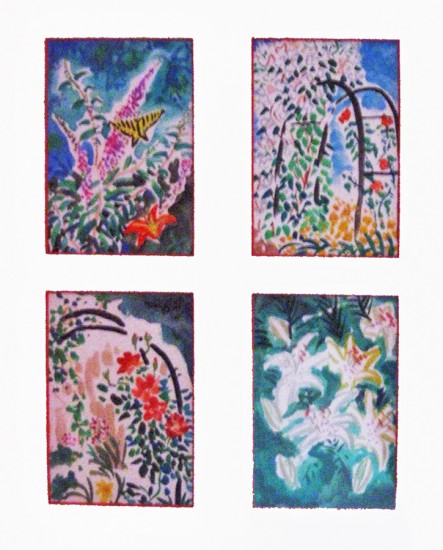 John has done many small quickly sketched watercolors.
Here, you can really feel the distortion of the camera's lens.
Again, my apologies to John.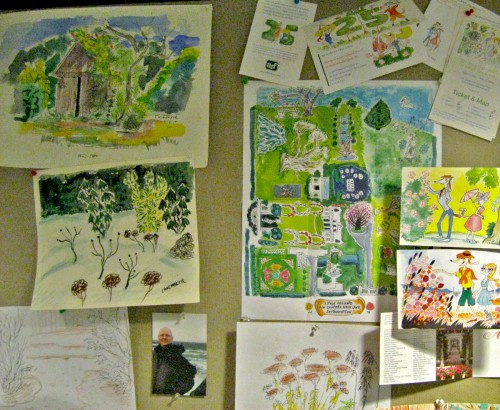 The wall in John's office.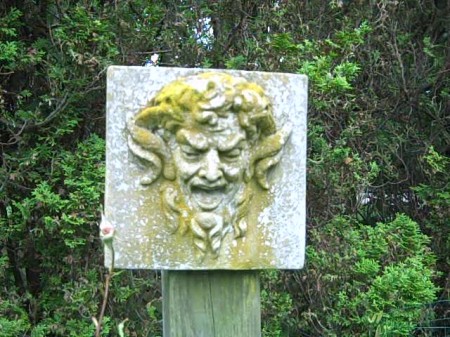 A post in the garden.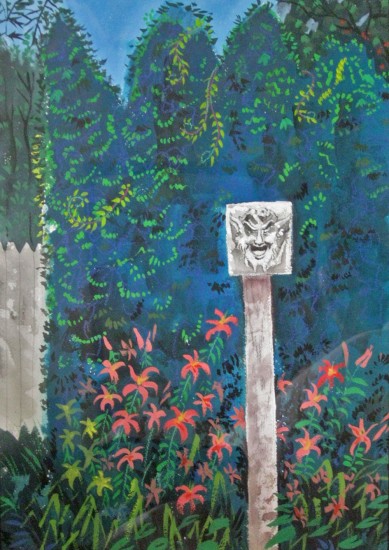 I had a hard time photographing this one.
The reflections in the picture frame's glass was difficult to avoid.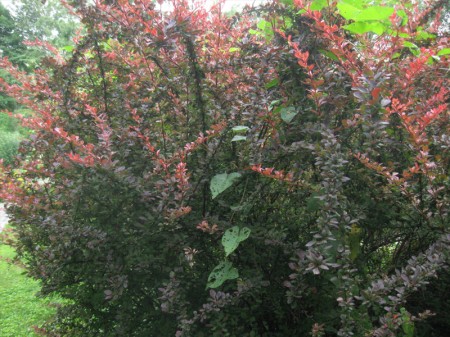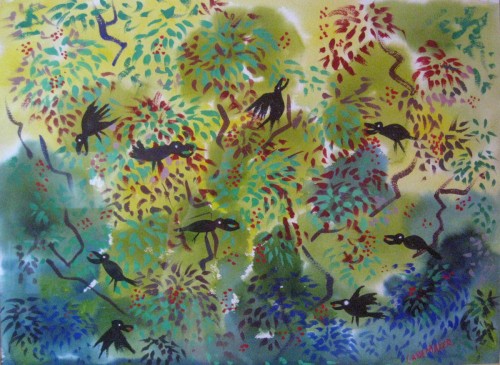 Another painting that just totally caught my attention.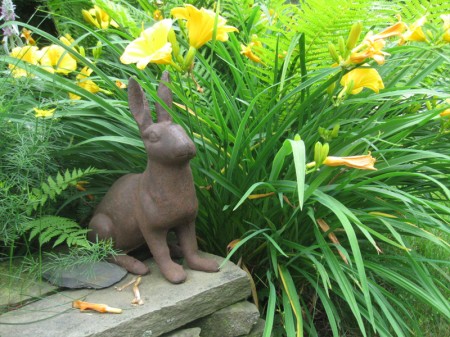 Finally, a lovely little statue sitting just off the porch.
It's a stone rabbit that once belonged to Bill Tytla.
Adrienne Tytla, Bill's widow gave it to John as a gift.

Many thanks to John Canemaker and Joe Kennedy for a lovely weekend and all the wonderful inspiration, not only in the paintings but in the garden, as well. It was more than a small retreat.

_______________________________
Well, it's later that afternoon, and we're home. But I'm beat.
There are too many pictures I've taken and the post would be endless if I added them here, so I've decided to post a couple of pics of John's paintings, and I'll save the remainder for next Sunday. I'm sure you won't mind. Though they are good pictures. See John, Joe and Heidi sharing a kitchen as they make linguine with clam sauce; see the four of us romping on the beach; see more pictures of the garden sculpture Bill Tytla's widow gave John and Joe for their garden. And see some great pictures of the garden in the rain. I'm sure you'll want to return next Sunday for that. (or not!)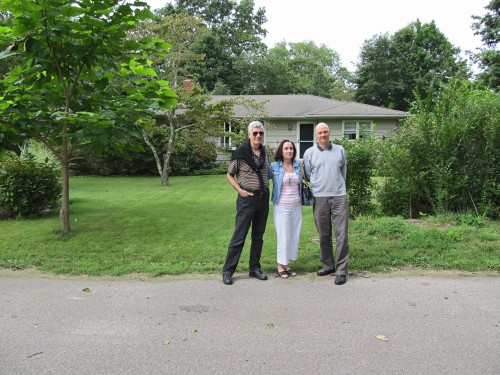 Here's John, Heidi and Joe outside their house.
It looks as though they're greeting us, but in reality
Heidi and I are about to leave on Sunday afternoon.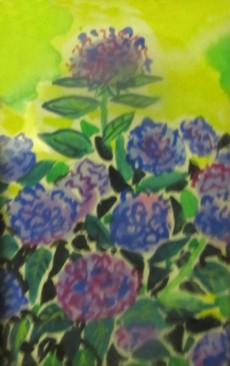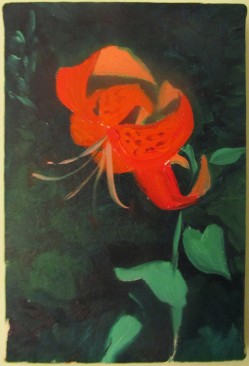 These two small paintings by John were
hanging in the guest bedroom we occupied.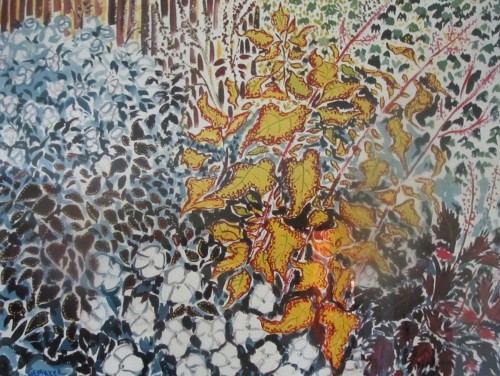 This gem of a painting hung over the mantelpiece
in the living room. It belonged there.
2 Responses to "John & Joe's Garden"
on 19 Aug 2012 at 3:11 pm 1.Eddie Fitzgerald said …

Holy Mackerel! The garden looks GREAT in these photos, and the paintings are beautiful. I'd previously been won over to garden pictures by Monet and Kristina Kubrick, now I'll add John's pictures to the list.

I hope John and Joe do a book on their garden. I'd definitely buy it and there's a real need for it. The gardens I see in most coffee table books give the impression of obsessive human interference with nature, and are a little off-putting even when they're well done. I much prefer John and Joe's garden which is lush and leafy with flowers to set off the greenery. It conveys the feeling of abundance and of benign nature.

on 20 Aug 2012 at 5:56 pm 2.Charles Kenny said …

The gardens I see in most coffee table books give the impression of obsessive human interference with nature, and are a little off-putting even when they're well done.

It's a matter of taste really. There's beauty to be had in both in my opinion. Plenty of mature European formal gardens accentuate the beauty of the plants and horticulture employed within.

Naturally John and Joe's garden provides more varied artistic opportunities which they are clearly taking advantage of.

To be honest though, anything is better than the infinitely boring lawn of grass that blights plenty of people's homes.
Leave a Reply