Commentary 25 Aug 2012 05:56 am
Tissa's Art Lessons
Tissa David's nephew, Mate Hidvegi, sent me a number of excellent photos of Tissa, which were shot in this past year. I'd like to share a couple of the pictures Mr. Hidvegi has shared with me.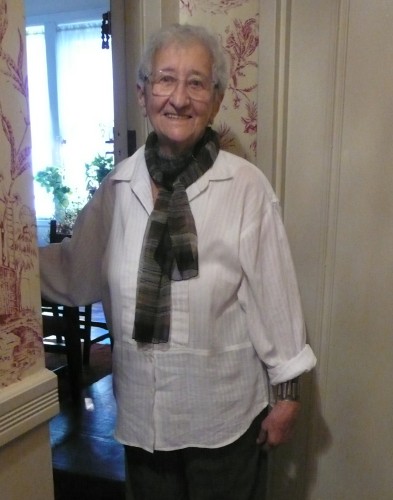 Tissa, greeting visitors as they get off the elevator. May 2012
This is exactly how I remember and will remember her.
A perfect photo.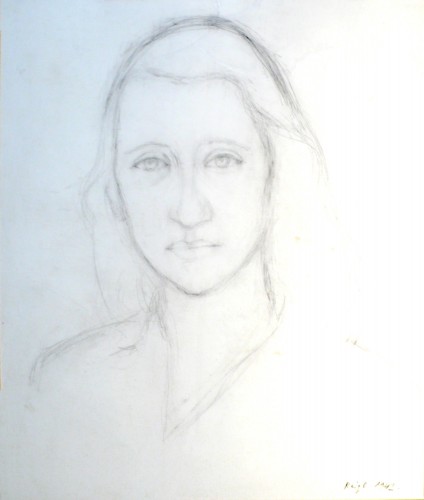 Tissa's good friend, artist Judith Reigl, drew this portrait
of Tissa in 1942. (Owned by Tissa's sister, Katalin David.)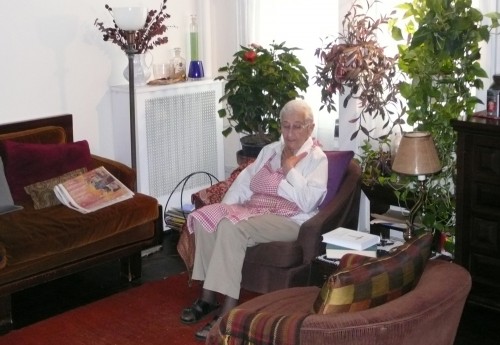 Tissa, sitting in her living room, May 2012
This is an amazingly beautiful photo.
Enlarge it for the full picture which is exact and accurate in its colors.
Needless to say, Tissa had a strong effect on me and my animation career. She also had an effect on my character and thought process as I matured as a person. She was extremely opinionated, but I found that I agreed with her opinion just about 100% of the time. She taught me to have faith in my opinions.
Years ago, I remember sitting through Fantasia at a private screening in John Canemaker's apartment. This was before the days of home video or dvd. John had secured a beautiful 16mm print for the occasion. This film was seminal to John's life and spirit; I knew that and I suspect that Tissa also knew it. I'd also seen the film about 20 times in the year prior to that screening; it had just been re-released in NY for the first time in many years. I felt that the film had some of the greatest work of the Disney artists, and I also felt that it had some enormous lows.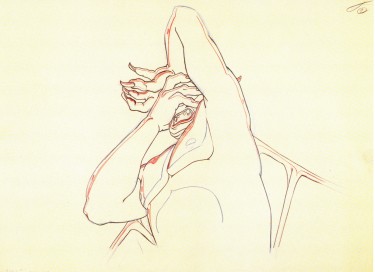 At the end of the film, Tissa immediately piped up and proclaimed it a horrible movie. (John used to impersonate Tissa's comment for years after, and it always brought a laugh.) She was overstating her thoughts, obviously, but for comedic effect. She hated the Pastoral and other kitschy parts of the film, but she undoubtedly loved the brilliance of Bill Tytla's devil or the strength of Reitherman's dinosaurs. Even the excellence of Kimball's Bacchus couldn't be denied. However, the overall effect was questionable, especially in that apartment screening where it wasn't the overblown big screen and stereophonic sound version, and its flaws were more obvious.
Tissa blew the same trumpet on many other Disney features. There was a Museum of Modern Art screening of Jungle Book with Eric Larson, Ken Anderson and Gilda Ratner present to talk. I had all I could do to stay awake during the film. (Those horrible voices – Phil Harris, please!) Finally, it ended, and Tissa whispered the opinion, "What a dreadful movie!" I could only laugh. I thought I was the only one with that opinion, and she was voicing my thoughts (and covering up the fact that I slept through it.) We laughed together.
She absolutely loved Frank Thomas' squirrel sequence from Sword in the Stone.As a matter pf fact, she had a soft spot for a number of Thomas' sequences.She also loved Marc Davis' work. His Cruella de Ville certainly stood out. Tissa surprised me during Beauty and the Beast when she praised a half shot of Belle walking and said it was a good walk. (This was within the castle while a prisoner of the beast.) You couldn't see Belle's feet, but Tissa believed it. This was high praise from her. By then I'd been concentrating more on the direction than the animation, so I was glad she caught me not paying attention to the screen action. She woke me up again, in a different way this time.
There were many gems Tissa praised to the hilt. The first time we saw Caroline Leaf's film, The Street she was full of superlatives. Tissa was a judge in Ottawa when Norshtein's Tale of Tales won Best in Show, and it deserved it. We sat through that film many times together. We both loved it. The Quay Brothers confused much of the audience that year with their early film, Nocturna Artificialia, but she loved it. Sodid I, and we spent a lunch talking about it.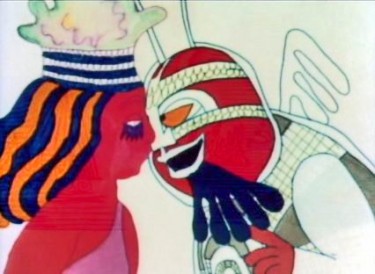 In 1974, she opted not to work on the Hubley film, Voyage to Next (she never told me the reason though I believe it was because John was lowering her salary considerably – he had so little money on this film – and she had to stand up for herself), but she praised, privately to me, the animation of Bill Littlejohn even though she wasn't crazy about the final film.
She shared a long list of things she didn't like in her own work on films like Eggs, and Raggedy Ann. She also loved working on both films, and loved working for both directors – John Hubley and Dick Williams. After working on animation for Candide for Bob Blechman – low salary long hours and difficult but beautiful work – she told me privately that she would not work on any more films for Bob. She hated how the studio had reworked her animation and changed the cutting. She felt all her hard work had been damaged.
In short, I learned from Tissa that I should trust my judgement. I also used judicious thought in airing my opinion; I was always concerned about hurting the feelings of others. Tissa showed me that I had a strong and contrary opinion, but really I was just looking for my idea of quality. It was easy to say how much I liked things I didn't, but it was hard to speak the truth and tried to articulate why. It isn't always easy, but it's certainly necessary for me. I suppose that makes me not always liked within the community, but the art of animation is too important for me. If my honest opinion gets someone to do better, it's worth it.
Not too long ago an award winner at an animation festival offended me. At the after party, I told the film maker that his half of a walk cycle was an unforgivable cheat. The budget was the excuse that didn't sit with me, and I stupidly hurt the animator/director. He hasn't done half a walk cycle again, and I think my rudeness paid off. Especially in that he's a gifted artist, and his work was better than what he offered us – even winning an award.
Tissa's unforgiving critiques of my work, and there were many of them – many – over the years was always helpful. Every single comment from her, whether about my work or other people's work, taught me something. The positives meant so much more because the negatives were just as honest. I'll miss her barbs and her lessons. However, I have to say my own opinion of my work is more critical than she ever could have been. I just don't have a second voice to back me up anymore, and I seriously miss that.
_____________________________

UPA Production Numbers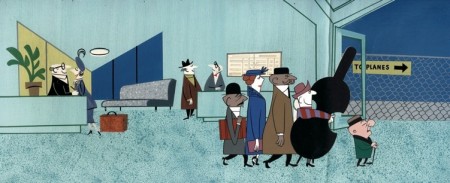 - Following in the lead of Thad Komorowski's listing of production numbers from M-G-M and Warner Bros cartoons, Adam Abraham has opted to add all Production Numbers, he has for the UPA films. This list is complete to about 1956 and includes all the Columbia shorts.
This site, When Magoo Flew, is not only a good companion to the book but is excellent and informative in its own rite. There's plenty of information here that doesn't even appear in the book.
_____________________________

Paul Rand . . . I mean Ayn Ryan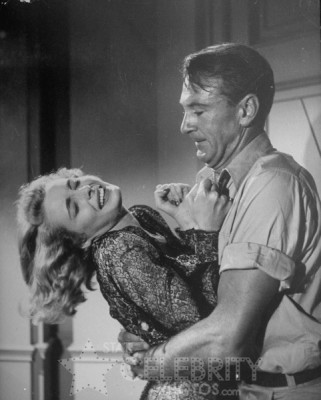 - For all those psychotic Paul Ryan lovers, Ayn Rand's The Fountainhead will be broadcast on TCM on Sunday, August 26 at 02:30 AM.
This gave me one of my favorite moments as an Academy member. It was a memorial service for Gary Cooper, who had died way back in 1961. They had clips from a number of his great films and a number of speakers who were part of his life (or he was part of their lives.) It was moving smoothly when Patricia Neal came to the microphone, dressed in a bright, slinky, crimson dress. She gave a short-ish speec which started with,"
"Gary Cooper was the love of my life."
She revealed something that was obvious to many at the time. She and Cooper, while filming The Fountainhead, fell in love. Cooper was married and loved his wife. He would not leave his wife and child for Patricia Neal on her first film. The affair turned to an end. Neal was brokenhearted and told us, many years after. She told us she still loved Gary Cooper. It was a very emotional speech.
They followed with a clip from The Fountainhead.
Maria Cooper, Gary Cooper's daughter, followed the clip and didn't talk about Patricia Neal.

_____________________________

Olympiad Twenty
I've received a notice about the following animated short pieces geared to the Olympics. (Better late than never.) They're very short animated clips that lead one into another. The note that came with the email read as follows:
We've just made a series of 7 x 20 second animations in just two weeks with
one animator, which is getting really good feedback.
Wondered if you might like to see our animation and share it if you like?

Any feedback you can offer is most appreciated.

Kath Shackleton, Producer
Fettle Animation
Personally, I'm not the biggest fan of the material, however, I thought many of you would like them. The punchlines are consistently nasty and unpleasant, making the stories not very interesting to me. The animation seems excellent for Flash type work. A lot of labor went into them; I wish the writing had been more creative rather than nasty.
Please feel free to leave your comments for them; I'm sure many of you will like them more than I. It's just my sentiment – my taste – in this period of world history.

_____________________________
5 Responses to "Commentary Times"
Leave a Reply