Animation &Animation Artifacts &commercial animation &Layout & Design 26 Sep 2012 05:15 am
- Last week we saw the first of these two spots Vince Cafarelli did while working for Goulding-Elliot-Graham Prods., Inc. Millbrook Bread was the client and the Piels Bros. voices, Bob Elliott & Ray Goulding, owned the studio with Ed Graham. They also did the voices for these bread spots. This particular one must have been pretty big; the video survived these many years later, and I've attached it to the end of this post.
But first, here are the Layout drawings which I believe were done by Vinnie Cafarelli.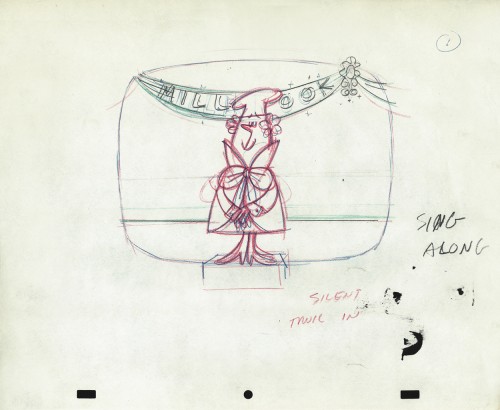 1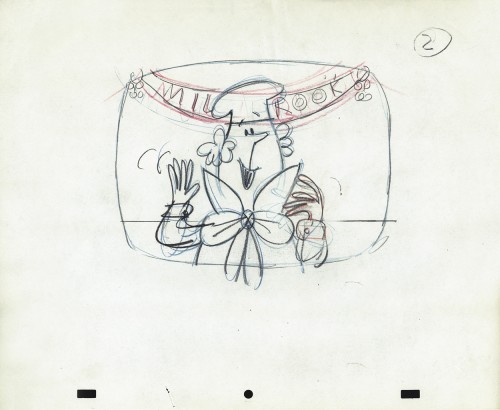 2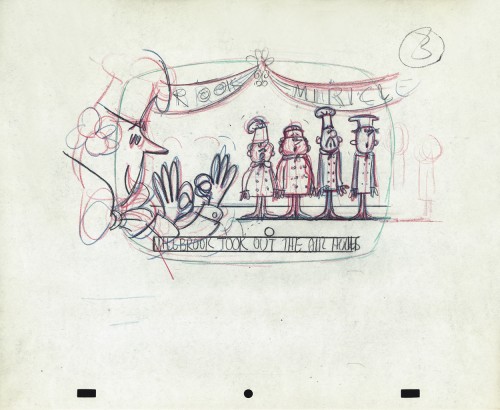 3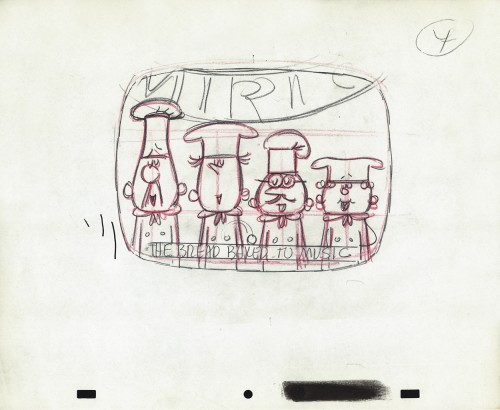 4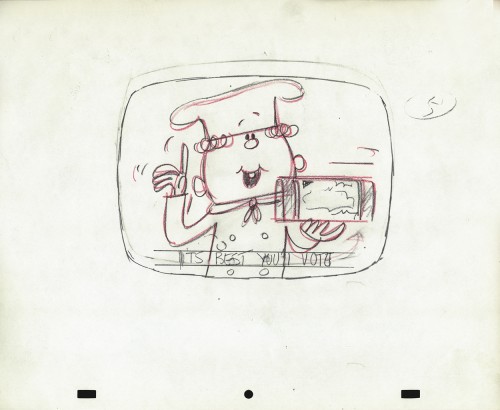 5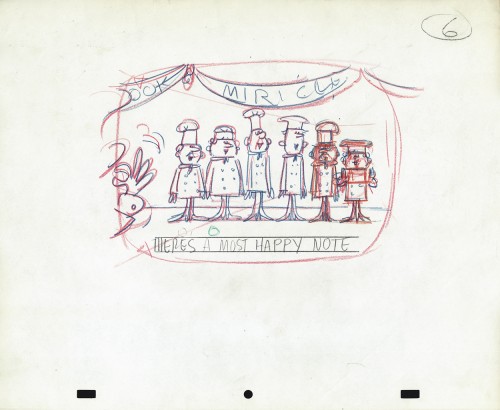 6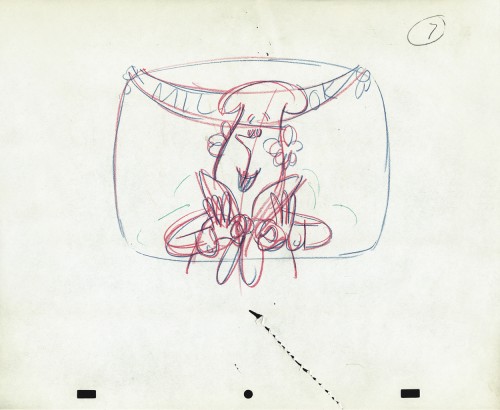 7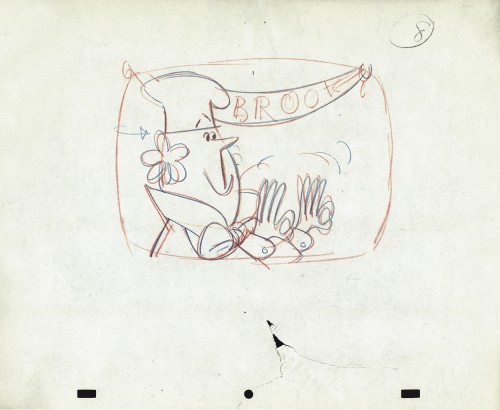 8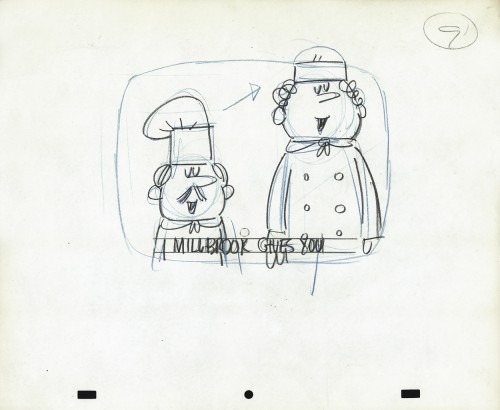 9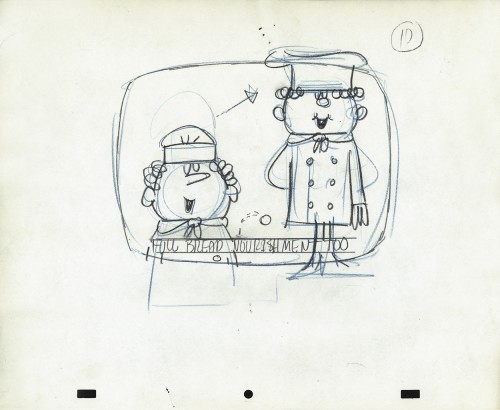 10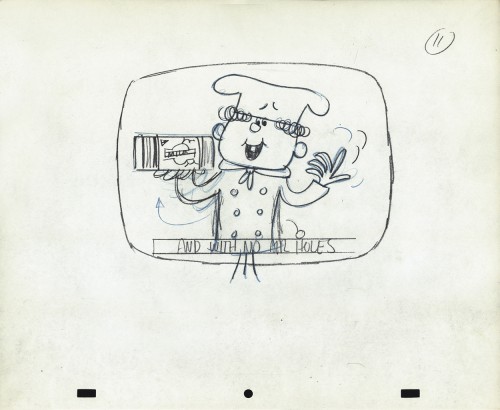 11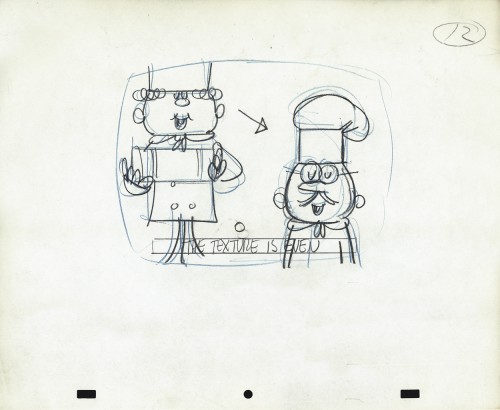 12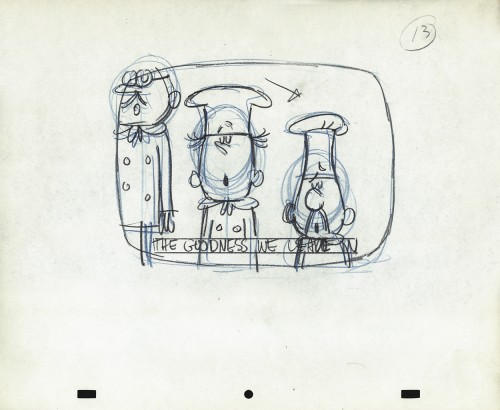 13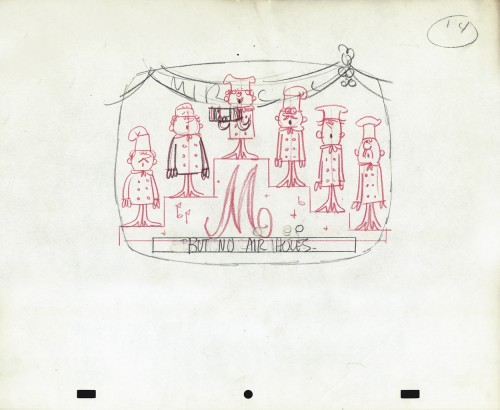 14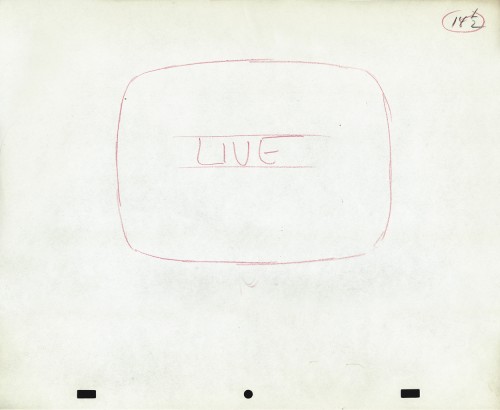 14-5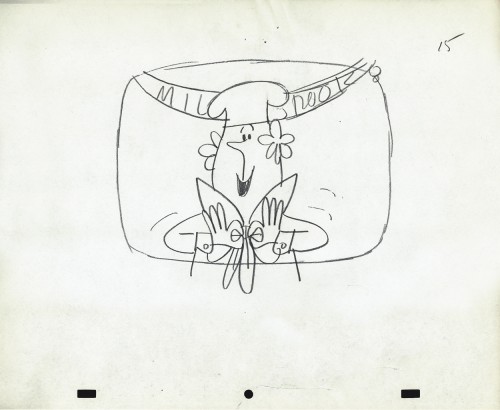 15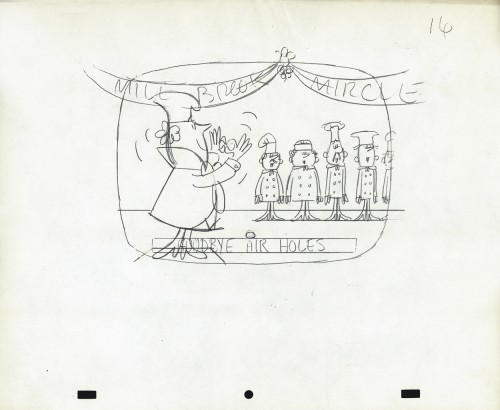 16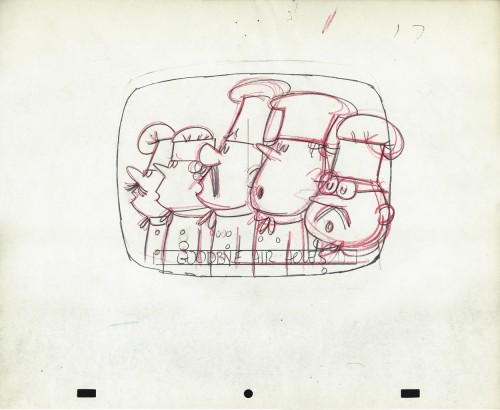 17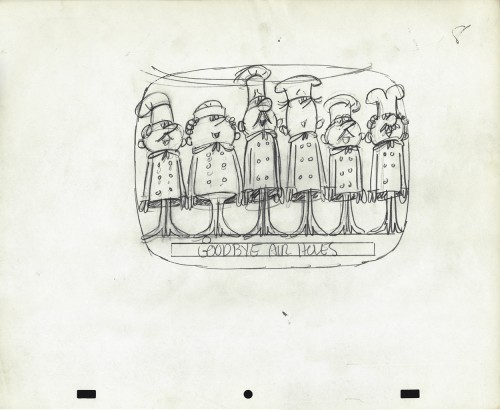 18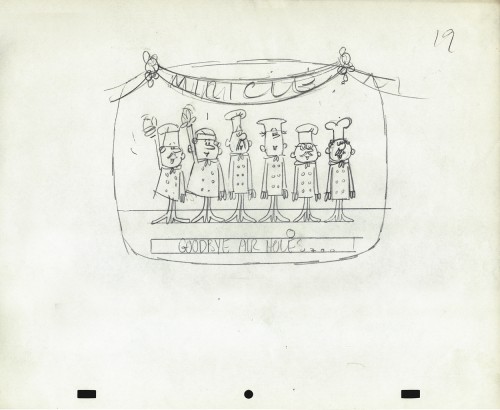 19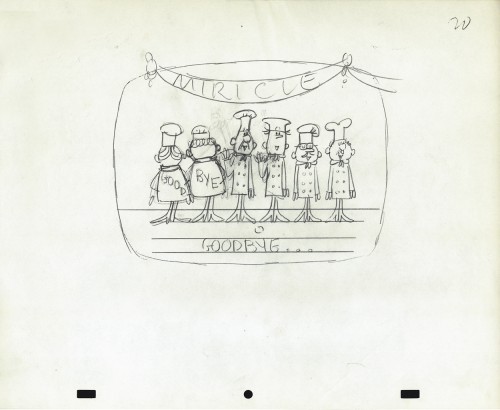 20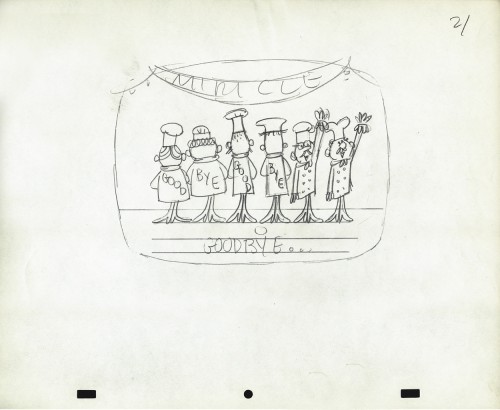 21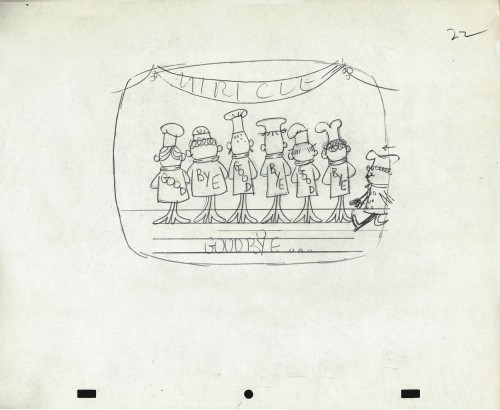 22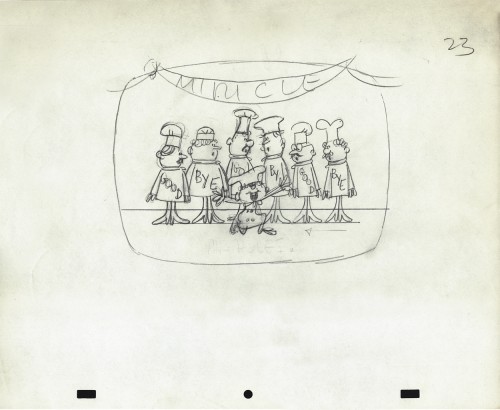 23
2 Responses to "Vince Cafarelli's Millbrook Bread – 2"
on 26 Sep 2012 at 3:26 pm 1.The Gee said …

On the Maestro, the mouth is slipping but that doesn't seem as odd as how it overlaps the nose like it does.

Also, and this is minor, the bread was made of batter and not dough? That's an Industrial idea of batch bread-making, I suppose. I'm double surprised they would admit it.

Otherwise, the character designs are certainly appealing. The concept of the commercial is odd though. The idea of a men's choir consisting of bakers practicing singing a jingle instead of just performing is an odd choice in my opinion.

If you decided to show a bunch of bakers and incorporate part of the "bread" (or cheap pancake, with preservatives) making process then why not figure out the least expensive/quickest manner in which you can show multiple bakers whistling or singing why they work making great bread?

I can't see that song it is based on being repurposed as "Goodbye Air Holes".
Was having air holes a common complaint back then? Or was the aspect that bread went stale quickly and this was a Great Thing?

After centuries of bread making, holes and all, bad wheat and all, were people discontent with then-modern day bread? Or was it all about sandwiches back then?

Sure, I guess those might seem like dumb questions which don't deserve answers or are about Cultural Anthropology….but jeesh! I don't see why they just didn't have a voice over and show a mix of film and stills.

The creative choice doesn't seem like a great choice. If it sold product then great. It is slightly perplexing to me though.

on 24 Nov 2012 at 1:34 am 2.Emile said …

How many things remain sharp and clear in your mind after 50 years? Not many. However, these Millbrook Bread commercials are still present in my mind today as they were then, growing up in Montreal and watching them on WCAX (Burlington, Vt.) with my father. You can't imagine the joy I had of seeing this again on YouTube! Do you think they have YouTube in Heaven? And if there are any more of these delights with the Maestro still available, it'd be so great to see them on YouTube as well. Thanks a million.
Leave a Reply