Commentary 22 Sep 2012 06:53 am
Get Out the Vote
- It appears that a number of animated features will be opening shortly. There's a screening in NY this morning of Hotel Transylvania. It's at the Museum of the Moving Image in Queens. That's a long enough trip to keep me from going. I'll see it another time; the ad keeps me uninterested. It opens next friday, Sept 28th.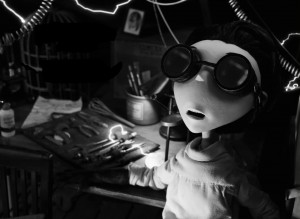 The Academy will screen Tim Burton's Frankenweenie on October 11th, a week after it opens in theaters. I'll see it there, in comfortable surroundings.
There's an article about Tim Burton in today's NYTimes.
Wreck It Ralph opens November 5th. Can't wait.
There's no real incentive for me to see any of these films except that they'll all be entered into the Oscar race, and to vote I'll have to see them all. The more I can see now, the fewer I'll have to see in that crushing two weeks at the end of the year. That's when all of the entered films have to be viewed. It'll be something like 16 films in two weeks to absorb. Talk about impaired judgment.
The contenders for animation short will be screened n NY on Saturday, Oct. 27th. That'll start at 10am and probably go straight through to about 6 or 7pm. Your eyes are melting by the time you get out of there, with maybe one or, at the most, two good films in the bunch.
I still look forward to it all.
___________________________________

My World and Welcome To It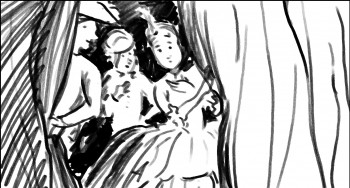 - Meanwhile, Heidi, my wife, says my world is all about politics and movies. She's wrong; baseball is high in there as well. This time of the year, particularly an election year like this, I only want to watch talking heads on TV (and The Good Wife and Treme and Boardwalk Empire.)
Actually, I don't think about much of this. I do think about POE and the scenes I've been anmating over and over and over. The style is a bit funky and I keep reworking it. I have four scenes done, and I keep expecting more of myself, so I keep redoing them. If I'd been doing it on cel with an animation camera, the first version would have been the final. But using a computer means I can rework the damn thing a hundred times or more. It's fun though. I want to have the thing down pat before I really get into it. Once the real "Go" is there it means Go.
By the way, the title, My World and Welcome To It, of course, comes from that great series from 1969 which starred William Windom as a James Thurber-like cartoonist whose animated imaginings filled the screen throughout the show. I was in Alaska in the Navy when it aired in the lower 49. I might have been able to see Russia from my house, but the TV didn't run this series. My sister talked about it in her letters and I did a lot of catching up when I got home.
I was reminded of the show recently when Windom died in early August. I was a fan of his before that series, and I became more of a fan after the series.
Robert Dranko was the animation art director and producer for the series and
Bob Richardson was the animation director.

___________________________________

Ottawa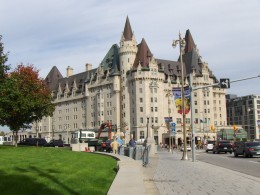 - The Ottawa International Animation Festival began this past Wednesday. I've always felt close to this Fest. Having gone to the first half dozen versions of this event, where I learned so much about International film and the job of selling movies, that it naturally formed a soft spot for me. With sadness and regret, I couldn't make it up to attend in person. However, I do keep my eyes open to see what's happening there and what I'm missing. Richard O'Connor, through his site, Ace and Son, has always been a source of information that's been invaluable to me. This year Richard helped open the first program by presenting a reel of short clips and an articulate eulogy for Tissa David. On his report of the first day of the Fest, he posts a video clip showing his comments during that program. You can check in daily for his comments.

___________________________________

Memorial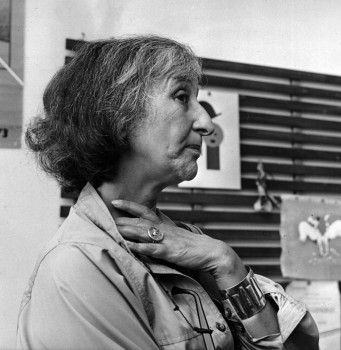 - Meanwhile the NY memorial for Tissa David is coming along nicely. It will definitely take place at 7pm on October 23rd at the MP Academy screening room at the Lighthouse at 111 East 59th Street. The theater is downstairs. It may be crowded and first come first seated.
There will be five speakers and lots of film clips.
I intend to screen at least one or two complete films, but time may nix that plan.
The films to be screened come from four studios:
. the Hubley studio – EGGS, COCKABOODY, EVERYBODY RIDES THE CAROUSEL and possibly a commercial or three
. the Ink Tank/R.O.Blechman – THE SOLDIER'S TALE, CANDIDE promotional film, a commercial or two
. Raggedy Ann and Andy – "Candy Hearts and Paper Flowers" sequence
. and my studio – THE RED SHOES, THE DANCING FROG and THE MARZIPAN PIG (of course).
There's also a nice surprise which will start the evening and the program.
It should be excellent.

___________________________________

Let's Celebrate The Tune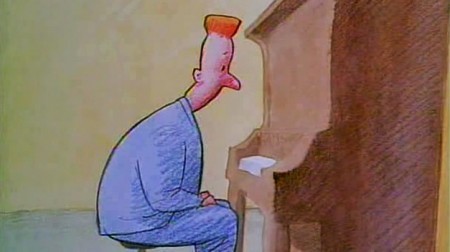 - There was an article about Bill Plympton in last week's The Onion. No it wasn't a joke, it was a fine article in the AV Club section of the paper. This is a good article by Tasha Robinson and is worth the read. It basically celebrates the one-man-feature idea of The Tune done in 1997. He was a pioneer, I have to hand it to him. Worth the read.

___________________________________
12 Responses to "Criticeria"
Leave a Reply