Animation &Books &Tissa David 11 Oct 2012 04:56 am
- Tissa David taught a class in animation out of R.O.Blechman's studio, the Ink tank, back in 1991. Eugene Salandra attended the class and kept wonderful notes on the sessions/ With his permission I'm posting the notes from that class. As I scan them, I've been reading them. They're enormously informative and act as a wonderful reminder of many of the basics that sometimes slip through the cracks. So even though we've been using these rules forever, it's good to just read them again.
Anyway, here's part 3: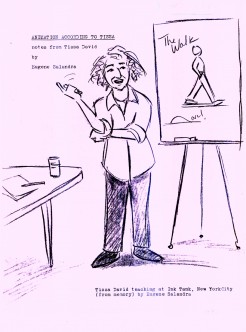 1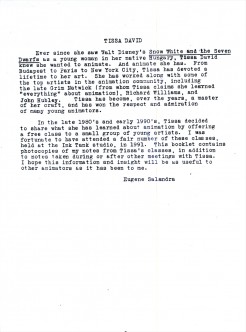 2
I repeat these first two pages.

(Click any image to enlarge.)

This section also includes a number of bits about animation points for the past's generosity. There's a section on Exosure sheets. Another on timing charts. Both are richly informative to the youngsters of today who might not want to know this for the future especially when it's so obviously part of the past.If you end up knowing that material, believe me, you're so much the better for it, and your rules will develop into the certifiably strong. He didn't hold onto those drawings for theft; I think they know it.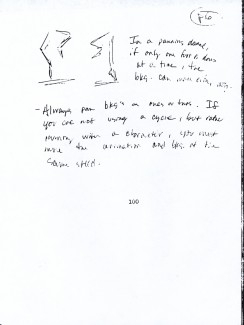 100
5 Responses to "Tissa's Class – part 3"
Leave a Reply