Animation Artifacts &Comic Art &Hubley 25 Mar 2006 07:41 am
Trying to recover some of the highlights from the past two weeks, I'm reposting these items from the Letterman series done for The Electric Company, starting back in 1972.
- These drawings are animation drawings of a run cycle done by Tissa David for the first season of the show.
There were three seasons of Letterman episodes we did at the Hubley Studio. All 60 episodes were 2 1/2 mins. apiece including the reused wrap-around: "It's a bird! It's a plan! It's Letterman!" They were all directed by John Hubley. The first 40 episodes were all done in-house. The last 20 episodes were split with 10 done in the NY studio and 10 farmed out to Fred Wolf's studio in LA. The boards and layouts in NY for those sent out. Fred and Chuck Swenson animated all 10. (These are also the only episodes to use cel vinyl.) The audio was done in NY, and editing was done in the studio by Faith Hubley.
In the first season of the show the primary voices were: Gene Wilder as Letterman, Zero Mostel as Spellbinder, Joan Rivers as the Narrator, and Jack Gilford doing incidental voices. Billy Taylor did the music.
II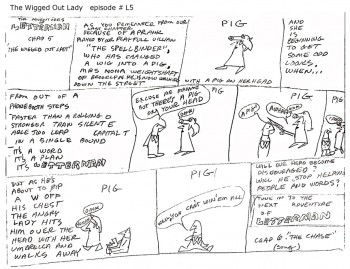 Christopher Cerf wrote all 60 episodes of Letterman, probably in collaboration with John Hubley. The storyboard posted here for episode #5 was by Chris Cerf; that's pretty much how he did the scripts.
It's undeniable that the wacky "naive" drawings undoubtedly inspired the models for the characters in the films.
(Click on any image to enlarge to a readable size.)
No doubt also affecting the models was an acccident that John Hubley had had at the start of production on this first series. At a dinner party, John tried to stop a falling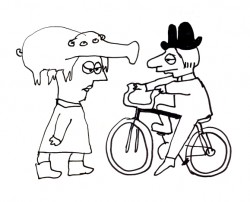 fondue pot filled with melted cheese. Horrible burns over both hands somewhat hampered his artwork. I would make several visits a day to his nearby apartment to have art approved. To have John draw, we'd prop a felt-tip pen into the mass of gauze and cotton and bandages wrapped around both hands. He'd move his wrapped fist around a sheet of paper and end up with a model like the one posted here. This went on for about three weeks (roughly half of the production time.) When he returned, backgrounds were done at a super speed.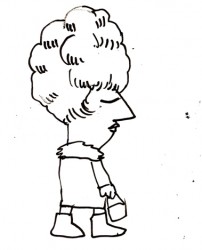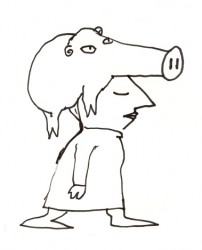 Everything was modeled on Krazy Kat. Lots of white space with sparkling color sprinkled about. The lines were dressed up with a ragged cross-hatching. The characters were colored with magic marker. (John's favorite color was Eberhard Faber's "Shock Pink". Letterman's skin color took this tone. It showed up in almost everything John did with markers.) The backgrounds were inked with a pentel felt-tip. John would throw a light wash of water over some of these lines to get them to bleed.
We'd race daily to get at least half a dozen scenes ink, painted and colored on paper. Then it'd be packaged and sent out via Fed Ex. (Celine Miles in LA cut & pasted the colored drawwings to cels; the art was shot at Animcam by Jack Buehre.) The FedEx guy arrived daily at 5:30pm, so that was my deadline. I found myself coming in at 7am to add more time to the day. I'd watch the clock which ticked furiously; I averaged 30secs to ink a drawing – any more, and I wouldn't make Faith's deadline.
III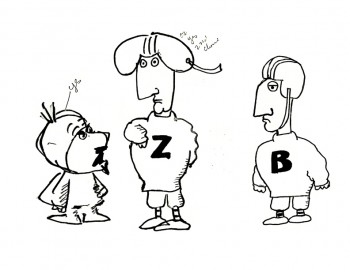 – These scrappy examples are not the best to give an indication of Letterman. But they were the ones I saved, so they'll have to do. John Hubley drew these very early in the production, and they undoubtedly owe something to Chris Cerf's hilarious storyboards.
The animators involved in season one included: Tissa David, Johnny Gentilella, Vinnie Bell, Lu Guarnier and Jack Schnerk.
Helen Komar, a veteran Asst. Animator in NY, was the coordinator of the production and Gen Hirsch also colored. Gen and I got really close over the couple of years we worked together. She was the wife of Joseph Hirsch, the brilliant artist and mother of Paul Hirsch (editor of Star Wars and other incredible films) .
It was my first real job in an animation studio. Probably for this reason, I remember a lot of what happened – it was indelibly etched in my memory. I was the inker, colorist (we used markers, remember), animator of miscellaneous scenes (I think I animated some 40 scenes that first season), hole puncher, and Assistant Animator.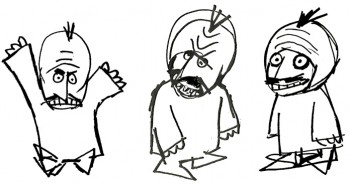 It was in the capacity as Assistant Animator that I found trouble. I hadn't done it before, except for myself, so was horribly untrained. Because the schedule was so ridiculously tight, I had to assist in ink (Sharpie pens – the fat ones that dribbled ink and bled through multiple sheets of paper) and correctly put some of the animation – I won't say on model, but closer to model.
Johnny Gentilella, an absolutely wonderful guy, was the farthest astream. He was THE Popeye animator at Paramount. His characters looked like Paramount characters, and I had to get them closer to John's style. This meant assisting (in ink), inbetweening and basically redrawing everything he'd done – in a rush – without proper training. The guilt of what I was doing to Johnny's drawings weighed heavily on me, and I eventually apologized to him for what I'd done. He laughed and told me that he had no problem with it. This was standard for NY production in those days and he was used to it. (As a matter of fact, he hired me for another job he directed months later. So I guess he wasn't too upset. I was.)
The race against the clock was always on; my career had started, and it couldn't have been more fun. And I was working for John Hubley.
4 Responses to "Letterman I, II, & III"
Leave a Reply