Commentary 30 Oct 2012 12:16 pm
Oscar Shorts
The following is a list of films that were screened as competing for the Oscar in the animated shorts category. The first half of the films were shown on Saturday, the second half on a Sunday. 6 1/2 hrs each day. Only for the hard of hearts who can make it. It's like attending an animation festival compressed into two days. They treat us in a grand way in New York. Patrick Harrison and John Fahr really have it down and are wonderfully organized.
A quick scan (and I do mean quick) and I selected some the films that were more interesting to me than others. Of course, it's hard to remember the films by title. When you see so many films in the dark, you have a hard time even remembering the titles, never mind trying to remember the films. Some stood out more quickly than others. None of the filmmakers' names are on any of the material handed out to us, just the title, film times and film formats.
1. Dell' Ammazzare Il Maiale – 6mins
2. Here and the Great Elsewhere 14mins
3. Amazonia 5mins
4. Being Bradford Dillman 10 mins
5. Belly 7 mins
6. Body Memory (Keha Ma'I LI) 10 mins
7. Cadaver 7 mins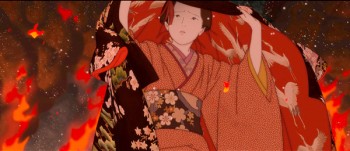 8. Combustible 13 mins
9. Dripped 8 mins
10. The Eagleman Stag
___9 mins
11. The Fall of the House
___of Usher 17 mins
12. Fear of Flying 9 mins
13. Fresh Guacamole
___2 mins
14. The Game 5 mins
15. The Gruffalo's Child 26 mins_________________Combustible by Katsuhiro Otomo
16. Head Over Heels 10 mins
17. House of Monsters 7 mins
18. I Hate You Red Light 8 mins
19. I Saw Mice Burying a Cat 6 mins
20. Junkyard 18 mins
21. Kubla Khan 4 mins
22. La Detente 9 mins
23. Lost and Found 4 mins
24. The Making of Longbird 15 mins
25. The Missing Key 30 mins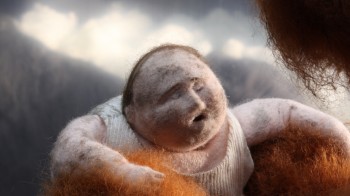 26. Oh Willy… 17 mins
27. Pepe & Lucas 7 mins
28. The Pub 8 mins
29. Reflexion 4 mins
30. Slow Derek 8 mins
31. The Story of Pines
___16 mins
32. Tram 7 mins
33. The Wind Girl (La Nina de Viento) 14 mins
34. Wolf Dog Tales
___7 mins
35. Zeinek Gehiago Iraun
___12 mins ___________________Oh Willy by Emma De Swaef & Marc James Roels
36. 7596 Frames 5 mins
37. The Hybrid U-nion 5 mins
38. The Maker 6 mins
39. Paperman 7 mins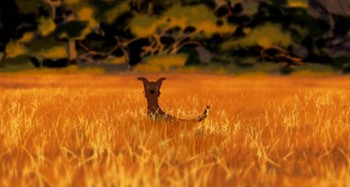 40. Adam and Dog
___16 mins
41. Chase 13 mins
42. Kara 7 mins
43. Pasteurized 8 mins
44. Sammy 10 mins
45. Shift 5 mins
46. The Tale of a String
___ 8 mins
47. Wiggle Room 8 mins
48. It's Such a Beautiful
___Day 23 mins
49. Overcast 9 mins _______________________Adam and Dog by Minkyu Lee
50. Traces 7 mins
51. Bydlo 9 mins
52. Kali the Little Vampire 9 mins
53. The Last Bus (Posledny Autobus) 15 mins
55. Edmond Was a Donkey 15 mins
56. Daffy's Rhapsody 4 mins
57. Maggie Simpson in "The Longest Daycare" 5 mins
I don't really have much information about the films or the film makers. However if you go to google and type in the title something should come up which will give you a lot of back information about the films and their creators. Worth the effort. For example type in "Oh Willy" and you get a whole series of photos and information about the puppet shoot etc.

_____________________________

Bill Benzon on Tissa's Memorial
On his blog, New Savannah, Bill Benzon has written an excellent piece entitled What I Learned from Tissa David. The piece speaks about an animator's style and how seeing a compressed number of films with the voice of the animator so obviously front and center helps allow us to recognize that voice. This, I have to say, is made easier by someone like Tissa who speaks so articulately through the visual emotions her characters display on screen.
Tissa gave every director a gift: deep and rich characters that spoke through their body language even more clearly than they could through verbalizing. Perhaps because Tissa had a bit of a problem with her speech (once a Hungarian, always a Hungarian) she was able to give her characters more communicative skills with their movements than they had with their language. This was something of a treat for me. In the final project she was doing for me, Tissa was working with highly articulate characters in POE, and adding the body language was giving the characters an amazing richness that is hard to express. Edgar Allan Poe was developing as an introverted character who lashed out and railed wen he spoke. All those words were spoken through a violent frustration that the character would have preferred not to vocalize. He always had to go in before he could lash out.
9 Responses to "Oscar Shorts"
Leave a Reply