Daily post 14 Nov 2012 08:30 am
- Fred Mogubgub did a lot of varied work. Here are three pieces which were done large. In all three cases I'm posting them in the full format and then breaking them up to allow you to see them in a larger size.
Here is what, undoubtedly, was a storyboard opening for the Broadway show, Oh Dad Poor Dad Mama's Hung You In the Closet and I'm Feeling So Sad, Arthur Kopit's furst play; it opened on Broadway in 1963 for 47 performances. The show was directed by Jerome Robbins, and the animated prologue was done by Fred Mogubgub and Pablo Ferro. This is only one of three animated films done for the Broadway stage. This piece accompanied music written by Robert Prince. (The other animated films were both done/directed by me for Woman of the Year, a number of segments that incorporated dialogue as well as a musical duets between a character and a stage actor. The third film was an animated overture done for Meet Me In St. Louis, animated archival-looking postcards, animated. The final one turned into a live setting of the town ice skating.)
This is Oh Dad, Poor Dad, a full image of the board: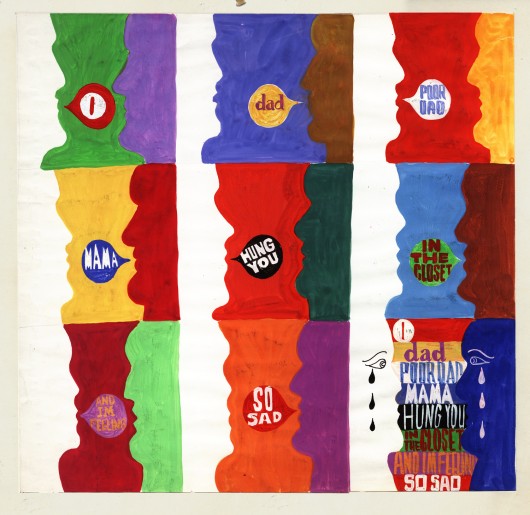 The final art used flat colors.
This is the same thing broken down into panels
to allow you to see them in a larger format.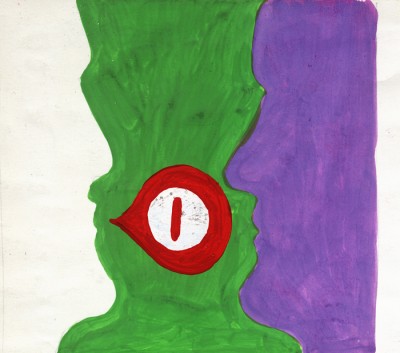 1
(Click any image to see them at a larger size.)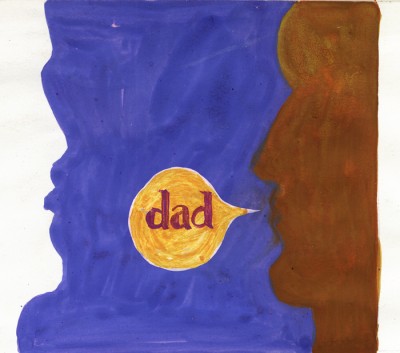 2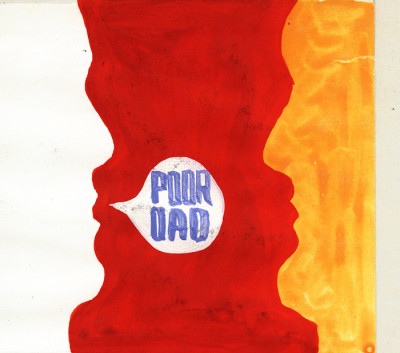 3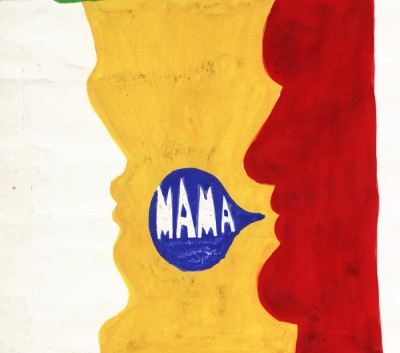 4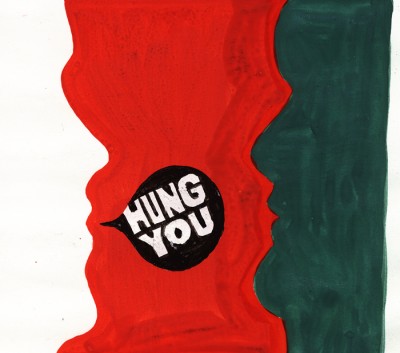 5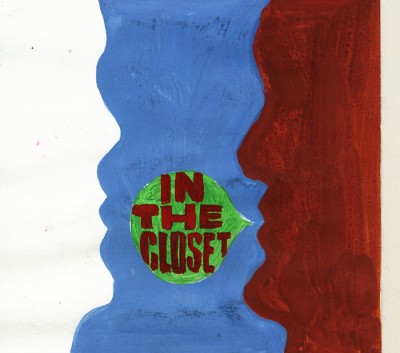 6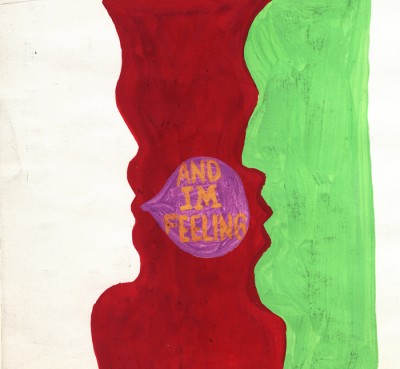 7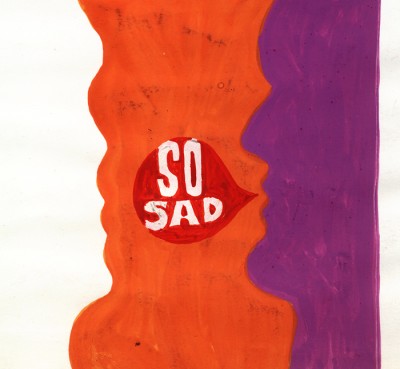 8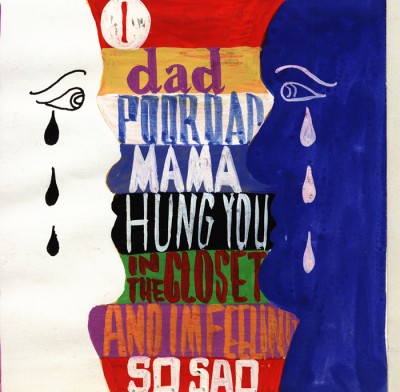 9

__________________
To follow that famous piece, there is a Christmas card, or it seems to be a Christmas card. The thing is so large it took a lot of work in photoshop to put it together. The whole is 30″ x 24. I'm posting it twice. Once full size, then in pieces so you can see/read it.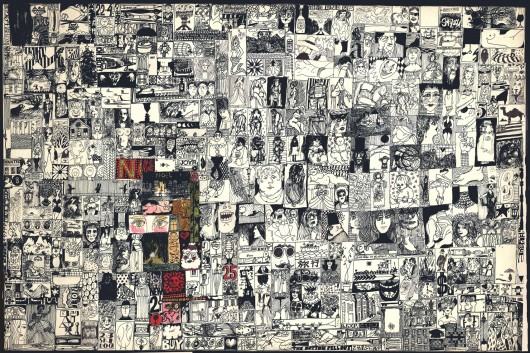 The full thing

(Click any image to enlarge.)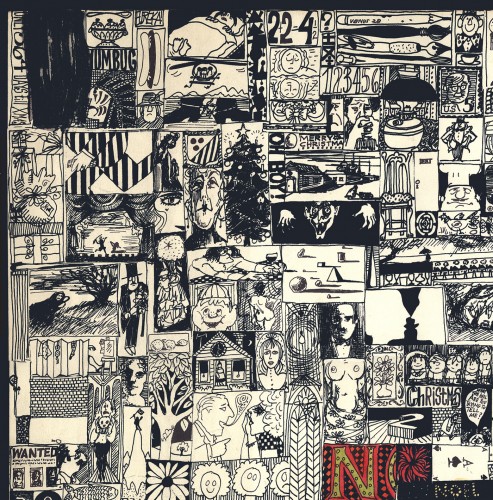 1
The six parts of the card. Top Left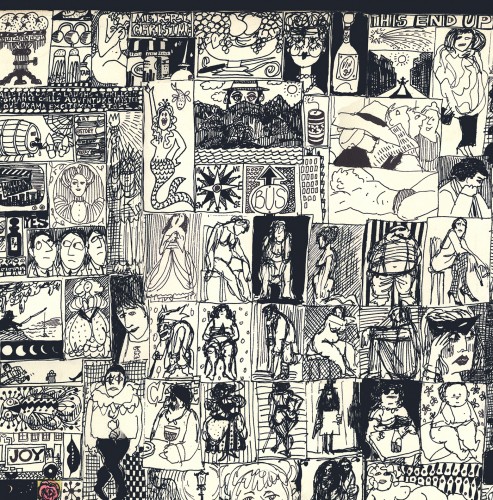 2
Top Center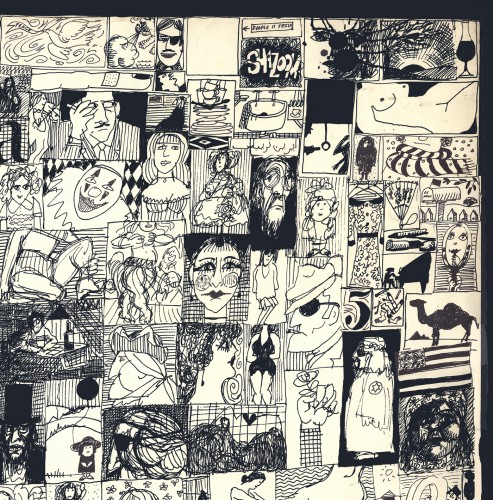 3
Top Right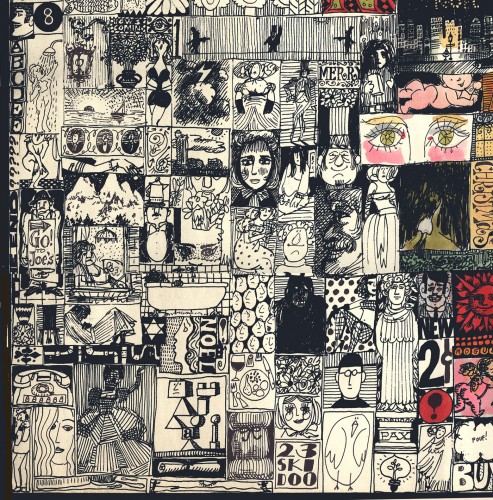 4
Bottom Left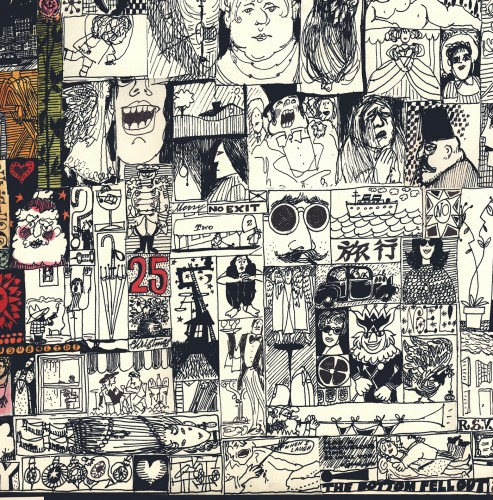 5
Bottom Center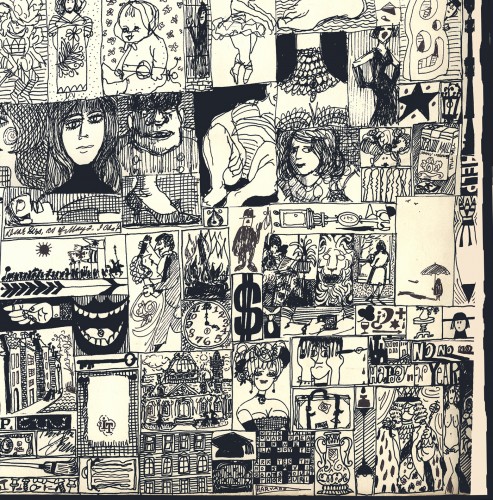 6
Bottom Right

__________________
- Another large piece by Fred Mogubgub is a painting from which he created 500 photographic prints. It was a major part of an exhibit Fred had, and the prints were sold by the gallery. As with the other large pieces, I'm posting it whole and then again, in parts.
The painting is entitled, "Paris Streets."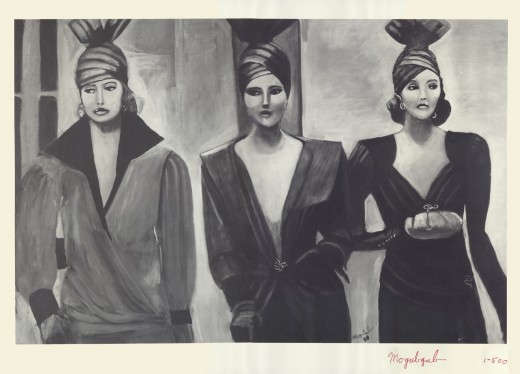 The full image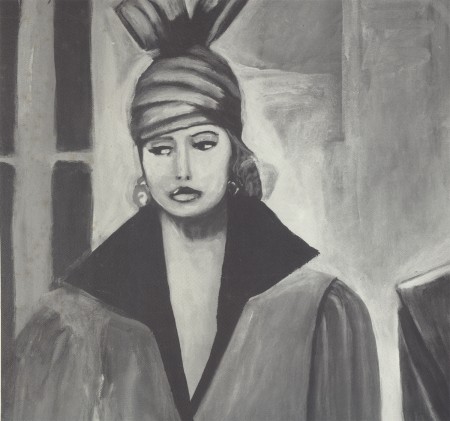 1
The first woman on the left.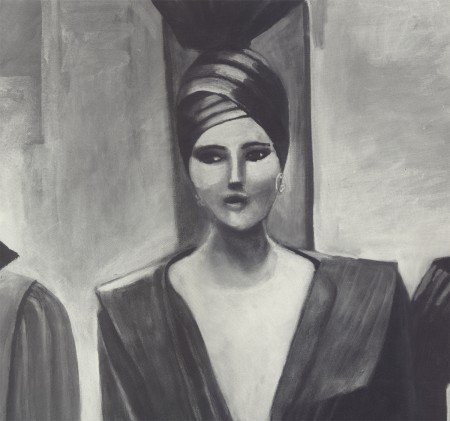 2
The woman in the center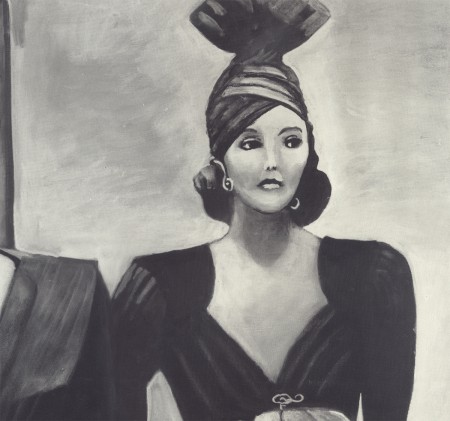 3
The woman on the right.
.
__________________
.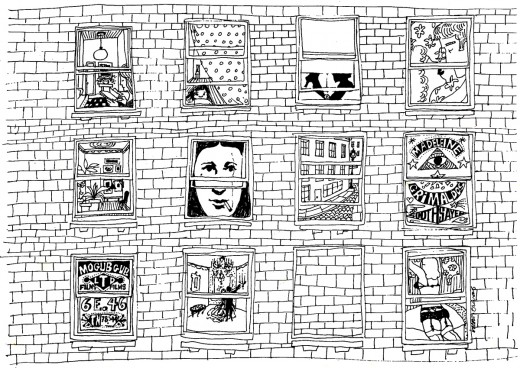 An ad for the company drawn by Irene Certas.
Very interesting. She was a brilliant checker, inker,
production coordinator who, for years, managed a
number of small studios including J.J.Sedelmaier's.
She is also Janet Scagnelli's sister.
Obviously, brilliance runs in that family.
3 Responses to "Mogubgub 3"
on 14 Nov 2012 at 11:22 am 1.Richard O'Connor said …

Great stuff, thanks a million.

Minor correction, I believe the ad was drawn by Irene Trivas (who also had brilliance running in the family).

on 14 Nov 2012 at 1:49 pm 2.GG said …

Michael, Thanks so much for all the Mogubgub history and his witty sensibility. It's interesting to think of these drawings as storyboards. They make you see how he experimented with and inverted the idea of narrative continuity.

Commenting on your previous 3 chapters:

1. That mural of the cartoon cutie doing a proto-kick-starter pitch really seduced me too. When I went to his mylar-festooned studio in 1968 to show him my Kodachrome pixillations, he offered me a toke and $10 to "get a work print, kid."

2. In those days we were all in stitches over his irreverent "Enter Hamlet" (single pun/cartoon drawings cut to each word of the soliloquy, with Maurice Evans on the track) and "The Great Society" (a cornucopia of commercial products marching to the "Battle Hymn of the Republic"). These were made as true satires on high and low culture using crude, improvisational techniques quite alien to studio methodology. And they could be seen in downtown theaters which also occasionally played shorts by Stan VanDerBeek and others

3. In your August post you mentioned coloring with Fred on "The Soldier's Tale." He did (designed and animated) at least two other outstanding sequences. As the soldier is returning home he is bombarded with a complex Constructivist fantasy of colliding shapes, animated and colored on paper; and the nutty, multi-screen telephone scene (in a triple-winged airplane).

Fred was a excellent example of the wacky Pop sensibility of the anarchic 60s, when underground comics met casual, innocent, experimental animation. But more than that he was unique — a multi-talented artist: drawing, painting, murals, commercial design and production, independent animated film long before it even had a name. Mogubgub was way ahead of his time but probably wouldn't have liked to be called "avant grade."

on 15 Nov 2012 at 4:54 pm 3.anik said …

very interesting work, thanks for posting
Leave a Reply