Commentary 11 Nov 2012 06:00 am
KNZJAH59VWUM
Early Lincoln
- I'm a sucker for silent movies. I think I've read at least a dozen biographies of D.W. Griffith, and I've seen a lot of his films (probably all of the features) at least once. I'm impressed with the drive and the love those people put into their work. They didn't think of it as an art form, and they weren't considered artists in their time. But in the end, there can be no doubt that some of the filmmakers of the time were creating art.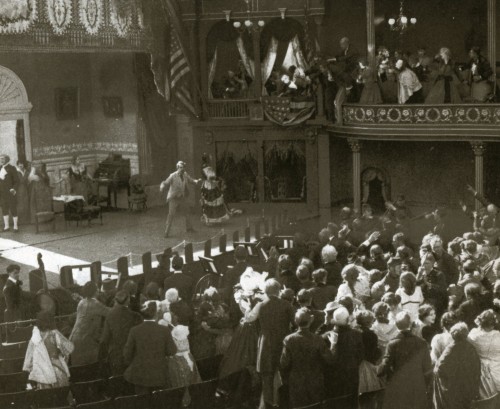 A scene from Griffith's The Birth of A Nation. It's a recreation of
Ford's Theater as Lincoln gets shot.
I once saw a silent feature with no musical accompaniment. The silence was deafening. It was amazing how silent the audience remained throughout the feature film. I guess the film was absorbing enough to make that audience unaware of the silence. That was about 15 years ago; I wonder if the same would occur today.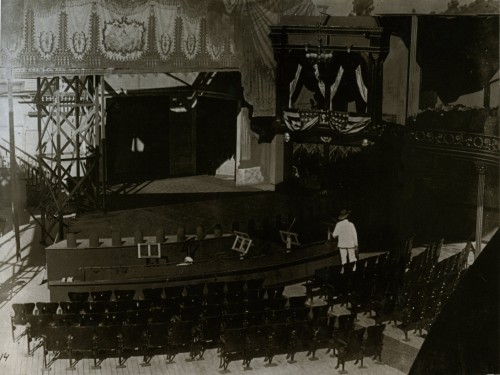 DW Griffith on the Booth Theater set under construction.
Watching silent films with organ music playing background is not the ideal way to see them.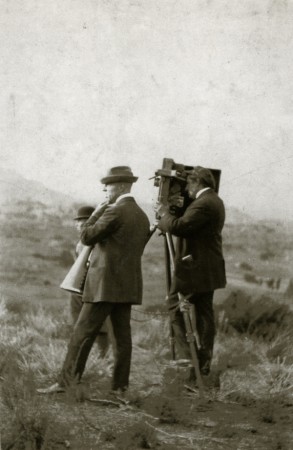 Most piano players who back up these films also aren't really up to the task. But when you see a film with a great pianist or a good orchestral score it makes all the difference. There's a musical group called the Alloy Orchestra that enhances the films they accompany, and allows the movies to live up to their full potential. I suggest you try to attend one of their programs if they're in your neighborhood. (Or just buy one of their cd's; you won't regret it.) I suggest Metropolis or one of their sampler albums.
To the left, a rare picture of D. W. Griffith and Billy Bitzer on location for Biograph around 1912. Bitzer is lining up a shot through ground glass, which he has inserted into the gate — there was no viewfinder on the Mutograph camera. This large machine, which punched its own sprocket holes, was smaller and more portable than Biograph's first cameras. Negatives made with it are still providing superb quality prints.
________(Click any image to enlarge.)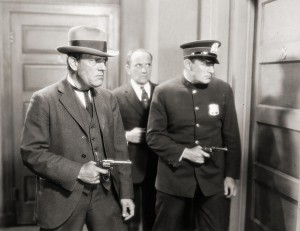 One story from the book Adventures with DW Griffith by Karl Brown has stuck with me for many many years. He and Griffith both lived near 14th Street. Daily they'd walk together to the studio on 125th Street, walking through Central Park. Brown said he once talked about how dangerous it could be walking so early in the morning. At that point, Griffith pulled a long nosed pistol out of his inner jacket pocket, and told Brown he was prepared for any event. This made me realize how volatile a society they must have lived in that early in the century. Thank god times have changed.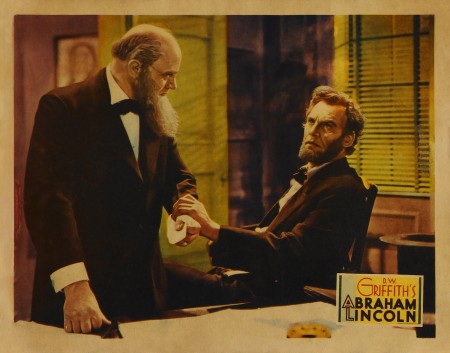 DW Griffith was obsessed with Lincoln and did a number of films that featured the 16th President. One of Griffith's last films was an early talking film called, Lincoln. It starred Walter Huston (John Huston's father) as the President.

________________________

Spielberg Lincoln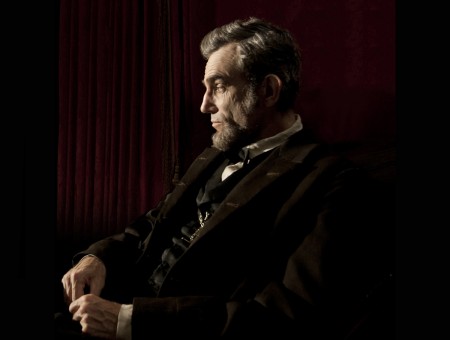 Spielberg has a new film, Lincoln, in theaters, now. Take a look at the picture of Daniel Day Lewis, above. It may as well be a penny. Incredible, the makeup. Lewis got me even before I saw this film. The voice – what he did with his voice – just took my breath. He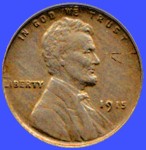 spoke throughout the film in a higher register than was natural for him. The expected dulcet tones and stentorian readings were not there – on purpose. I keep wanting to say a Nebraskan accent, but that's wrong. It has to be Illinois, the accent. Daniel Day Lewis obviously worked his voice off for this one, and it's just amazing.
The brilliant makeup nowadays was expected, but it's only the acting under the makeup that could pull it off. Stick a lot of makeup on James Caan, and you still have James Caan in makeup. But Daniel Day Lewis knows how to act beyond the mask outside his head, and that performance is astounding. (No, it's not better than what Jean-Louis Trintignant has done in Amour, both performances are formidable.)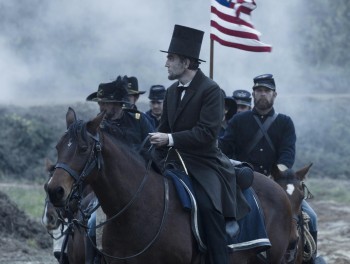 For the first half hour of the movie I was astounded. Everything melds so well together and moves seamlessly in a wonderful recreation of historic Lincoln in the White House of the era. Daniel Day Lewis has you searching the screen for him in every scene. He's remarkable. Spielberg makes us feel Private Ryan, Gone With the Wind, Birth of a Nation and all of movie history; what a glorious feeling. But the film gets down to business and unfortunately the 2½ hour movie feels rushed. A lot was undoubtedly cut out and consequently the film feels smaller than it is. The story is basically about politics. Getting a vote across in a lame duck Congress. (Great idea for a story.) But you want more – or at least, I did, and I'm sure it was once there. They just took it out to get the film down to a reasonable length. Our loss and the movie's loss; it makes the movie smaller.
There's a brilliant scene where the exhausted Lincoln, toward the film's start, goes into his office. His son (I originally thought it was his daughter, but I was corrected) is lying asleep on a newspaper. (The scene of him on the floor is beautifully done and feels as thogh it's an outtake from Gone With the Wind. Beautiful in every possible way, and it brings us back to another great Civil war movie.) Lincoln lies down beside him on the floor and embraces him. He wakes up and climbs onto dad's back and Lincoln takes him off to bed. S. Epatha Merkerson is a character who enters in the very end of the film. She should have been seen earlier. They certainly reduced her part to nothing (even though it's a key character to the epic version of Lincoln.) And you know there was more of the character once upon a time. The character doesn't just enter for two scenes and is gone, not in a script by Tony Kushner. No they had to have cut her character onto the editing room floor.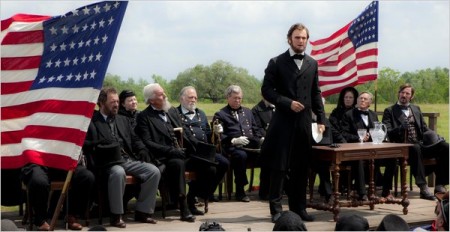 The film needed more breathing room. It's 2½ hours, and they should have gone for 3. It may have made it a bit stodgy, but it deserved the time. Toward the end it also has too many cherished moments for Spielberg's romantic side. Lincoln becomes too noble in those beautiful shots, and the music soars in case we missed it. Yet we didn't need it. A drier film would have been a better film.Still, I'll see it again. This film should be on a double bill with Spielberg's Amistad. Then send them both out to the schools of the nation.
See it for all that it is, and all that it should have been. See it for the performances – so many fine ones. See it for the photography. Unfortunately, it's not the best film of the year. I still don't know what that is, but this one is not quite an A, maybe a B+ or an A- in my opinion. Great work that was pushed to completion doesn't always get the full regard.
Since seeing this film three days ago, I haven't been able to stop thinkng about it. No, not the story, but the actors. The three who try to con the vote out of the opposition, James Spader, John Hawkes and Tim Blake Nelson keep popping up, as does, of course, the incredible Daniel Day Lewis. Even Sally Field is on my mind, particularly in the one scene she, as Ann Todd, argues violently with her husband in their bedroom. I very much want to see the film again. I'd guess that's a good thing to say for a film.

___________________________

Tragedy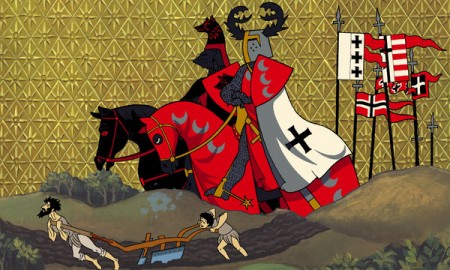 - To write about another film seems almost blasphemous, but here goes. The NYTimes', Robert Ito, writes at length today in a story about Marcell Jankovics' new animated feature, The Tragedy of Man. The film took almost three decades to complete and is premiering at the Hungarian Film Festival of Los Angeles on opening night, Nov. 15th. If you live in LA, it sounds like you should be there.
3 Responses to "Lincoln"
on 11 Nov 2012 at 9:01 am 1.Bill Benzon said …

As I'm sure you know, Michael, back in the day, there were pianists who made a living accompanying silent films. Music publishers sold books of cues for such use. I believe at least some films came with lists of suggested cues. And, of course, some had music purposely scored for them.

on 11 Nov 2012 at 10:41 am 2.Michael said …

Yes, Bill, of course I know that pianists performed with silent movies. Some of the films were prescored, with music for the performer but many depended on the theater pianist or organist to make it up. Quite a few of these performers actually went on to writing music for the movies; Carl Stallings being a good example. Others like Fats Waller used the experience to make money.
The musicians I was talking about in my piece are those who do it for a living today. There are some; some who are good and some who are not-so-good. I was just stating that I did not like organists who accompany films and prefer talented pianists. The Alloy Orchestra has made a good business of the art of writing for unusual silent films. It's worth hearing their music.

on 11 Nov 2012 at 4:37 pm 3.Mark Sonntag said …

I'm looking forward to seeing Lincoln, I suspect as you said a lot has been cut and may well be put into the blu-ray release. My favorite Lincoln movie so far is John Ford's Young Mr Lincoln. I'm sure it's not historically accurate though. I haven't read the book Spielberg's film is based on but plan to.
Leave a Reply