Commentary 24 Nov 2012 07:46 am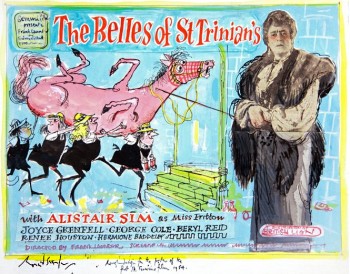 - A few months ago I got pretty excited about an animation project in the news. Uli Meyer, the brilliant animator/director/designer, had decided to commit to a film he loved and wanted to take beyond the tests he'd already done so successfully. The film was an adaptation of Ronald Searle's great series, The Belles of St. Trinian's. This series of cartoon books inspired several feature films in the early fifties that starred some of the greats: Alastair Sim, Margaret Rutherford, Terry Thomas.
Years ago, I'd seen the first in this series of movies; I'd also seen the beautifully executed test done by Mr. Meyer and was taken by the excellence in the performances in that spot – performances by both the character's and the director's. The animation had so charmingly captured the style of Ronald Searle's delicate illustration style. It also captured the humor of the cartoon.
So, yes, I was excited by this news. I immediately linked to the new site that was created as a sort of production blog for the film, and I contacted Uli to offer assistance in any way that I could.
I watched as they recently took the older B&W test and experimented with color coming, finally, to an exquisite little film which was posted on line:
But then came the bad news that things had come to a halt with the project. This is what Uli wrote on his St. Trinian's blog:
You might have noticed the lack of posts recently, unfortunately the production has hit a major setback. I can't go into details and don't want to name the culprits because I am hoping that at some point soon the issue can be resolved. Unfortunately there are some people who don't want me to make this film. I had no choice but to put it on hold. This is not the end of this . . .
Apparently, in meeting some of the family, they gave encouraging words of support regarding his film, and promised that once the estate took back control of the books, the project could resume.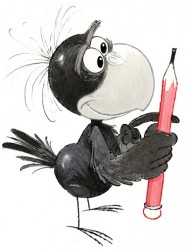 To put bad news to positive use, Uli chose to utilize his time by diving into a children's book idea he'd had. The book would be one that would be designed for young children with beautiful illustrations done in his own style. Uli explains the book better than I could, so I encourage you to visit the blog that explains it – here.
The book is called Cuthbert Was Bored, and in Uli's words, it's "A 40 page picture book for the very young, about shapes, colours, sizes and a little crow's journey to self-discovery." The art is so juicy, I'd love to see it animated and hope it will be successful so that it could make the transition to film. Naturally, it's important for this book to be handled correctly, and to that end Uli has decided to self-publish it. That would allow him to control the rights and get the best possible printing.
To raise some small amount of money to enable the highest quality and the control the book demands Uli has set up a Kickstarter campaign. This is well on its way, and with two weeks left we can hope that Uli will raise the final goal of £10,000 needed. I urge you to go and take a look at some of the beautiful art on display at the Kickstarter page. In its own right the page is attractively displayed and is enormously encouraging as a potentially beautiful book (and hopefully a great animated film – that's just me shouting my unnecessary opinion). Of course, you should seriously consider contributing some amount to the project no matter how small. It's obviously a good project with a worthwhile work of art in progress.

_______________________________

Pi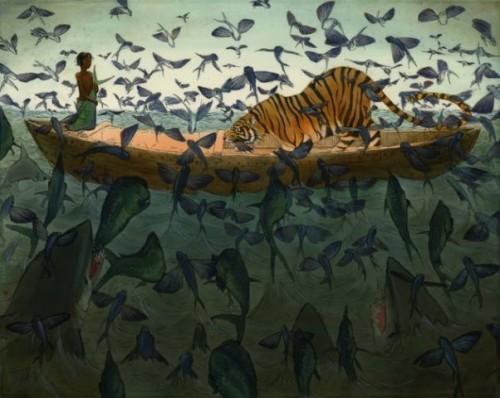 Another week and another stash of films I've seen. But once I saw Monday's film, I wanted to stop. I felt like I'd seen the best film of the year and was completely satisfied. It gave me enough to think abut for the rest of the week. It also happens to be my idea of the best animated film of the year.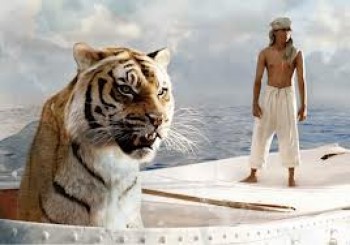 The Life of Pi is adapted from a book I just absorbed rather than read. This book was magic for me, and I gave copies to many people because I thought it something everyone should read. Then I waited patiently for a film to be made. I'd read the reports. M. Night Shyamalan, for a while, controlled the rights to the film, and slowly, very slowly, he worked toward a finished script for the book. I find his work more gimmick than reality, so didn't expect the flm I hoped for. He was followed by Alfonso Cuaron, a favorite filmmaker of mine, so a good film for me then became a possibility. Eventually, I learned that Ang Lee had taken control. Lee is a brilliant filmmaker, one of the highest in my pantheon, and I felt the material was safe in his hands.
Now, having seen the film I feel that Lee has made, I think he has found a new way of creating movies. Something of an amalgam; reality blends with poetry, cgi blends with live action. Ever since Silent film went out of fashion, the word on film was that it had to be visual. If you could do the movie without words, so much the better. Now, with the advent of the computer Ang Lee has found his true métier. Visuals could blossom into poetry in the artist's hand, and that allows the filmmaker to make a moving picture rather than a talking picture. Of course, the sound track is a good part of the movie, but it's now there to enhance the visuals and not overtake it.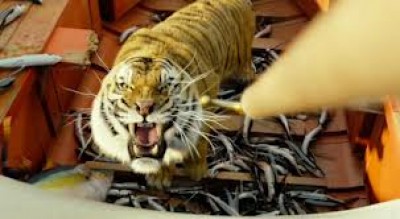 The story in this film ultimately is about a young man – about 16 – and a Bengal tiger that are trapped together in the middle of the Pacific Ocean on a small boat – a life boat off the side of a passenger ship. Of course the two can't kill each other or there would be no book or movie. How they do it and why this story is explored became the themes. A tiger and a boy, according to u-nion rules, cannot occupy the same frame at the same time. Trick photography had to start with this simple problem. It made sense to animate about 75% of the tiger, and believe me you can't tell which is tiger and which is cgi. There's magic on the screen.
Poetry is created with the ocean and the stars and the lead actors. It's all in the search for who is god, what is it about a creator that so entrances us, and what are we willing to do to survive in the presence of this god.
Oh, I'm selling this wrong, I know it. It's not a perfect film. There's a big mistake, I feel, toward the end where something is explained. The audience gets it; you don't have to tell us everything. We can interpret it; we don't need it interpreted for us.
But the film is such a big one; it's so exciting just on the top level, but then you can reach down deep and keep on reaching and you won't run out of levels. It's an amazing film, and I'll quit there. See this in a theater, that's all I'll ask of you.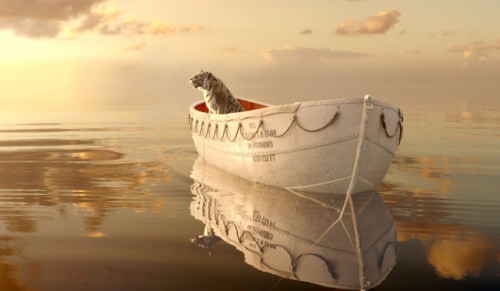 ____________________________________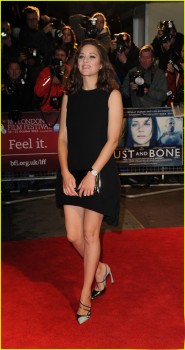 There were a couple of other films this week. The first, seen on Tuesday night, also involved some heavy cgi animation. Rust and Bone is a French film that starred Marion Cotillard, a brilliant actress. She plays a woman who, in an accident at a marine show, has to have both legs amputated just above the knees. We see – or I mean we don't see her legs for the rest of the film, they're removed digitally. Very much like Gary Sinese's legs in Forrest Gump. The difference is partly, that we WANT to see Marion Cotillard's legs. Of course, digitally removing them isn't enough; it's the incredible acting that goes with it that allows you to buy that problem in the character. The film is a good one – at least, I thought so. Someone else who saw it at the same screening as I thought the film a total waste of time. Different moods, I guess.
Last night, I saw a film that I know was a total waste of my time. Les Miserables the movie was a curiousity for me. I'd hated the musical and hoped that the film would make up for that memory of a horrible show. But I was wrong. The film was every bit as bad as the live show, even with celebrities in the roles. Two actors were great: Amanda Seyfried and Eddie Redmayne; both sang with an innocence that gave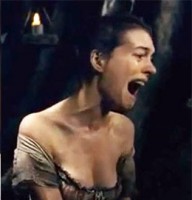 their pitch perfect voices a wonderful clarity. The two of them are the only reasons for seeing this film. Others weren't as successful. Hugh Jackman's singing voice is nasal and annoying after a while. Russell Crowe was flat half the time. Anne Hathaway has a mediocre, thin voice which kills the part with her over-performing attempts to outdo every other Fantine. In the Q&A she spent so much time telling us how bad she is that you realize how much she does like herself. In her mind she couldn't outdo "Patty" so she had to find a newer way in. She's really just fishing for compliments. Yug.
Director, Tom Hooper, created a one note film that was tedious to sit through. At least for me.
The Q&A was with Tom Hooper, Ann Hathaway, Eddie Redmayne, Amanda Seyfried, and Samantha Barks. It was one of the few Q&A sessions I walked out of. The answers to the dull questions were tedious.
Tonight I see Lincoln again. Heidi hasn't seen it and I want her take on it. Spielberg is the Ann Hathaway of directors. How many ways can he pull his face to show us how cute he is. Fortunately, that cuteness only shows up toward the end of this film, Lincoln.
3 Responses to "On the Plate"
on 24 Nov 2012 at 12:24 pm 1.Milton Gray said …

Hi Michael — You didn't mention that Life of Pi is also showing in 3D. I hope that you saw it that way. I did, and it was absolutely stunning.

on 24 Nov 2012 at 12:32 pm 2.Michael said …

Yes, Milt, I did see LIFE OF PI in 3D. That was just another wonderful attribute. The film is a treasure, the only real gold I've found this year, so far. I'm glad you also liked it.

on 24 Nov 2012 at 12:56 pm 3.Stephen Macquignon said …

Pi has been on my I hope it's as good as the previews list. Happy to read the review from you.
Leave a Reply