Books 17 Dec 2012 08:18 am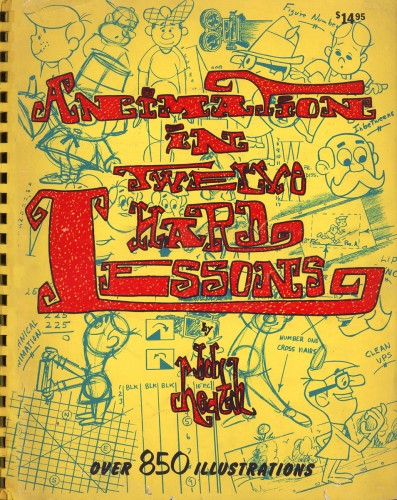 - When I was younger, animation books were hard to come by. There were books like The Art of Walt Disney by Robert Field or The Art of Animation by Bob Thomas, a couple of books by John Halas, or the Preston Blair Animation book. Some of these were readily available and not too expensive (I bought the Preston Blair book for $1.99 – list price) others were considered rare books and were not only expensive but hard to find.
One book that was advertised in the back of magazines that were about film and/or animation was the Robert Heath/Tony Creazzo book Animation in Twelve Hard Lessons. For some reason, over many years, I never bought a copy for myself. As a matter of fact, I never actually even saw a copy at arm's length. It was always not there.
Now, I'm spending some time at Buzzco, Candy Kugel's studio. Lo and Behold, there was a copy of the book, and I finally got a chance to go through it. In fact, I've decided to post it on line and have found it to be pretty good. It starts out on the most basic level but gets more and more professional. Today's post is about exposure sheets and planning for the camera. There's a lot of information there. Much of it isn't used in quite the same way it once was, but believe me knowledge of this goes a long and far way toward helping to make the film making process more solid and professional.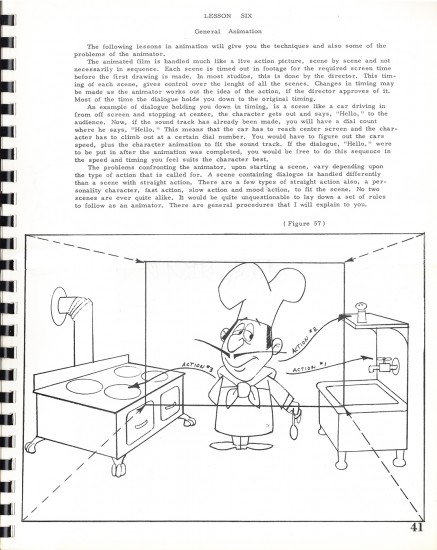 41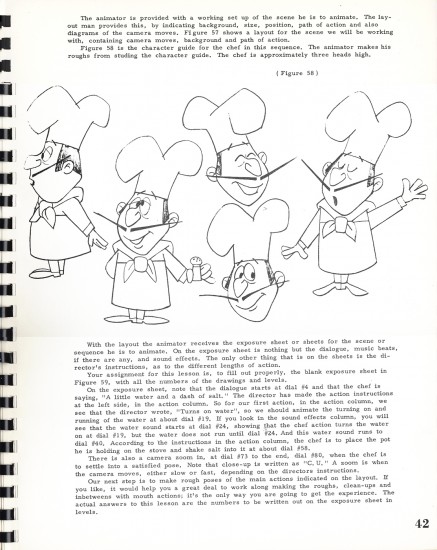 42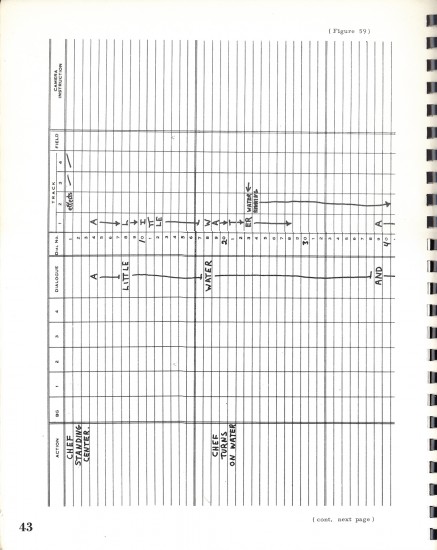 43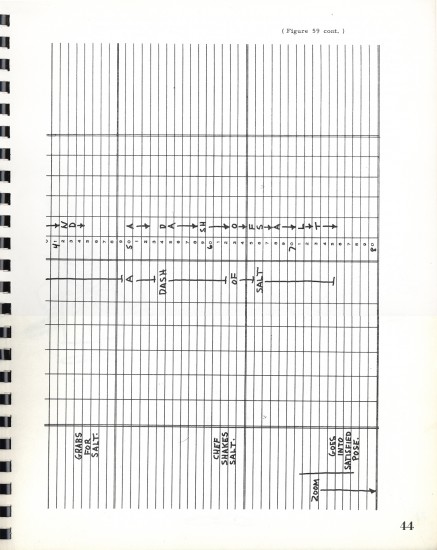 44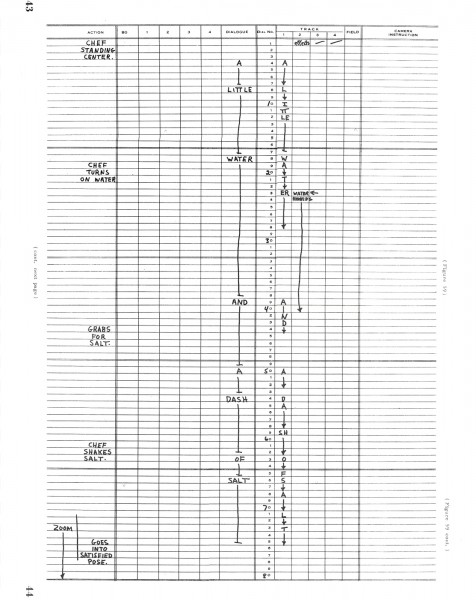 This is a combination of pages 43 & 44 right up.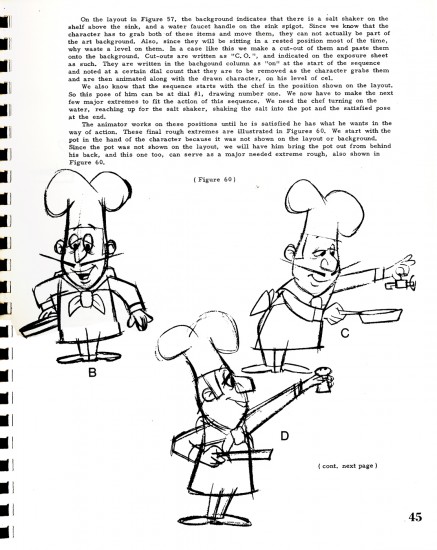 45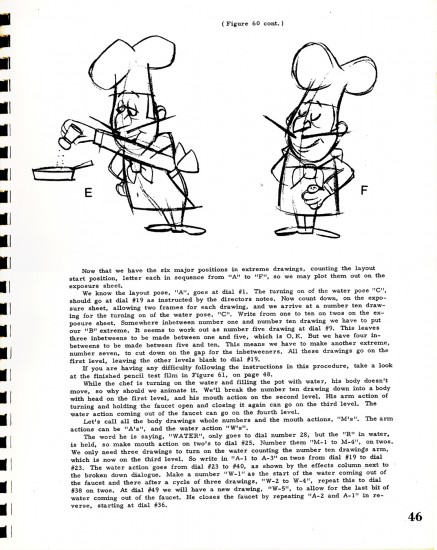 46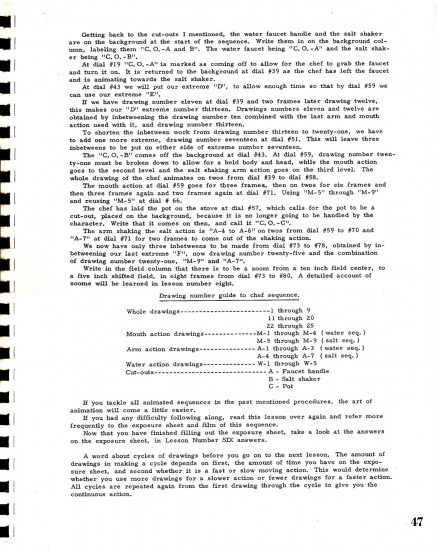 47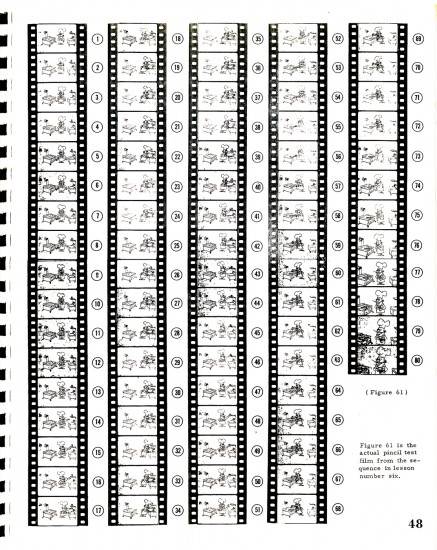 48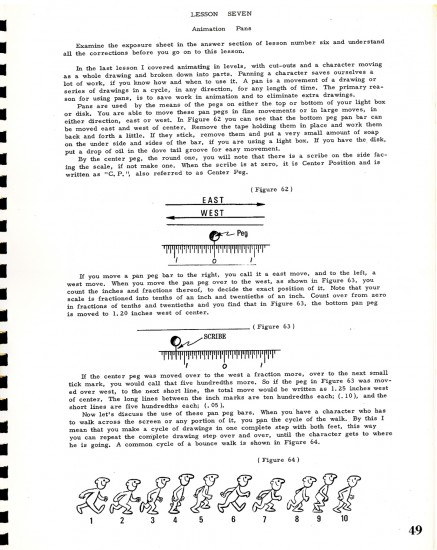 49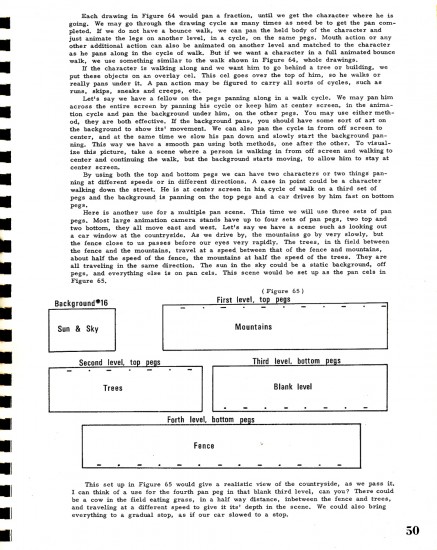 50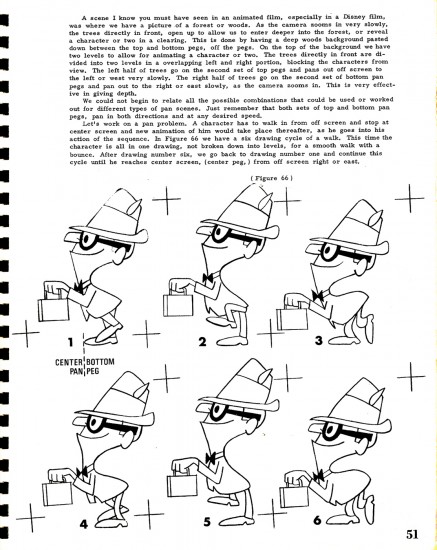 51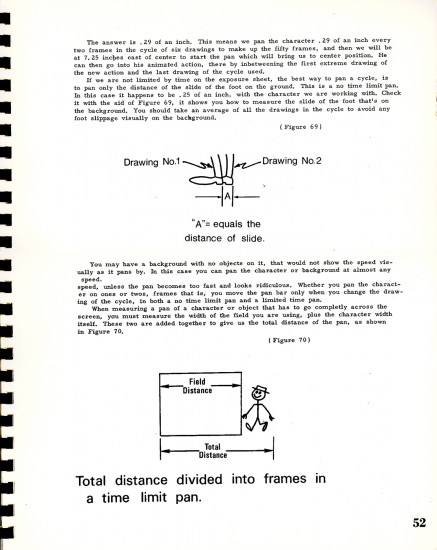 52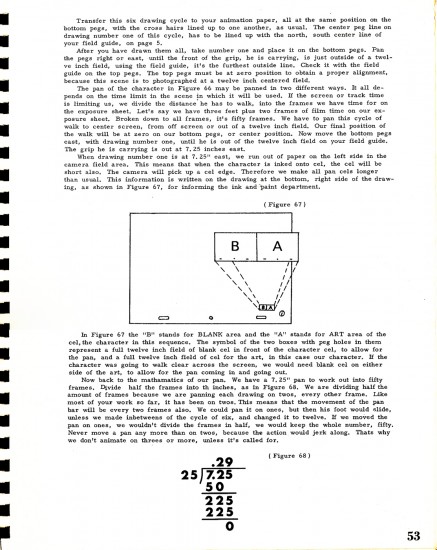 53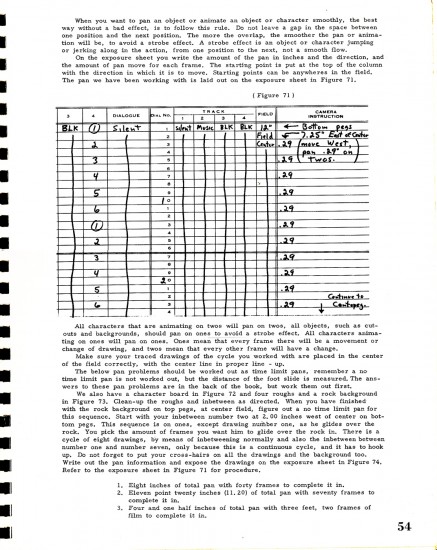 54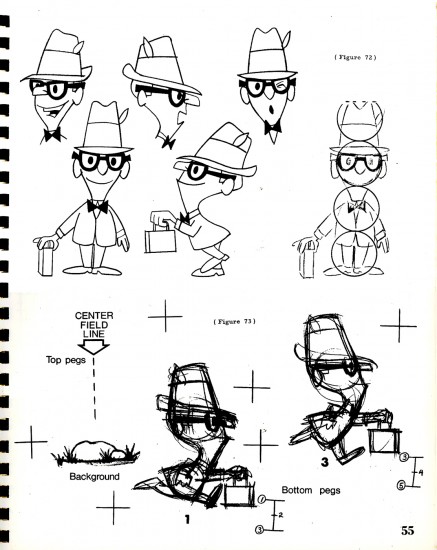 55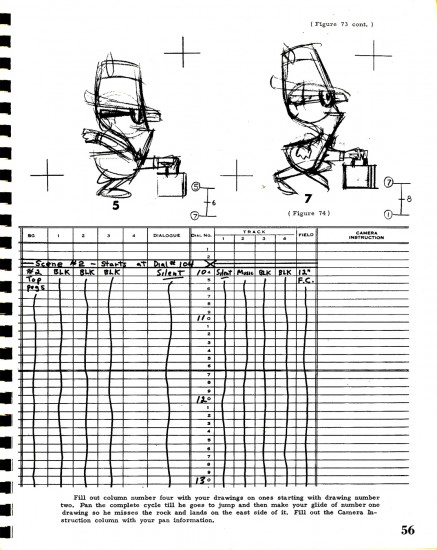 56
I was not quite sure whether to continue today's post or to stop here cutting off the next lesson until next time. The material upcoming is so dense in its technology (however dated, given that most of us are using computers these days) that I was confident most readers would just zip past that material. However I decided to include it today. I didn't see the need to stretch the book out, and I thought the dedicated will stay with it.
There's a ripe history there among the Oxberries and the optical printers. I'm sure back in the day of the classical animator, most of them probably didn't know what the equipment actually was or what it did. The animator was involved with the line and the movement, the background person focused on the color planes they created. Who cared what they shot it on or how they did a dissolve. Of course, then there were the people like me who not only wanted to know how these machines worked but wanted to do it themselves. In fact, that was the case. For the first few years I shot my own animation on an animation stand I built out of an old WWII device used for creating ID cards. The only part that came from the Oxberry factory was the platen; I was too concerned about it being the proper kind of glass and the weight of the springs being just right. I eventually moved up to a rented Oxberry stand and would should overnight, and finally, I considered myself something of a success when I was able to hire a camera crew to actually film the material for me.
For the geeks out there who were like me, here's the next chapter.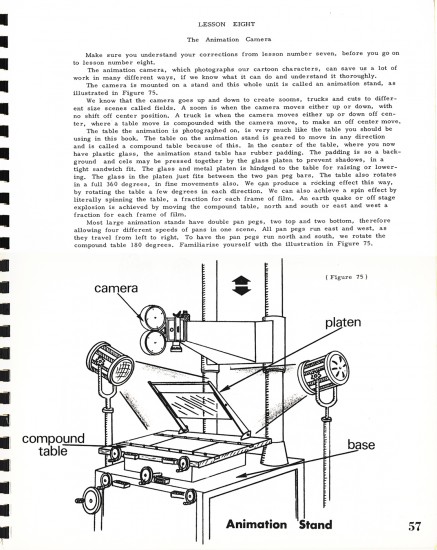 57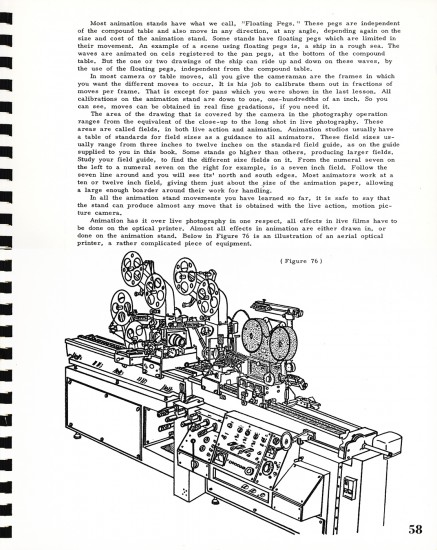 58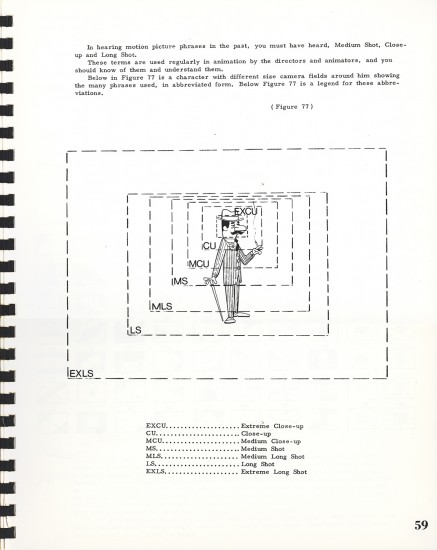 m59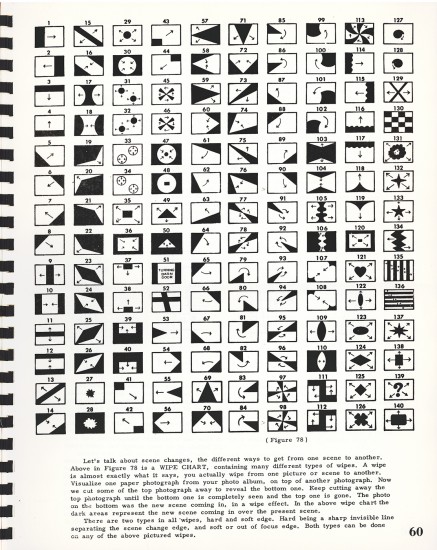 60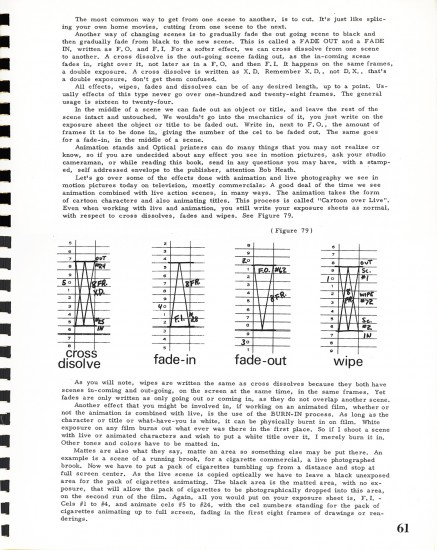 61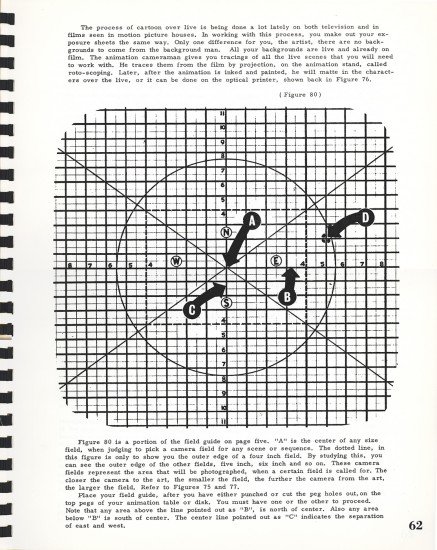 62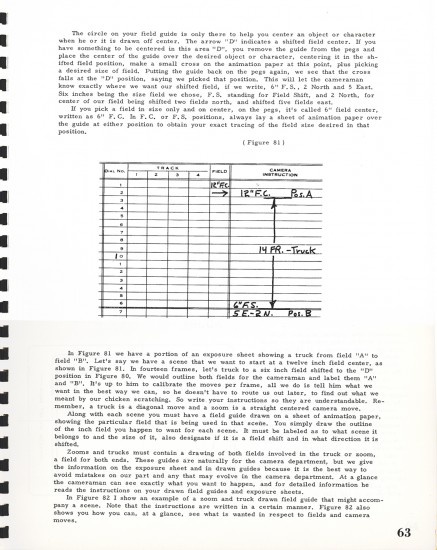 63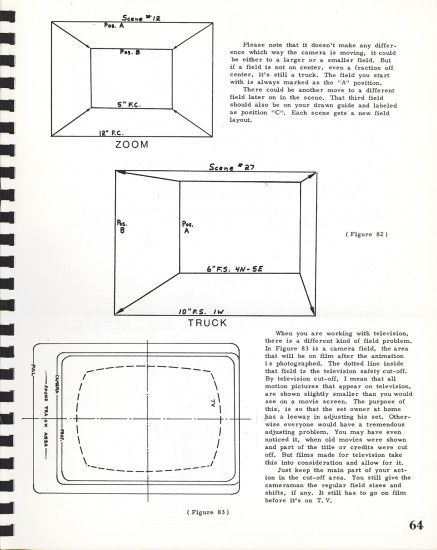 64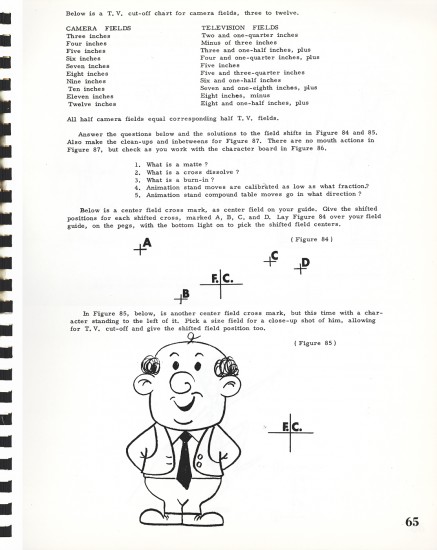 65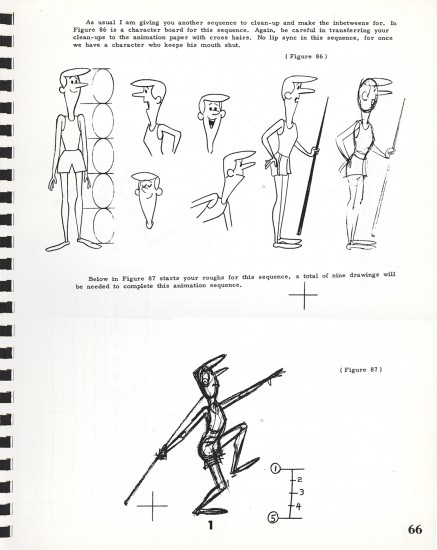 66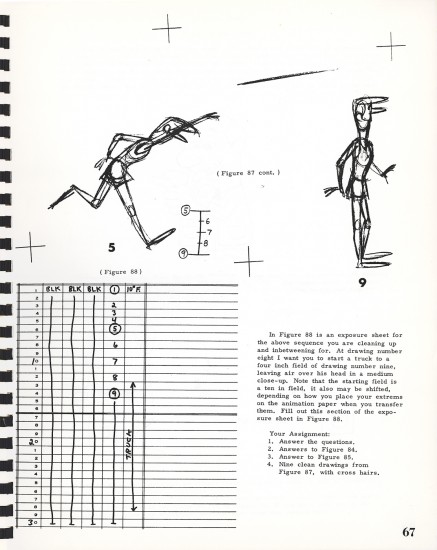 67
9 Responses to "Heath Book – 3"
Leave a Reply