Articles on Animation &Books &Chuck Jones &Independent Animation 15 Dec 2012 07:18 am
- Turn around, and it's the weekend again. I guess that's a good thing. But Christmas seems to be coming so quickly these days. It was only yesterday that I was complaining that they were pushing Christmas on us so soon after Thanksgiving. Christmas carols when we had hardly finished eating the turkey! Maybe they were right.
As we get closer to Christmas there are fewer and fewer Academy events. Things were mellowing out already this past week. I was so happy to not have had a dinner or a lunch or a screening to attend last Sunday. I stayed home and was quiet while the weather, outside, was pretty lousy. One of those days where the rain is light enough that you feel stupid opening an umbrella, but the wind and the temperature made it so bitter out that it was great to be indoors – anywhere.

_____________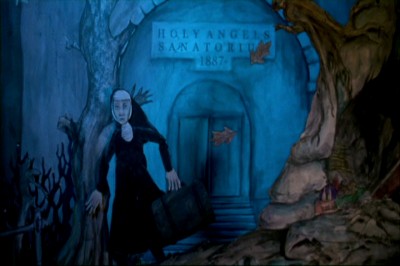 On Monday, I'd picked up a DVD for the animated feature, Consuming Spirits, at the Film Forum theater. The film should be seen on a big screen. It was shot in 16mm and looked pretty darn good in DVD. The story is complex, so I'm sure watching it focused in a theater would be better for the film. However, I loved it, just the same, and my review in the Splog on Tuesday was a foreshadowing of some of the reviews that appeared in the NY papers on Wednesday when it officially opened. This movie will be playing through Christmas Day; treat yourself.
It's very positive that A.O.Scott in the NYTimes chose his top ten flms of the year. As usual he adds another five or six which he call his "honorable mention" list of films that came close to being in his top ten. Consuming Spirits was one of these "honorable mention" movies that take on a nice prominence.Mind you that I don't always agree with Mr.Scott (e.g. my favorite movie of the year is not to be found on his list), but I do take pleasure when I see such a deserving, small film get the attention it deserves.
Read A.O. Scott's review for the NYTimes here.
Read the 3 star review by Farran Smith Nehme for the NYPOST here.

_____________
On Tuesday there was a luncheon at the Four Seasons for Les Misérables. Some of the cast – Anne Hathaway, Hugh Jackman, Eddie Redmayne, Amanda Seyfried and Samantha Barks were all there. We entered a different room this time; this one had a piano bar playing. Uh oh.
During the meal, director Tom Hooper announced that, even though they'd had a late night the night before – there was a lot of drinking, I guess, at the premiere – the cast was itching to sing for us. Samantha Banke, who did a lot of musical theater in England,sang "Summertimne". This was an odd choice given the temperature outside, but she did a great job. Hugh Jackman then sang a song to his wife which was a love letter to her. Anne Hathaway followed singing a Christmas carol with Eddie Redmayne, Amanda Seyfried and Hugh Jackman doing backup. Coffee was served and the lunch ended quickly. Tom Hooper didn't even recite a poem, but he did take photos of the crowd with his cel phone.

_____________
On Thursday I went to an Academy screening of The Hobbit. If it resembled any of the Lord of the Rings movies (with endless battles going on among millions of computerized creatures) I was prepared to walk out. The film felt as though it had been written by one of those geeks you meet at Comic Con. Completely amateurish dialogue with cliché following cliché while all this good stuff passed on screen visually. The near-three hour length was exhausting. The score is great and Ian McKellan is a blessing.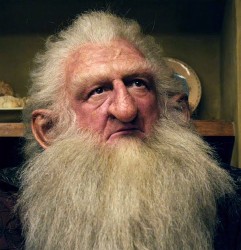 The film was shot at 48 frs per sec (and projected back at the same rate) which created a sharper more defined focus, closer in look to hi def video than film. There was one character, covered in hair, who I found extraordinary to watch without my 3D glasses. The focus on his skin was amazing, and I spent a lot of the first hour searching for shots of him without my glasses on. I later learned the character's name, Balin. I hate to say it, but that was really the height of the film for me.
I also have to agree that the animation of the gollum was quite amazing. Not as good as the tiger in Pi, but worth the cost of admission for an animator. If Andy Serkis has anything to do with it, I applaud him.

_____________
On Friday night I followed up an ad in Variety that indicated a screening in town of the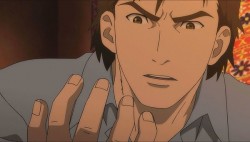 Japanese animated feature, The Mystical Laws, was showing for Academy members. In the end, I couldn't go; work finally got in the way.
I still want to see Goro Myazaki's film From Up on Poppy Hill. I know that Bill Plympton hated it, but he and I often disagree on movies. The film won the Japanese equivalent of the Oscar, and it did enormously well in Japan. Somebody liked it; there's got to be something good there. I'm going to keep my eyes open for it; usually GKids ' distributing it means there will be a chance of its eventually playing.

_____________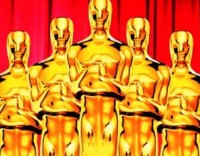 Today, Saturday, the Academy has its screening of animated and live action shorts. The short-list (ten animated and ten live-action) will screen so we can narrow the selection down to five films for each category. I can select the animated films from my home since I saw them all and remember the ones
I like. However, I haven't seen the live action shorts and want to vote for them. So we start with animated films at 10am, live-action at noon, and we continue through till about four or five. There's a lunch at 1pm. A long day of movies. Looking forward to it.

_____________
To add a bit of punch to this post, I'm placing an article Chuck Jones wrote in 1965 for an ASIFA International bulletin just prior to one of the early Annecy Animation Festivals.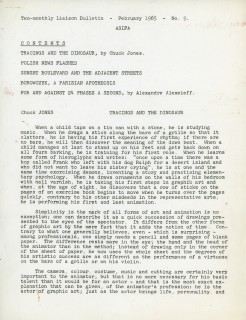 1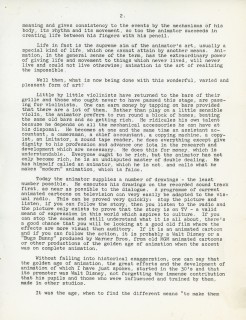 2
(Click any image to enlarge.)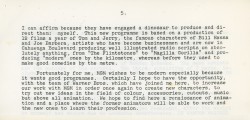 5
2 Responses to "Moviesmoviesmovies"
on 15 Dec 2012 at 3:50 pm 1.Eddie Fitzgerald said …

Good for Chuck! That needed to be said. UPA did some stand out animation but its overall approach was to de-emphasize animation in favor of graphics. It was a graphic arts studio where the graphics moved.

There's nothing wrong with that. It was a perfect fit for advertising and independent films. I guess I'm antagonistic because I love comedic acting in animation and UPA effectively put an end to that.

Or maybe comedic acting was already on the way out when UPA started. You could argue that 2D animation was already in crisis at the start of the 50s. In that era the old full animators were smug and jaded, and were merely professional rather than entertaining.

Our industry definitely needed a shakeup by the early 50s. It could use a shakeup now.

on 15 Dec 2012 at 6:29 pm 2.the Gee said …

That's pretty cool for "Consuming Spirits". If he's selling DVDs along with the showings, that's awesome, too. And, I mean really awesome.

As for what Jones wrote–and this is minor–why the heck did he spell some words as if he were Canadian or British? Was that the fashion at the time?

(i had something else to write but was interrupted while writing this and plum forgot what my original point was. sigh. So be it.)
Leave a Reply