Commentary 22 Dec 2012 07:48 am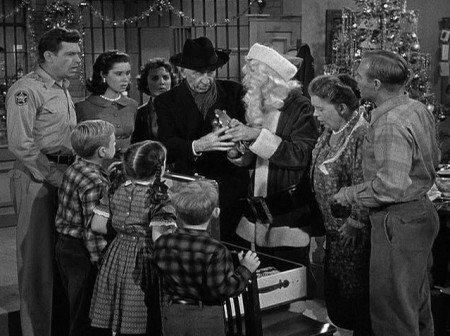 - There's something nice, for me, about Saturday mornings. I usually wake up somewhere between 5 and 6 am. I sit down at a computer and do some writing. It may be something new for the Saturday blog or something new entirely. It always has to do with the blog, though maybe I should think about that. Perhaps do a bit of writing that might actually pay something. Naaaah! That might take away from the fun.
The two boy cats are asleep, one on the couch the other on the floor. Within a few minutes they'll be kickboxing and making a lot of noise. I'll have to break them up, and they'll go back to their places, then back to sleep. Until I get off my butt and feed them some breakfast. AMC runs old episodes (I think that's the only kind there are) of The Rifleman. This, like TV Land's Andy Griffith Show, are a real pleasure for me. I was the age of the kids in those shows (Johnny Crawford as "Mark" and Ron Howard as "Opie") when i watched them, originally. It brings something emotional back for me to sit through them again. It's like comfort food is supposed to be, for me. I actually wondered if you were to take the script for one of those Andy Griffith Shows, with all the innocence about them, and remade them – it'd have to be a new cast – as is, verbatim. How would they turn out? The script has all that original, innocent emotion behind them, and none of the new cast or crew would have that. What would be lost, what would be preserved? I'd really love to try it some time with no sarcasm or irony whatsoever.
Until then, I just watch a couple of episodes every Saturday morning. Then it gets time to get things going, and the world changes back.

______________________________

Kickstarter Small and Smaller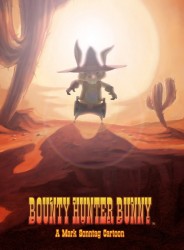 Mark Sonntag continues with his goal of raising $10,000 to make a film of "Bounty Hunter Bunny". This is an attractive looking cgi film that seems to attempt to bring some 2D dynamics to the world of cgi. Mark's a very astute guy; his blog takes in enormous detail fastidiously, and I would expect that to be the same of any film he produces. That's why I have a lot of hope for this short movie.
This would push back at what continually is the failure of the recent WB projects – attempting to animate Road Runner, Daffy and Porky in cgi moving at manic speed and pretending like the dynamics haven't changed. I think Mark gets the difference and would succeed where the WB millions are failing.
You should, at the least, take a look at what Mark has put together on his Indiegogo page.
Here's the Bounty Hunter Bunny journal. And
here's Mark's more traditional site, TagToonz

__________
.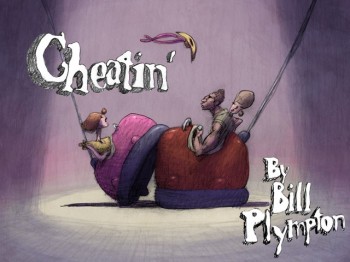 To go from one small effort to raise money to one much larger but yet, still a small effort, Bill Plympton has a Kickstarter campaign going strong. He's trying to raise $75,000 to finish the feature he has in progress, Cheatin'. To us poor guys (Bill included) $75,000 is a hell of a lot of money, but to the world of feature animation it's nothin'. Just take a look at some of the films out there now. Rise of the Guardians had a production budget of $145 million. Wreck-It Ralph was $168 million. Brave cost $185 million. ParaNorman was cheap in comparison at $65 million. It feels like Bill is cheatin' with a budget of about $200 thousand.
Anyway he has a Kickstarter campaign in progress and you should take a look there. If anyone can raise that kind of money on line, he's the guy. It's entertaining just watching it proceed. At the moment let's just say I'm introducing this one to you. I'll have more to write about it in the New Year. In January, I'm starting a brand new series for this blog and am starting with Bill and his studio. There'll be plenty to write about the Kickstarter campaign then.

__________
.
Facebook Rocks
And then there's another way. Signe Baumane has requested people visit her new Facebook page dedicated to Rocks In My Pockets, the animated feature she's been producing/directing/writing.
WORK IN PROGRESS TRAILER from Signe Baumane on Vimeo.
To start with she asks you to "Like" her page, her film. She thinks that'd help her move to the next step on Facebook to raise money through them. I really don't know how Facebook works. I go there once a week or so and avoid the "farms" and resist the "old friends" who don't know me. I see the little tweets that are trown there and once in a while I add my three cents to the short, pulsating conversations.
Hell, if there is a way to cntribute money to Signe from Facebook, do it. She needs the money and her film is going to be great. I saw a rough cut. I wantedto be closer to the small monitor, but it was so compelling and the story just addictive. I want to see it again, finished. Give this woman money to do what she has to do to get it done. If you can't give it to her via Facebook, just find her home address in Brooklyn and send it there. I assume she's going to put together a Kickstarter thing and I'll promote that too. I believe in this movie, let me tell you.

______________________________
Luncheon
On Monday there was a lunch at the Illustrator's Club for a documentary film, The House I Live In. This film by Eugene Jarecki talks about the failure of America's drug wars. The end results mean that the United States houses an enormous number of our poor and underprivileged in prisons. It's a difficult dilemma, and there have been no successful means yet found of fighting that problem in our society. This film is one of the short-listed documentary features, and, of course, the lunch was designed to catch our attention in the hope of a vote.
I was very impressed, first off, with the Illustrator's club. Amazing art adorns the walls at every turn. To walk past a Howard Pyle original and come upon an Al Smith original Mutt & Jeff strip alongside a Milton Caniff. The stars hung everywhere, and I was overwhelmed. The meal they served us was a wonderful and silky cut of pot roast over mashed potatoes and okra. It was an excellent afternoon as John Legend introduced the film maker, Jarecki, who spoke eloquently and made sure we all left with a copy of his DVD.
It made for a wonderful afternoon.
I came home to listen to the endless political talk about the shooting in Newtown, Connecticut. My brother's family lives one town over, and my niece taught karate to one of the killed children. She had a photo of the girl on her cel phone. Nothing but tears this past weekend. The media treats the situation almost like pornography as they mettle in the lives of those affected. President Obama gave a brilliant speech and hopefully he will continue to lead the charge to get something done with gun laws.

______________________________
Dancin' Cheer
Let's jump from some capitalism to some outright theft. Eddie Fitzgerald found and embedded this guy's YouTube video. I've been watching videos by this man – they're all adaptations of dance pieces he creates scene by scene, country by country and puts them together always with the same effect. They're absolutely joyous. Here's the one Eddie had on his spot, and I'm posting it too. I imagine you will as well.

______________________________
More Lunch
I won't take my usual turn this week by detailing a complete diary of my movie adventures this past week, but I will give you some of the highlights. On Tuesday there was a screening in the evening for David Chase's first movie. (You'll remember that he was the godfather of the Sopranos for HBO.) His film Not Fade Away is a love song to music of the 60′s, particularly the music of the British invasion. The movie was enjoyable, however the afterparty was excellent. The antipasto was on one level of the restaurant, and the main course was another level down. Table surrounded the upper level, and banquettes the lower level. Selecting some meats on the lower level, you couldn't help but see a banquette or two full of Soparanos. Tony (James Gandolfini) in the corner, Paulie Walnuts (Tony Sirico) – without the grey side-burns – just across from him and Steven Van Zandt juat next to him. Little Steve had advised on the music for the film and had put together a great score of 60′s songs. Also there to be seen was Christine Lahti and plenty of others.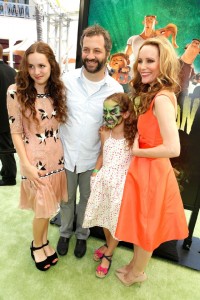 Wednesday there was the endless Quentin Tarantino film, Django Unchained. A genius of a half hour movie, and excellent 90 minute feature, and a tedious 2 ½ film. Guess which one it was. DeCaprio was really good, Sam Jackson was very fine, and Christophe Waltz made a brilliant character out of nothing, but evenhe got repetitive by his character's end.
Thursday brought Matt Damon's Promised Land. A bit preachy but quite a good script with excellent performances. Damon is so damn loveable that you can never think ill of him. He has that "Cary Grant" kind of appeal. I'll see anything he's in.
Friday saw This is 40 with Paul Rudd, who was excellent, and Leslie Mann who was in her best film. Leslie Mann was the director's wife; the two children were also Judd Apatow's children. Let's see who did Paul Rudd play? Many people complained of this film to me, but I loved it. Perhaps seeing it on a screen as opposed to a tv set made the difference. It really was a movie. Perhaps they thought it was one of those idiotic comedies Apatow has made in the past. Instead it's just an honest and human story with some really funny parts.
Apatow and family appear to the right; Paul Rudd should have been a stand in for the director.
Melissa McCarthy was brilliant in improv for one scene of this film.

______________________________
Pi Again
I intend to see The Life of Pi again this week. I'll go to a movie house and use my card to steal into a show. I think this was the best animated film of the past year. It keeps replaying in my head. I'm going to add a stash of screen grabs later. So look in again this afternoon or maybe it'll be tomorrow. I loved this film. I think it's still my favorite of the year.
Speaking of screen grabs, I received a DVD copy of Combustible this week. I've watched it about half a dozen times. I want to make a post of screen grabs from this cartoon. I'll ask for their permission, and if I get it you'll see the mages in their own post. I suspect they will say, "No". It's a stunningly attractive animated film that keeps getting better the more you see it. The film is very complex, but it's also very cold. From the director of Akira, this film makes a lot more sense in only 13 minutes. I thought Akira was indecipherable. I have a lot of questions I'd like to ask that director, Katsuhiro Otomo. I'll email his publicist and see if he'll answer any of the questions.

______________________________
Spirits Consuming
I'd had lunch with Chris Sullivan, the director of Consuming Spirits. What a sweet guy. Let me remind you that his film is still playing at the Film Forum through to Christmas Day. A.O. Scott called this one of the best films of the year, on his short list of those just beyond the top ten. He wouldn't give it a hard number.

______________________________
Magoo Does Dickens for 50 Years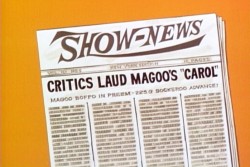 Mr.Magoo's Christmas Carol is 50 years old this year. The celebration brings this first animated Christmas special to network television for the first time in years. This has brought a little attention. There's a fine article in the NYTimes discussing the special and quoting all the right people: Adam Abraham who wrote the relatively recent book, When Magoo Flew: The Rise and Fall of Animation Studio UPA and Darrell Van Citters, the animation director who wrote the excellent "making of" book, Mister Magoo's Christmas Carol: The Making of the First Animated Christmas Special. These are both fine books and, for anyone interested in the subject of UPA, must reads. Both Adam Abraham and Darrel Van Citters have excellent animation history websites which, naturally, focus on the subject of their respective books.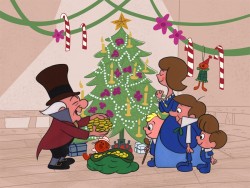 The Times article has a wonderful paragraph in it, at least for those who love both Broadway and animation:
Jule Styne's wife, Margaret, even hosted a party for the premiere, with about 100 guests at the "21" Club. Richard Kiley, Ruth Gordon, Garson Kanin, Joan Collins, Anthony Newley, Lionel Bart, Stephen Sondheim, Mike Nichols and others chowed down on a roast pig — complete with apple in mouth — while watching the special on televisions supplied by RCA.
See Magoo's Christmas Carol tonight, Dec. 22nd, at 8pm on NBC.
For those with A.D.D., Magooo is on opposite Prep and Landing and A Chipmunk Christmas, both on ABC. I somehow doubt either special will last 50 years, but you never know.


A Shirley Silvey storyboard drawing alongside a matching Layout by Sam Weiss.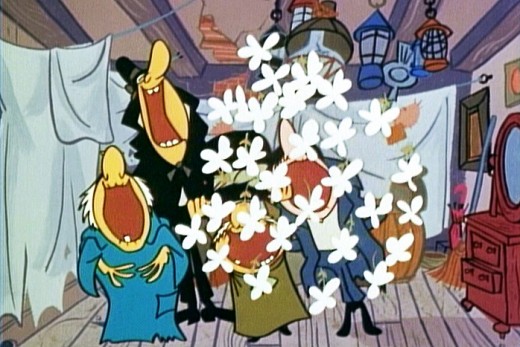 A brilliant and very limited sequence by Gerard Baldwin.
He had only two weeks to animate the "Despicables" song, yet
he completed it on time and kept it funny, personal and original.
One Response to "Christmas Approaches"
on 22 Dec 2012 at 8:49 pm 1.Mark Sonntag said …

Thanks for the plug Michael, unfortunately I think I chose a bad time to campaign, but still some funds have been raised and I'll do another one later in January for a smaller amount and offest by some storyboard work.

I'm happy with the favorable comments I've received and at least feel like I'm on the right track. In the meantime hands have gone up offering help especially with the textures. Getting that painterly quality to the sets isn't easy.

Just a note on how I'm approaching the animation if I didn't note it. I'm doing some traditional animation just to explore the poses and using the charts to create the animation. I find 3D mechanical to animate and easy to get lost in the process of it all.

Thanks for the great support, have a wonderful Christmas and Holiday Season.
Leave a Reply