Commentary 25 Dec 2012 06:15 am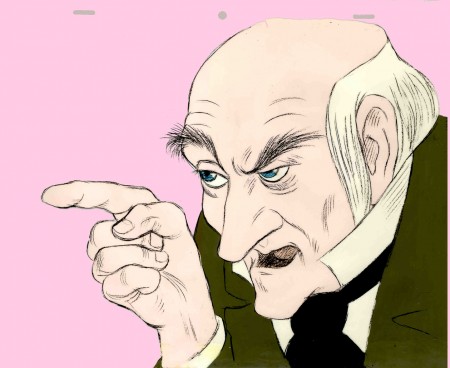 "God bless us every one!" said Tiny Tim, the last of all.
This was a hand-me-down post I'd done my very first Christmas on-line. It's still a beauty of a cel I own.
It was from a scene Richard Williams animated for his Christmas Carol. The drawing was done on cel not on paper with a mars omnichrome pencil. Hence, the inking is Dick's, as well. Dick's tightly strung version of the story is still available in old vhs copies. You can also find the entire film (in three parts) on The Thief Archives on YouTube, and it's still a beauty.
I remember Dick having a conversation with me about the brilliant animation Abe Levitow did on this film, and, indeed, I agree. In a film filled with stunningly beautiful animated illustrations, my favorite character animation was done by Levitow. The sequence wherein the ghost of Christmas Past opens his robe to reveal "ignorance" and "want" is the capper of the show.
The film, I think, done in 26 minutes is a little too rushed to properly tell the Dickens' story emotionally, and it's an emotional story. What's there is as brilliant as anything Dick had done. In some ways, the artwork reminds me of the cross-hatched animation his Soho Square studio did for The Charge of the Light Brigade. (In fact, when I first saw the show in 1971, I wondered whether some of the birds in Christmas Carol were reused from Charge. I never learned the answer.)
David Nethery has posted a cel from Abe Levitow's sequence – probably my favorite scene in the film comes from this sequence. It's the scene where Christmas Present moves back his robe to reveal the two children – "ignorance" and "want". I think I disappointed Dick when I told him this years ago and hadn't named one of his scenes. Given the way Dick worked on Raggedy Ann, I'd guess he did the cleanup on these scenes as well.
As limited as the animation is on Magoo's Christmas Carol, it's still probably one of the best versions of the film ever made. Actually, the Magoo version is probably tied with the 1951 Alastair Sim version of the film.

_____________________

I wish you all a Merry Christmas full of the kind of joy Scrooge finds when he wakes up.

"I am as light as a feather, I am as happy as an angel, I am as merry as a schoolboy.
I am as giddy as a drunken man. A merry Christmas to everybody.
A happy New Year to all the world."
3 Responses to "God bless Us Every One!"
on 25 Dec 2012 at 3:47 pm 1.Joey P. said …

And a very merry Christmas to you, Mr. Sporn!
But what about the 1984 version with George C. Scott?

on 25 Dec 2012 at 9:41 pm 2.Rudy Agresta said …

Merry Christmas to you Michael and a Blessed New Year as well!

Rudy Agresta

on 26 Dec 2012 at 1:48 am 3.Michael said …

I saw the George C. Scott version for the first time this year. I felt that it was just a mediocre tv movie. I'm not sre Scott really found the character as well as some of his British counterparts have. Perhaps you had to have grown up in the class system as most of the have done.

Scott was still much better than the 1931 Reginald Owen version which was too stilted for my taste. I do like the Albert Finney musical and still have yet to see Patrick Stewart's version.
Leave a Reply