Animation Artifacts &Books &Commentary 02 Jan 2013 09:07 am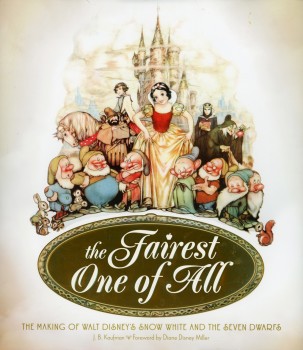 - I received a number of wonderful gifts this Christmas. Among them, from Heidi, came the two – count them, two – J.B.Kaufman books: Snow White and the Seven Dwarfs: The Art and Creation of Walt Disney's Classic Animated Film and The Fairest One of All: The Making of Walt Disney's Snow White and the Seven Dwarfs . Receiving one of these two books, both of which are expensive, is a luxury and a great gift to be treasured, but to receive both is above and beyond the treasure category. This is beyond the hoped for. And of course if you were asked to give the "list" of hoped for books, you feel guilty just requesting them. One of these books is expensive; the other is VERY expensive. Together, it's outrageous. Unless, of course, you're Mitt Romney's child.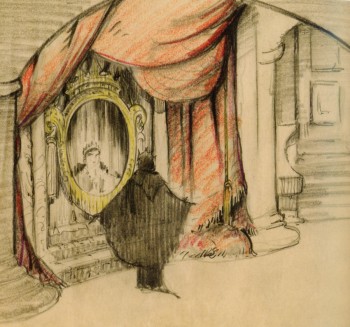 So I received both. I It was like having the Squid AND the Whale in my house, and I spent the day, in between Christmas outings, fingering both books delicately. I'd seen the less expensive book, Snow White and the Seven Dwarfs: The Art and Creation of Walt Disney's Classic Animated Film, on a couple of different occasions. It's beautiful.
The other book, the one that costs almost twice the price of the first, I'd seen that book on a table – away. No copies. That made me want it all the more. It's the book that has more of the writing in it. And that's what I want – the words, the history. Those images are glorious, but the thoughts and ideas of Kaufman and others he's investigating are the stuff I search for today.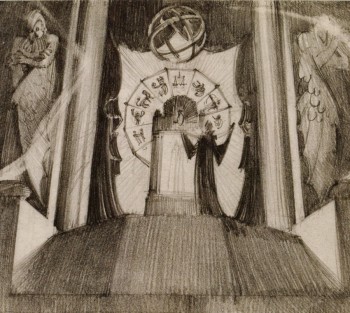 I started digging into and reading this second book: The Fairest One of All: The Making of Walt Disney's Snow White and the Seven Dwarfs , and there were no disappointments here – not yet. As a matter of fact, it's to the contrary.
In the rear of the book, "Section Four: Production Notes," Kaufman breaks the film drafts down verbally. Scene to scene, cut to cut we read who the directors are, who the animators were as well as their key Assistants. And the Effx Animators as well as the Asst Directors.
Funny how I thought, just now, how these last 3 names are less important than others. I don't know why or if I really believe that. The information is there to disprove it one way or the other. This is a fine little section of the book. It gives real homage to the people behind the glorious animation of this film. Maybe someday we'll be able to figure out who did which background. Take a look at that scene of the Queen sitting on her throne. Why is there no record of who was involved in painting that amazing backdrop? I seem to remember Maurice Noble talking about the scene, but I don't have the verification to back up such a claim. I'm not a historian; I just have a faulty memory. All we have is whatever information the Disney archives can tell us. If they were able to tell us anything, Mr. Kaufman most certainly would have taken the information to print.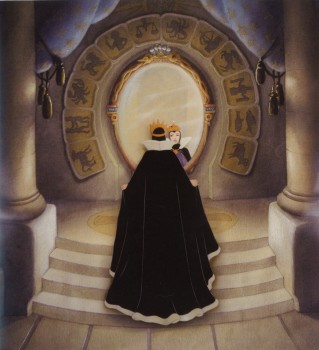 The Queen at the magic mirror. Note the astrological
signs surrounded the mirror from the very beginning
- see above preliminary drawings.
I'm not going to review the two books here; I haven't really read them and can't do that. I do know that they're great books; you can sense it, see it, feel it, smell it. Snow White's a seminal film for me. I get a thrill whenever I see some of the scenes from this movie, and I'm always hooked on it. The two books will keep me busy and help to let me feel the reason I love animation.
Truth be told, I can't imagine anyone giving me more information than Mike Barrier did in his book, Hollywood Cartoons: American Animation in Its Golden Age. Or again he did it in The Animated Man: A Life of Walt Disney. The writing in those books is brilliant, but so, too, is it great reading in Kaufman's books. The story by Barrier is complete, and I've already read both of his books half a dozen times, each. These two Kaufman books will keep me busy, and I'm happy for that. I'm sure the story will be more than complete here, too. I don't know if there's any more to learn, but I somehow suspect we will have a new view. At least I have good reason to believe so; I know I'm in the hands of a good historian, and I don't expect to put these books down.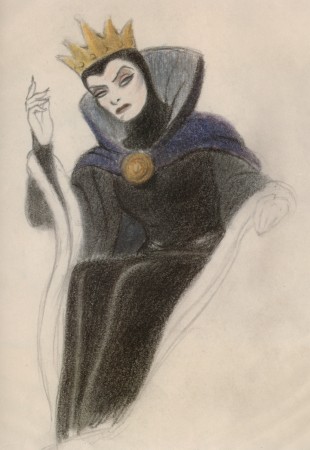 The Queen on her throne -
ah, there's a background!

But I'll save that for the real review.
By the way, don't ask me why I called this post the heading I chose. Guernica Eyes. It seemed to fit, especially with that last Joe Grant drawing I've displayed. An amazing talent in a studio filled with amazing talent. When you see some of the art he did for Snow White, you can have no doubt of that. (As if you would after reading John Canemaker's Two Guys Named Joe.
5 Responses to "Guernica Eyes"
Leave a Reply