Animation Artifacts &UPA 26 Mar 2006 08:41 am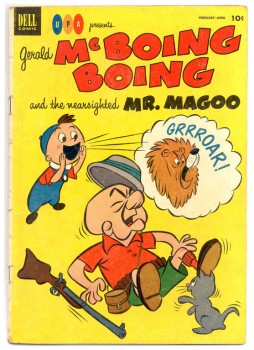 – There's been a lot made about UPA these past few weeks because of the upcoming show in Hollywood at The Egyptian Theater (today). Rightly so, they did some great work in their early years.
But we have to remember that once they reached their pinnacle during the early fifties, they sort of STOPPED and kept running in place. After teaching the world that 20th century graphics worked in animation – unlike the model set by Disney et. al. – they stopped in their Steinberg phase. Magoo kept puddle jumping, and after the first McBoing Boing, they broke little ground with the character.
It took till the late fifties for me to catch up to them, so I'm glad they ran in place for awhile. I loved Magoo's Christmas Carol, regardless how limited its animation was. I even watched the Dick Tracy show as a kid and was happy that it looked different than Little Audrey and Popeye. But if we look seriously at the history of animation, we have to say that ART stopped happening at UPA after Unicorn In The Garden, The Telltale Heart and Madeline.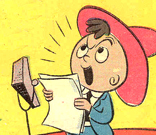 – Dave Hilberman and Zach Schwartz had left the studio because of a control issue in the studio. John Hubley eventually was forced out for fhis political beliefs and another attempt to control the studio.
Hilberman and Schwartz started Tempo, a commercial production studio in NYC, in 1947 and continued working until McCarthyism hit and closed their studio. Hubley eventually started Storyboard, also to produce commercials. However, Hubley started work on Finian's Rainbow, an animated feature that, from the look of the remaining art and soundtrack tapes, was certainly a push forward for the ART of animation. That, too, was ultimately killed by Joseph McCarthy's attempt to destroy civil liberties.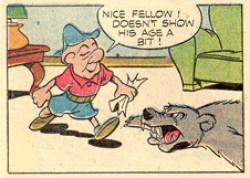 Hubley moved to NY and began working in the style of the new art, abstract expressionism. UPA continued turning out cartoons in the style that they been stuck in for the rest of their history. They no longer were moving the ART forward, but were exploiting their reputation for the commercial interests.
In their initial days, UPA was the studio that changed the world of animation. The films they did in those days are the ones celebrated at events like today's. It's wonderful that those films are still alive and being seen. It's too bad the studio didn't go further; maybe they'd still be around.
- Today's NYDaily News has an article about animation features by lead resident critic, Jack Mathews. Talk about art!
5 Responses to "UPA of the Past"
Leave a Reply