Commentary &Photos 01 Jan 2013 08:40 am
- For years Heidi and I would go to Central Park to watch the runners do their mini jog; there'd be fireworks following it. We haven't been there in a while, so we went last night. Boy has it gotten bigger. We saw a lot of runners but didn't see the race. I guess we weren't even in the area where the race took place.
I took some photos.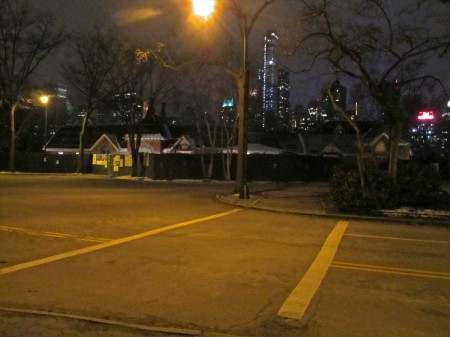 1
We used to enter the park at Tavern on the Green.
But now that beautiful site of a restaurant has turned
into some boarded up unattractive thing. It's sad.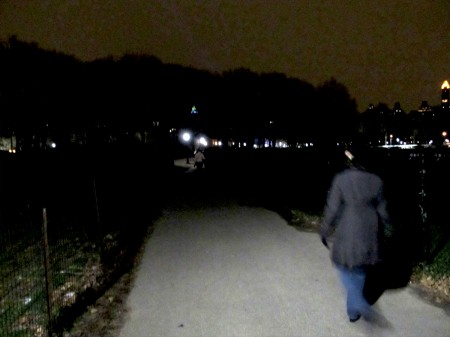 2
We walk in complete darkness tring to find out where we're going.
That's Heidi walking just ahead of me.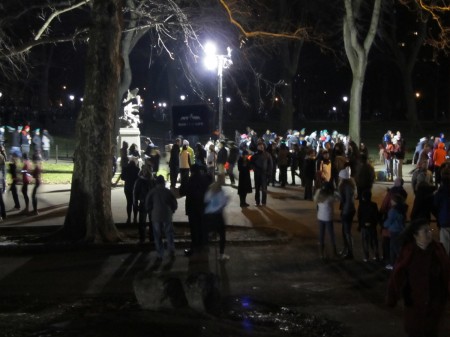 3
Following the lights we started seeing some people.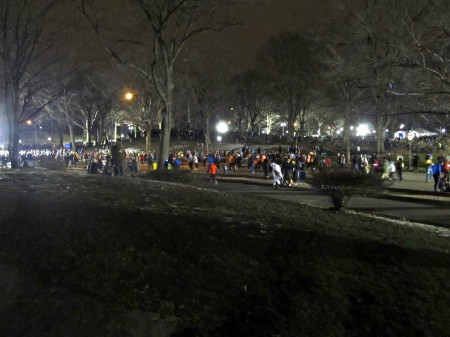 4
The crowds were deeper into the park, and the trip was longer.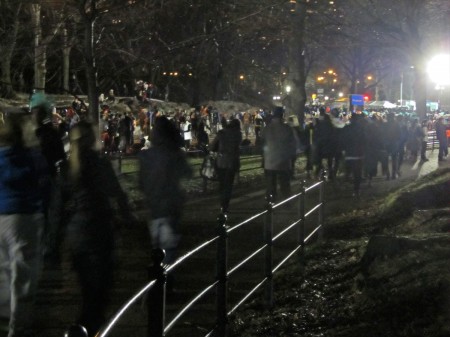 5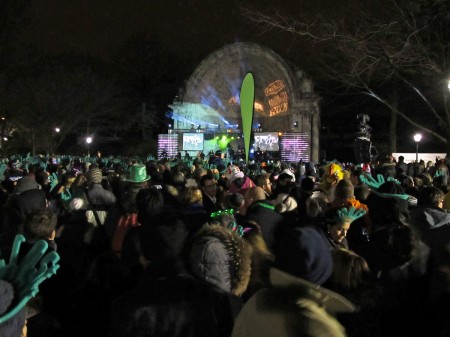 6
We had to go as far as the bandshell where some hip-hop
loud music and a light show was taking place.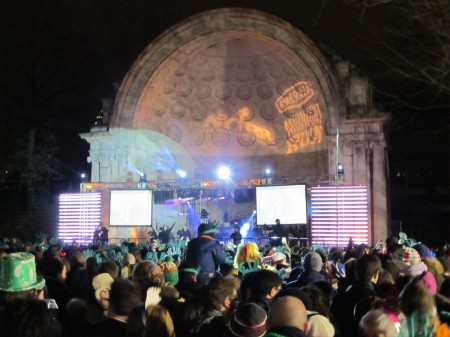 7
Some of those in the audience were trying to dance to
the music which had no real rhythm to it. Just loud.
8
The crowds started thronging and Heidi and I pulled back a bit.
We headed for a different area.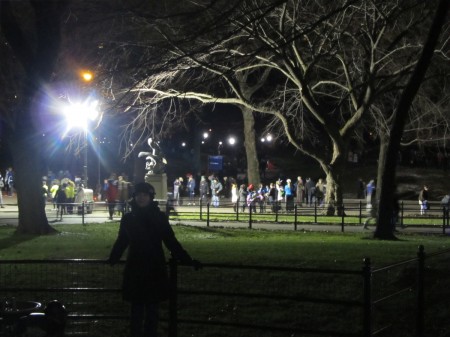 9
That's Heidi posing for a picture, but you
can't really make her out very well.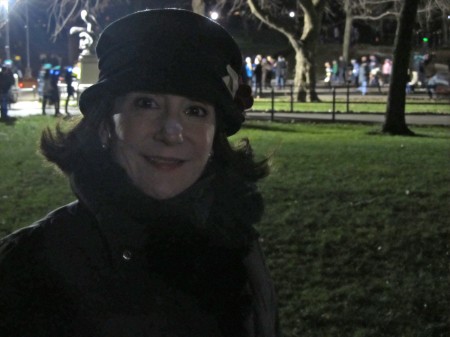 10
So I went in for a tighter picture.
It was a bit better.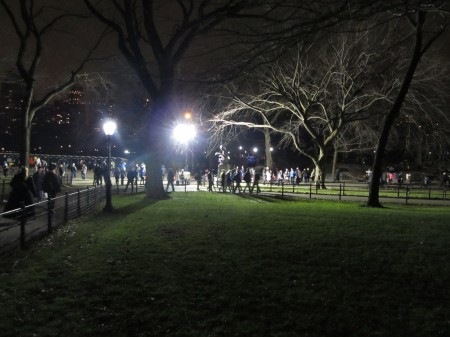 11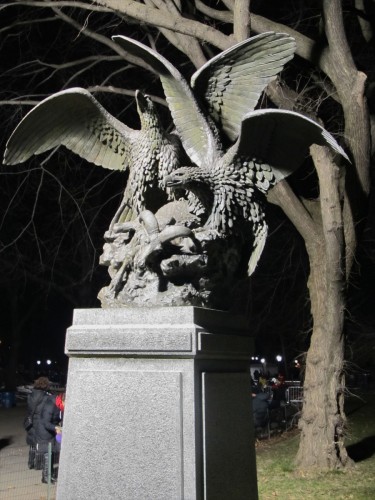 12
We moved over to a statue. I couldn't make out what it was.
When I got closer, I realized it was just a mass of eagles.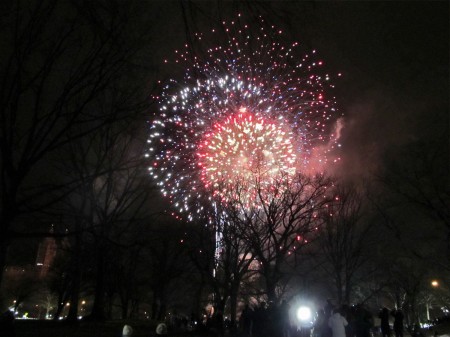 13
The fireworks couldn't have started a moment too soon.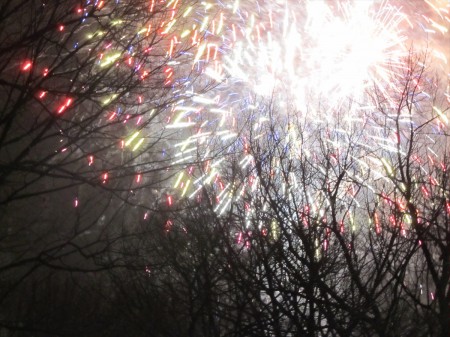 14
The fireworks display here is always close so it feels big, yet
small enough not to be overwhelming in a Macy's kind way.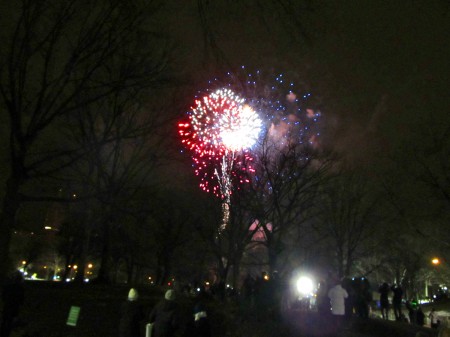 15
This was the cue to leave before the masses caught on that it was ending.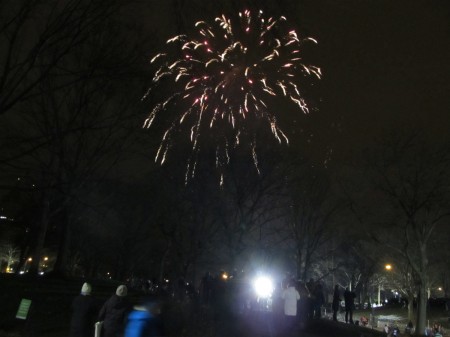 16
Once they caught on, we'd be bombarded with people. Didn't want that.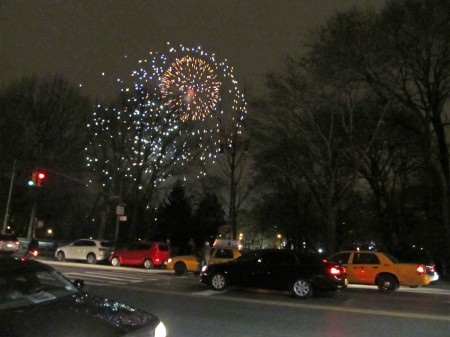 17
Lots of people had settled outside the park to watch the fireworks.
Actually it wasn't a bad place to watch the show.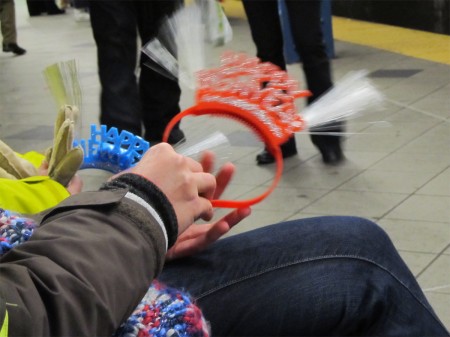 18
Some other people sitting waiting for the subway had their
213 tiaras in hand. These things have gotten pretty sophisticated.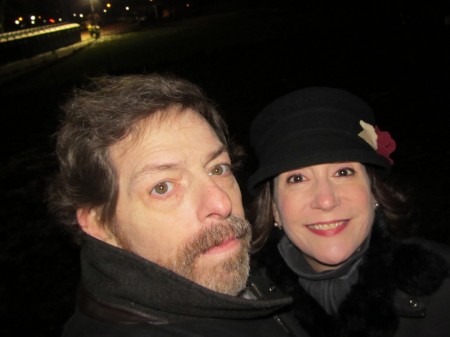 19
We had a good time and went home to a nice little spread
that Heidi had bought and set up for us. We ate shrimp and
chèvre and pâté by candlelight. A nice start to a new year.

Happy 2013, Everybody
One Response to "Happy New Year"
on 01 Jan 2013 at 4:50 pm 1.Jason said …

Happy New Year Michael & Heidi!
Leave a Reply