Commentary 08 Jan 2013 06:41 am
Cobbling
- The feature length cut of The Cobbler and the Thief as was assembled by the remarkable Garrett Gilchrist can be found on line:

here.


A beautiful copy of the workprint.

Let me tell you some thoughts I have about this incredible movie.
It's sad watching it again. I had only the slightest of involvement on the film. It touched my life more than I touched it. I'd seen the documentary on PBS back in the early sixties. The Creative Person: Richard WIlliams. I was impressed. I scoured the newspapers and any other media searching for words about this film or its mad director, Dick Williams. His London studio had sent me a packet they produced full of publicity articles on papers slightly larger than 8 1/2 x 11. I read and reread all those non-bound pages, and they grew dog eared. Williams, his studio and his film was my obsession for a while. It seemed to be the only place where real animation was being done anymore, back in the sixties,.
John Hubley was my hero, and his studio hired me in NYC. It was supposed to be a three day line of employment, but the job ended up lasting the last six years of John's life.
On the second day there, I met Tissa David. During our first conversation, maybe 15 minutes long, I told her that it was my intention to eventually leave New York to work in London for Dick Williams. (We'd written, and Dick said that he'd see me the next time he came through NY.) On telling Tissa this story, after she had just introduced herself by saying I had done the worst inbetweens she'd ever seen, she – in the most sincere and pleading voice I'd heard – said, "Please don't leave America. We need you here, animation needs you here." Or it was certainly something very much to that effect.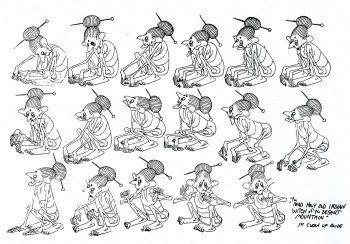 The story never quite worked, the Cobbler's story never quite worked. I remember once reading the script and thinking it's a feature length Road Runner cartoon. There was too much madcap humor at the Thief's expense. I may have been wrong. The film seems to have been made to challenge animators. It's difficult to animate the old Holy, Mad witch, but if you put her on a swinging basket while she talks, it's even more difficult. Two uneven and oddly attached ropes makes it an extraordinarily difficult challenge. The weight and balance become everything. That's what's been done. It's that way with every scene or character or motion in the film. If the challenge to the character in the scene can be made more difficult, then do it. Grim Natwick loved the challenge, helped develop the character, and Dick accomplished it.
This, of course, is not only fine, it's fun for the very talented animator – animators such as Dick Williams – but the problem is that it doesn't really advance the story. The animation for this film is beyond complicated and done so extraordinarily well. The more you know about it, the more you realize how hard it was to do and how well it was done.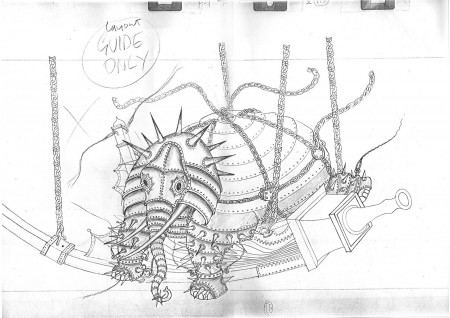 A couple of Roy Naisbit War Machines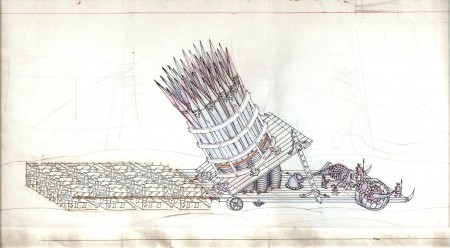 Roy was one of the great Artists Dick introduced to animation.
Today, of course, we have computers that could animate most of the objects in this film. I'm not sure the "War Machine" would be any better, but it would have taken fewer man-hours. All that glorious drawing, Ink & Pt coloring and design was dependent on the perfect timing. The animation. Perhaps in time a computer would've gotten it.
In the first third of the film, there are two lovely scenes animated by Tissa David. Both are pencil tests of the princess, Princess Yum-Yum, in the bath. We're looking over her shoulder and she looks back toward us, where we are off screen. The hair is up in her scenes, appropriate to a bath. In between there's another pencil test scene of the princess with her hair down, and it no longer looks like the same character. The art is flatter. Tissa's princess was voluptuous. As a matter of fact, her princess was two. Two mirroring twins who echoed each other in animation (anything to challenge the animator). Princesses Yum Yum and Mee-Mee. At the suggestion of the brilliant Jake Eberts, one of the two princesses was dropped. Mee Mee.
Tissa in working for Dick out of her NY apartment had purchased a Lyon-Lamb machine. Large and a bit cumbersome, this video machine came in the pre-computer days and was wholly a video tape machine. It employed reel to reel tape and was rather large. It had the distinction of being able to shoot something at 24 frames per second and also play back at that speed. After buying the machine, Tissa had built for herself a piece of furniture which acted as an animation stand that could sit alongside her desk. She saved all those video tapes (reel to reel, remember). She intermixed commercial animation she did for R.O. Blechman at the same time. (She needed the commercial work to be able to afford working for Dick Williams. He was self-financing his movie then, and Tissa loved working on his project. It was her only passion for several years.) This occurred for the years immediately following Raggedy Ann & Andy. Tissa had supervised Ann and Andy. I saw it all, I watched Yum Yum and Mee Mee grow. I heard all the stories first from Tissa's side, then from Dick's side. I was in a wonderful place in the world.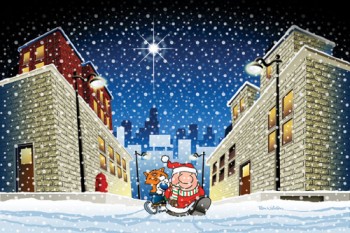 I also got to see several screenings of Dick's developing workprint. Just prior to Dick's making the Ziggy's Gift TV special, he'd had a screening of 40 minutes of the feature. Many key people were there, and I can remember a few of them. Tom Wilson (Ziggy's creator) was there with Lena Tabori. They were a couple, though I don't think romantically. She was an editor who had developed many big Disney art books for Abrams before forming her own company, Stewart, Tabori & Chang and Welcome Books. She was the daughter of actress, Viveca Landfors. She, Wilson and Williams were the producers of Ziggy's Gift, though ultimately Dick Williams was pushed out when the budget continued to rise as it did on most Williams films. Midway through production, Eric Goldberg got the chance to take the directorial reins and complete the film in a make-shift studio in LA. It was a packed screening. I sat next to Chuck Jones with Sidney Lumet sitting on my left. We three had great things to say about what we'd seen afterwards. How could you not? The animation, coloring, graphics, everything was extraordinary. There was no hint of a story in the 40 minute presentation; I was starting to notice that. I can't remember many animation people there, though Willis Pyle was one. Tissa, of course, was there. She was getting to see her pencil tests projected.
In time, things broke somehow between Dick and Tissa, and she was pulled from the project. It broke her heart, but she never once mentioned how or why to me. Dick was like that. He loved an animator (or any craftsman/artist) to death until he didn't. Eventually, he'd worked up enough venom to decide, finally to split from the person. Things might right themselves again, but most people didn't even know what was wrong. (The same happened between me and Dick. I know why he stopped caring for me, and I know when we split. I didn't stop loving him or what he was doing. He came close to animation "Art", there in the seventies.)

_____________________________________
- As long as we're posting Richard Williams' remarkable movies available on-line thanks to the work of Garrett Gilchrist, let me direct you to this one movie title sequence.


Prudence and the Pill
was an comedy done in the sixties starring David Niven. It got its share of attention thanks to the title. The "Pill" was in the headlines and had made its way onto many newscasts when Congress legalized the contraceptive for women. Richard Williams studio did the titles and credits for this movie, and one thing stands out about them. Sharing the title with
Dick Williams
is the incredibly talented artist,
Errol LeCain
. He is credited as "animator". The only other "animator" credit listed for this genius of an artist was for the Sailor and the Devil.
_____________________________________
Pi
Honestly, I've been hooked on The Life of Pi. I saw the film in a theater twice, once for myself and the second time I went back to see it for Heidi's sake. On the second viewing she seemed to love it more than I did. I found some things that bothered me, but I couldn't really respond properly to them. Then this past week I got a new DVD player, and I tried it out, once the basic part of it was hooked up. The Life of Pi, a screener copy, was played to test run the machine. I was hooked up. I couldn't stop watching it. All the faults I'd found on the second screening melted away, and I loved it again.
The Mychael Danna music played in my head over and over and over. I watched those opening credits at least another half dozen times. They're beautiful and magic. It's still playing in my head while I write this.
I wrote to the Effx house Rhythm & Hues saying I'd like to write about the film and its Effx. I haven't heard back from them. I've been annoying enough about this subject that I received a comment from James Nethery saying he'd contacted a Rhythm & Hues animator asking if he'd be interested in being interviewed by me about PI. Thank you, James. That'd be fun.
For me, this year, the best animated scenes were many of those of Richard Parker, the tiger, in Pi. I was also equally astounded by most of the work of the Gollum in The Hobbit. One is straight cgi; the other is what used to be called "motion capture" and is now something much much more. There's real feeling in both those films, and in both those films those characters exist. There can be no question of it. In essence I have a theory that this – the work in these two films and others like it – is the real purpose of computer crafted animation. Some people have learned how to make a living by faking little dolls talking, but that work – to me – doesn't have far to go. It's all in the writing for those films, and writing lately, especially for animation, is poor. Anmation, itself,
is stunned, stultified, unable to advance given the short sidedness of the "Producers". This would seem to be the era of its greatest potential growth, but then some of our finest animators are forced into an early retirement. Milt Kahl, Frank Thomas and some others were afraid to retire for fear of animation dying. Perhaps it has.
26 Responses to "Some Movies I've Thought About"
Leave a Reply