Animation &Art Art 13 Jan 2013 06:58 am
- Two of my favorite friends in the NY animation community are Lisa Crafts and Ken Brown. These two guys spend a lifetime making art and making art of animation (among other media). They both have different ways of doing it and they both have an simpatico art that supports the other. It's a treasure just to visit them.
Ken, this weekend, opened an art exhibit. It was at your typical gallery; it was at a Mac service center. A big sales shop of a place with monitors, printers, laptops and other hardware all about the art. I went yesterday to this opening and brought my camera to give you an idea of what was going on.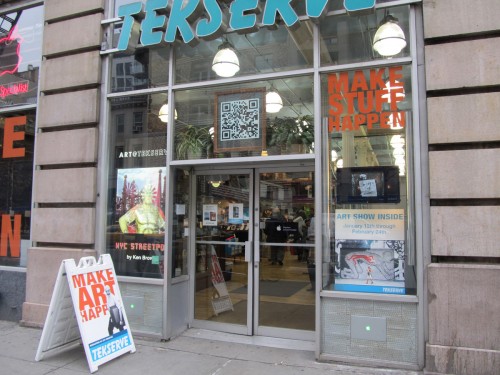 1
This is TekServe. It's a hardware store that's focused on all things Apple.
Everyone who's into Apple and mac and computers knows TekServe on 23rd St.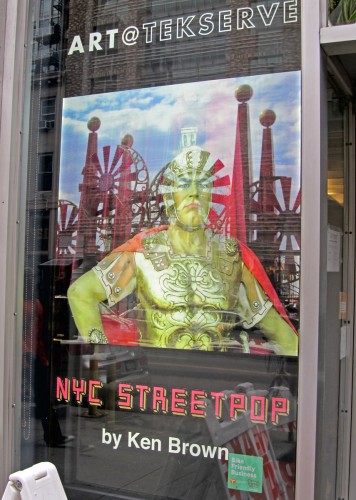 2
Get closer to the window and see the poster promoting a new
art exhibit of the work of genius/friend, Ken Brown.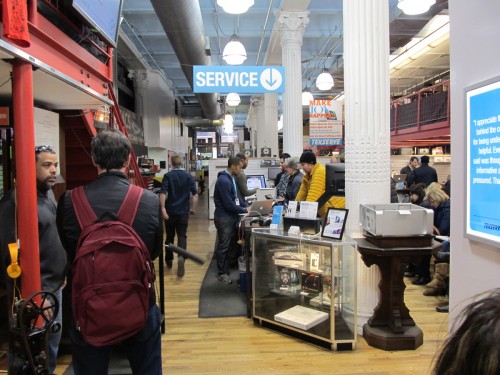 3
When you're in the store, it is just a store.
It took me a while to be convinced that the art was everywhere.
I had to open my eyes and take a couple of good looks.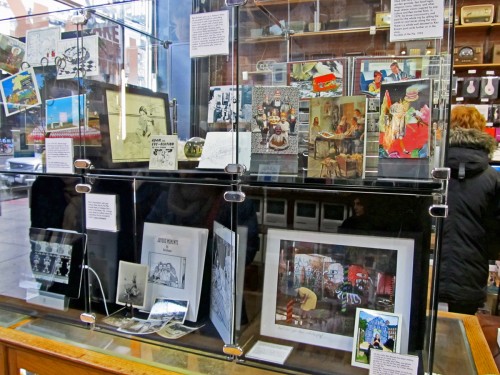 4
Right inside the front door are some plastic cubes full of stuff pulsing
from the mind of Mr. Brown. Great to peer through these miniature things.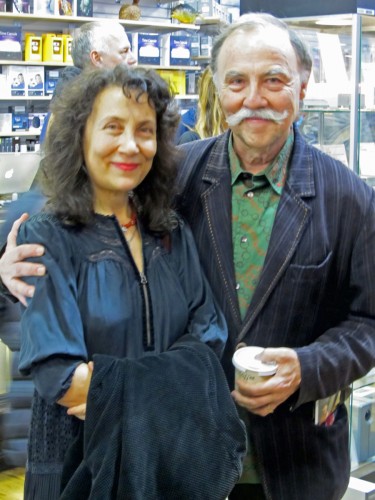 5
Here they are, Lisa and Ken, the dynamic duo.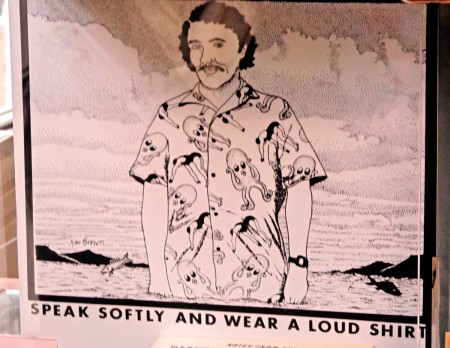 6
This is a very old post card of Ken's sitting in those cubes up front.
I used to own a bunch of them, but mailed them out to get my friends to smile.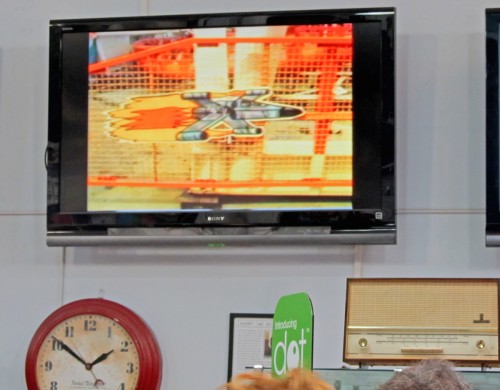 7
Throughout the store tere were plenty of video monitors playing Brown films.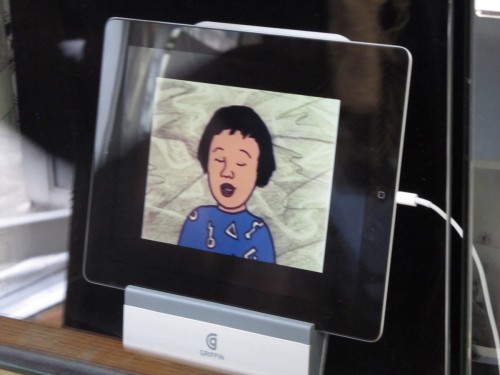 8
From live action to video cartoons. Lots of variety plays for you.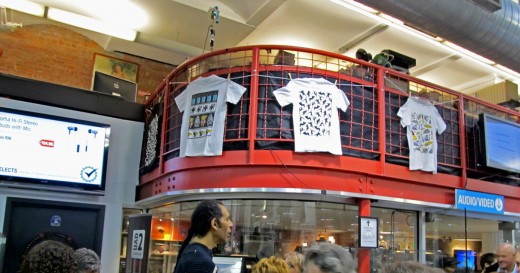 Meanwhile, T-shirts hang frm the rafters and float all about you.
Lots of these are collector's items and are no longer available.
Bt you can look.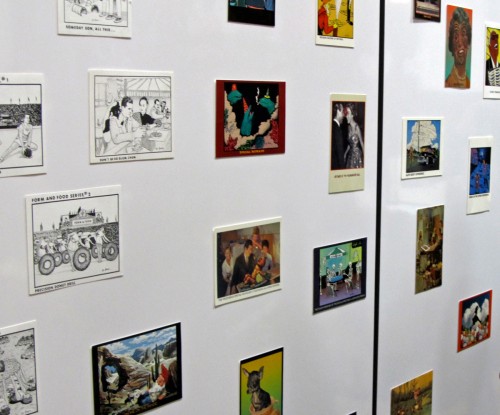 10
There were walls of pixpop post cards.
A good way to pull a smile in the middle of the afternoon.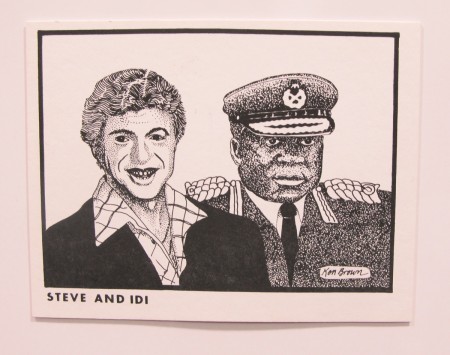 11
See what I mean.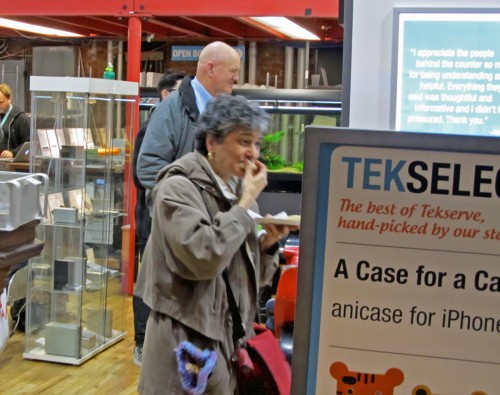 12
No, it's not Steve and Edie but Chuck and Candy.
That's Candy Kugel and Chuck Hunnewell, her husband.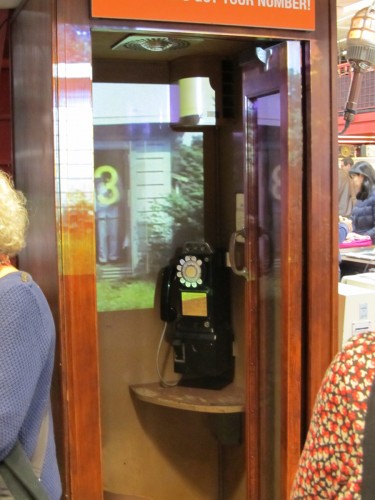 13
One of the hits of the exhibit was the phone booth. Projections
were going on within, and they got attention from the crowds.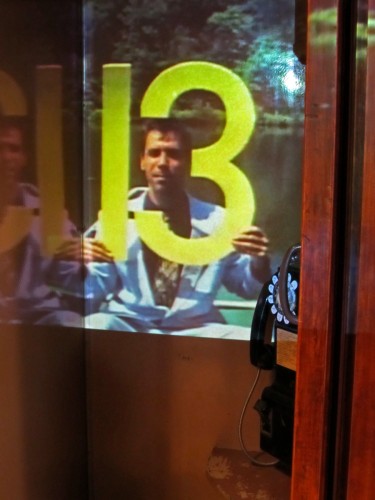 14
Another shot of the same.
He's not live; he's memorex.
The phone booth is live.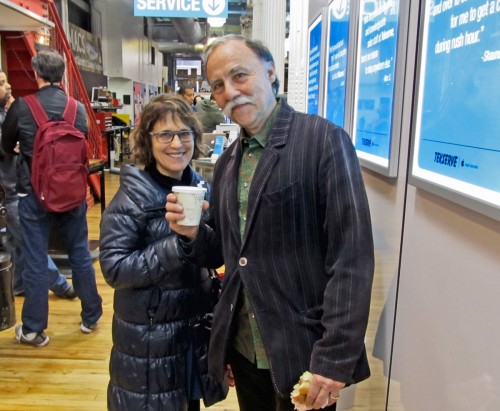 15
That's animator, Debra Solomon with
artist of the day, Ken Brown.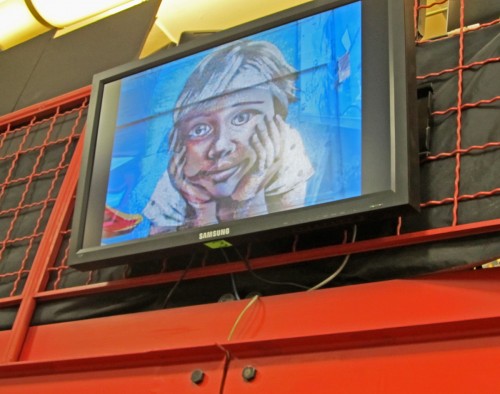 16
Video projections were at all levels and moods.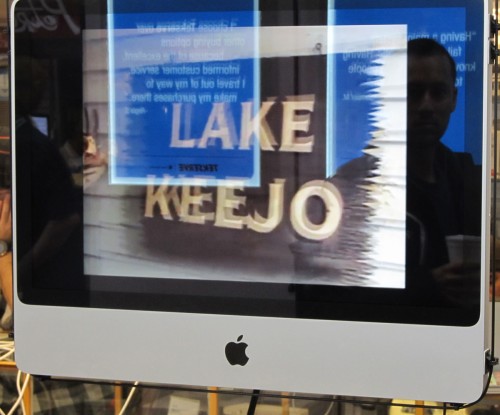 17
And they were everywhere you looked.
Truly MULTI – media.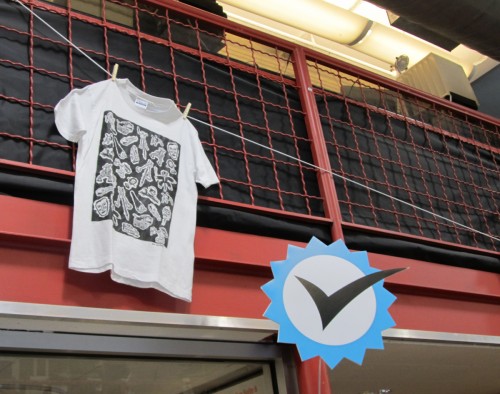 18
and A-OK T-shirts that are now collector's items.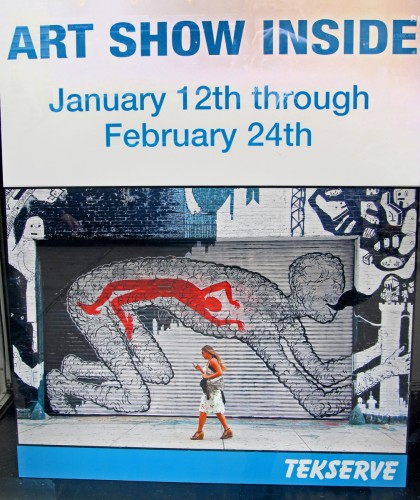 19
The poster for the exhibit,
in the store window,
said it all.


TekServe is at 119 West 23rd Street

The exhibit runs Saturday, January 12th through Sunday, February 24th
hours: Mon – Fri 9am to 8pm; Sat & Sun noon to 6pm
At the door, TekServe passed out a free calandar of Ken Brown's pictures.
Here are a couple of the images from that publication: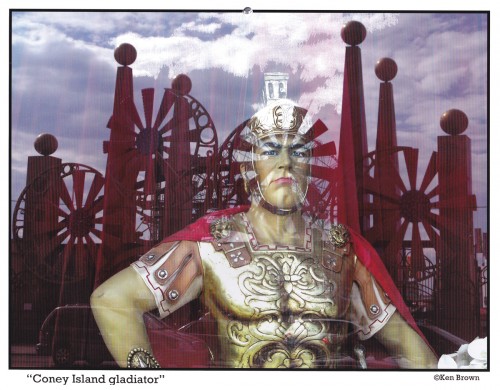 July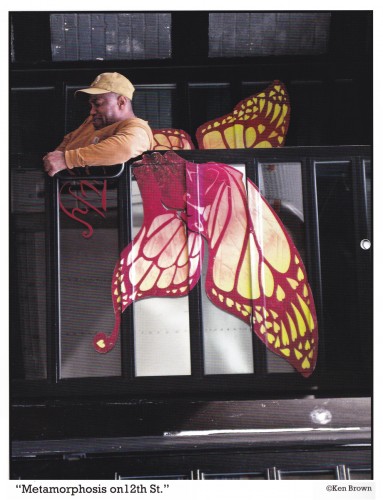 August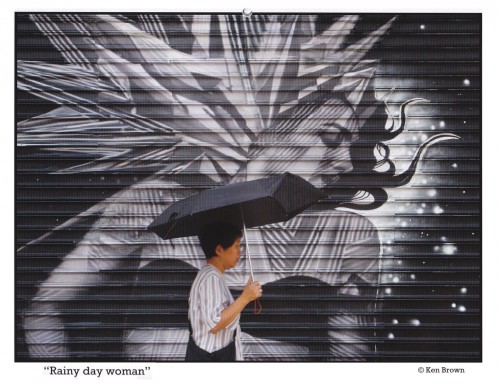 April
2 Responses to "Ken Brown's TekServe"
on 13 Jan 2013 at 10:01 am 1.Stephen Macquignon said …

I passed this on Friday morning and saw the poster in the window going why does that look so familiar well now I know. Will have to go inside next week.

on 14 Jan 2013 at 2:50 pm 2.Jan Albert said …

Thanks for the lovely writeup. As Ken said when we finished installing it, "This is shapping up to be a real "quirkball" show. I take that as a compliment because he says "quirkball" is one of his favorite adjectives.

all the best, JAN ALBERT, curator for art@tekserve.com

P.S. I think you meant to say it is NOT at your typical gallery. We think Tekserve is a wonderful place to show art. We want to give our customers something really wonderful to look at and to take their minds off of their ailing computers!
Leave a Reply