Commentary &Events 19 Jan 2013 08:41 am
Signe's Kickstarter Campaign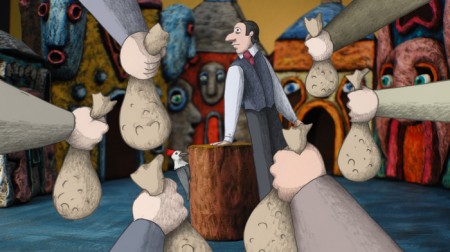 Signe Baumane has started a Kickstarter campaign to try to complete her animated feature. Rocks in my Pockets. I saw this film at a small preview, and I can honestly say this is one of the best of the Independent films I've seen in production. The story is just great. It works on the surface and it works in several levels of depth. Visually it's stunning using three dimensional backgrounds that are sculpted by Signe. She has a number of talented people working with her on the film, but this truly feels like a one person show, it's so defined and original.
I heartily recommend that you not only look for the film when it's finished but help it get there now by donating anything you can. This is one that deserves to be completed.
Take a look at the Kickstarter site.

_____________________________________

George Griffin Show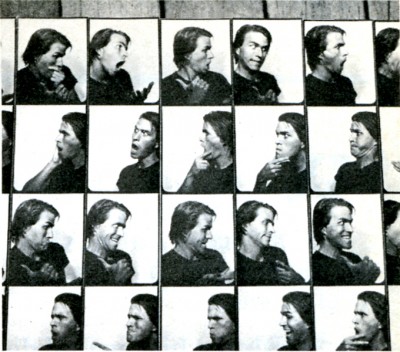 I've always considered George Griffin the leader of the Independent movement in animation in New York. For good reason, his work dominated the local scene back in the seventies, and he gave us a clear vision of an original auteur at work with a very specific statement to make in all of his films. Since then, that vision has remained true through all of his films, although, of course, it has grown enormously, expanded to something even richer.
It isn't often that we get to see a fuller presentation of George's work, so I'm pleased to announce that there will be a program shown at the Anthlogy Film Archives on Thursday, Jan. 24 at 7:30 pm. The program will represent a mixed bag culled from his body of work. It will include recent films like "The Bather," cartoons like "Flying Fur," "Viewmaster," and "Ko-Ko," and the 1975 anti-cartoon "Head". All of these films have been transferred to HD and will be shown in pristine condition.
The full program:
HEAD (1975, 10.5 min, 16mm)
VIEWMASTER (1976, 3.5 min, 16mm)
FLYING FUR (1981, 7 min, 16mm)
KO-KO (1988, 3 min, video)
NEW FANGLED (1990, 2 min, video)
A LITTLE ROUTINE (1994, 7 min, video)
IT PAINS ME TO SAY THIS (2006, 10 min, video)
MACDOWELL: A USER'S MANUAL (2007, 14 min, video)
THE BATHER (2008, 3 min, video)
YOU'RE OUTA HERE (2009, 3 min, video)
FLYING FUR FRAGMENTS (2012, 6.5 min, video)
Total running time: ca. 80 min.

Anthology Film Archives
32 Second Avenue
212-505-5181

_____________________________________

Muldavian Animation
I recently receoved a note from someone at the Simpals Animation Studio in the Republic of Moldova. the studio produces 3D animation and proudy wanted to show off their character, "Dji," the figure of death. They've done a few shorts featuring this character and, after wrote a bit about the series they've done completely in-house. "Dji. Death fails" is their fourth short built around this character, and you can see the development on the screen. I found some warmth around the principal, though I must say it feels similar to some other films out of Europe . They have a fascination with "Death" and making fun of it appeals to them. I have to say, they've made the most of it.
Others of their films can be found at their YouTube page. I'd like to see some more of their 2D work. It looks interesting.
Here's the most recent work finished in November, 2012.

_____________________________________

Redhead du Jour
Direct from Tom Hachtman to you.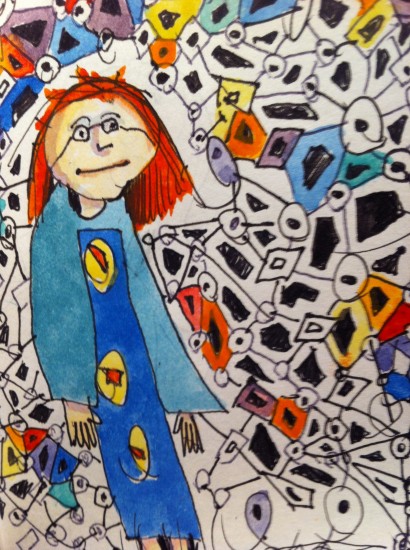 Portrait of Jorz Strooly by Traci (age 6)
Color by Jorz Strooly

_____________________________________

A New Fischinger Book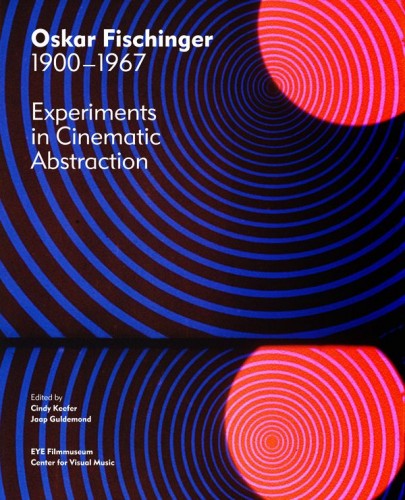 Due in April:
Oskar Fischinger (1900-1967): Experiments in Cinematic Abstraction.
Edited by Cindy Keefer and Jaap Guldemond.
Available April via Thames & Hudson.
This new Oskar Fischinger monograph explores the position of his work within the international avant-garde. It examines his animation and painting, his use of music, his experiences in Hollywood, and his influence on today's filmmakers, artists and animators. The book also contains previously unpublished documents including texts by Fischinger himself.
The essays include:
Jean-Michel Bouhours, Oskar Fischinger and the European Artistic Context
Ilene Susan Fort, Oskar Fischinger, The Modernist Painter
Jeanpaul Goergen's Timeline: Oskar Fischinger in Germany, 1900-1936
Paul Hertz, Fischinger Misconstrued: Visual Music does not equal Synesthesia
Joseph Hyde, Fischinger's Scores: New Perspectives on his Approach to Music
Richard Brown, The Spirit Inside Each Object: John Cage and Oskar Fischinger
Cindy Keefer, Interview with Barbara Fischinger. The Lumigraph: Dancing with your Hands.
Cindy Keefer, Optical Expression: Oskar Fischinger, William Moritz and Visual Music.
James Tobias, Essay Without Words: Motion Painting no. 1, Insight, and The Ornament
Joerg Jewanski, The Visions of Oskar Fischinger and Alexander Laszlo in 1935/36
and more
plus texts by Fischinger, a new bibliography and filmography by CVM,
and testimonials by international artists, scholars, historians and authors
including David James, Giannalberto Bendazzi, John Canemaker, Suzanne Buchan,
yann beauvais, Joost Rekveld, Arthur & Corinne Cantrill, Scott Snibbe, and others.
240 pages, paperback. Extensive color illustrations.
Co-published by EYE Filmmuseum and Center for Visual Music.
ISBN 978-9071338007. Available April via Thames & Hudson.
Limited supply available earlier at Center for Visual Music.
Leave a Reply