Disney &Frame Grabs 31 Jan 2013 06:35 am
- On the DVD of Alice in Wonderland, there's an extra little short that supposedly gives you a tour of the studio and a lesson in how animated films are made. (Do you think we'll ever see one about Dreamworks or Pixar? I'd like to get a video tour of either studio.)
Since I've been focussing on Alice's Milt Kahl scenes, I thought it'd be interesting, as an accompaniment, to post some frame grabs from this theatrical short that was done to promote Alice.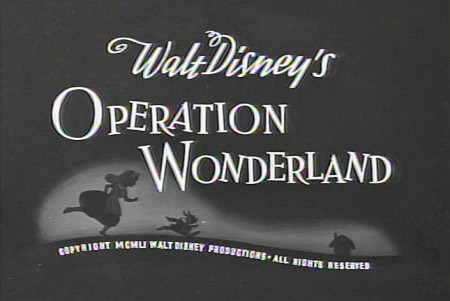 1
(Click any image to enlarge.)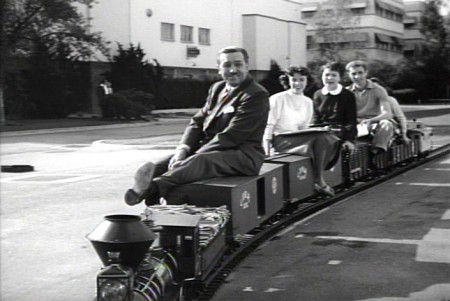 2
Of course, the film has to start with Walt
riding a toy train around the studio.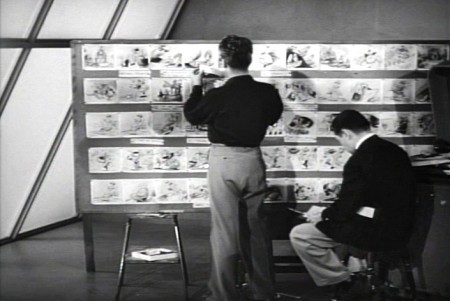 3
Two storyboard guys sitting in the middle of the studio.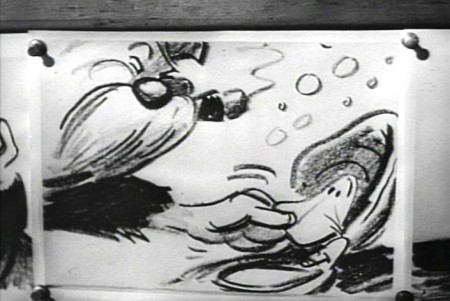 4
Storyboard: the walrus grabs a clam.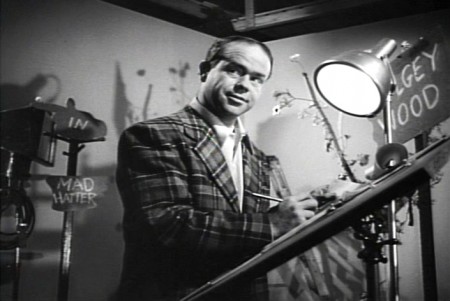 5
Ward Kimball in a funny jacket.

6-7
The actor posing as the Walrus for the camera.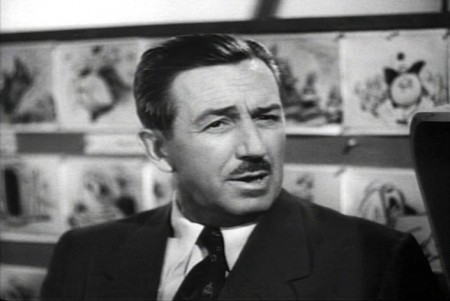 8
Walt in a funny pose.

9-10
The Walrus & Carpenter sequence.

12
Walt and Winston Hibler. Hibler eventually narrated
most of the Disneyland shows and True-Life adventures.

14
Flowers from storyboard to final film.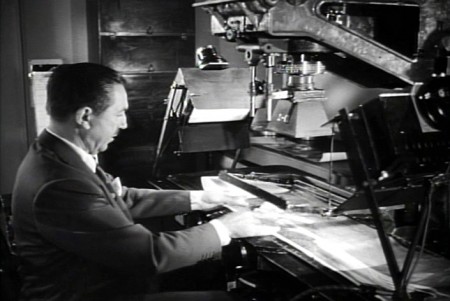 15
Walt gives a demo of the animation camera and
seems to be wrinkling the cels as he does this.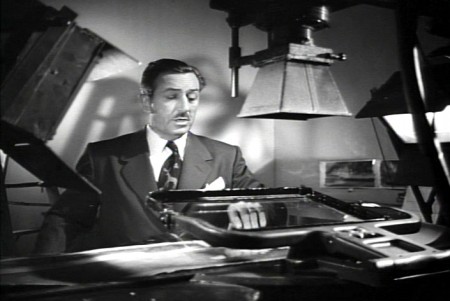 16
Walt operating an animation camera. Ludicrous.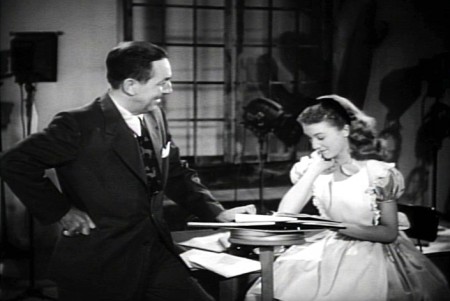 17
Walt and Kathryn Beaumont (who's
supposed to be doing schoolwork.)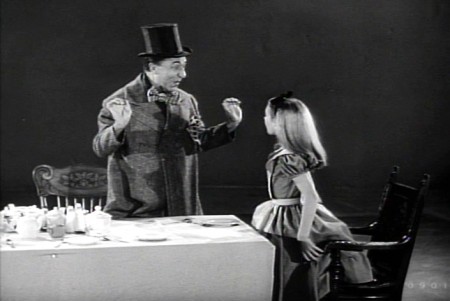 18
Kathryn Beaumont and Ed Wynn.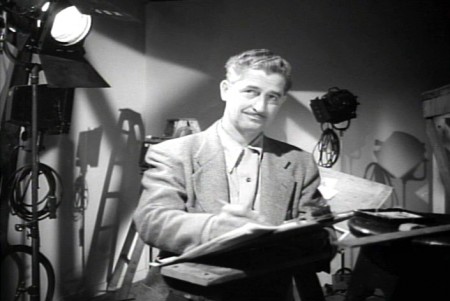 19
Les Clark.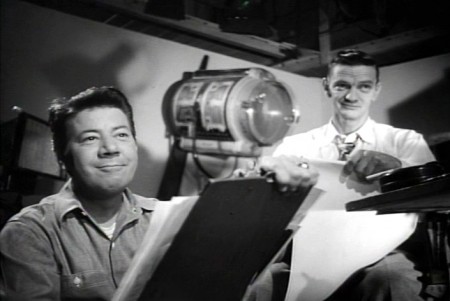 20
John Lounsbery on the right. The other animator looks to be
Fred Moore. Older and heavier than we've seen him in the past.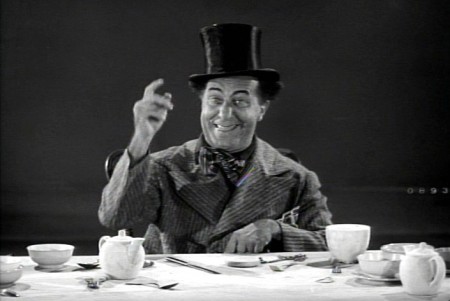 21
Ed Wynn as the Mad Hatter.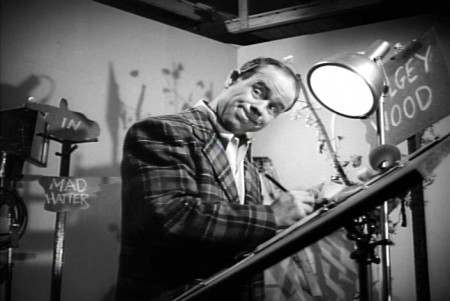 22
More of wacky Ward Kimball pretending to draw.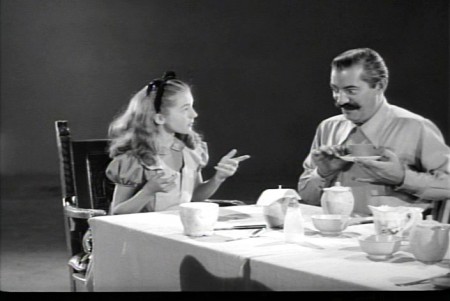 23
Kathryn Beaumont and Jerry Colonna.

25
Jerry Colonna leads us into pencil test of the scene.

27
This scene was animated by Ward kimball & Cliff Nordberg.

29

31

33

35

37

39

41

43

45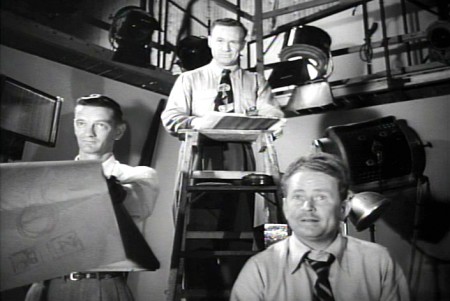 46
John Lounsbery is on the left.
I'm not sure who the other two are.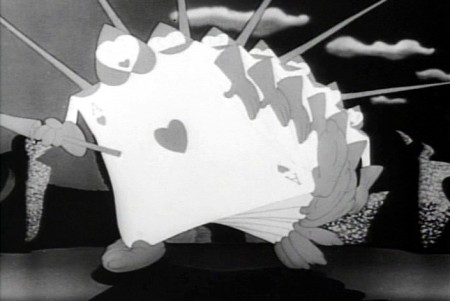 47
The cards in action in the film.

49
One of the highlights of the film is this dancer doing
march steps for the cards – to be studied.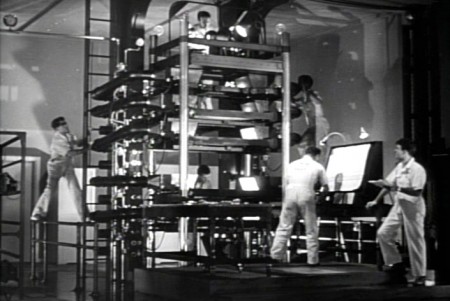 50
The multiplane camera in operation.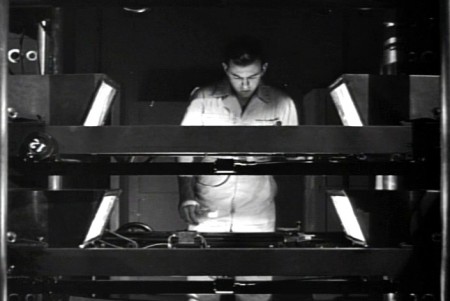 51
The cameraman at the top always looks a bit devilish.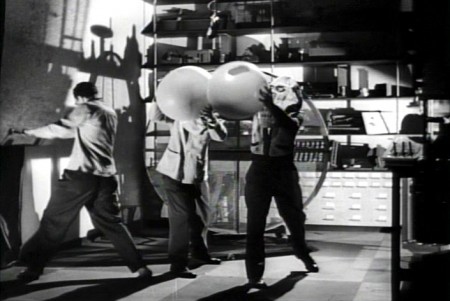 52
No "how animation is made" film would be complete
without the sound effects guys making a racket.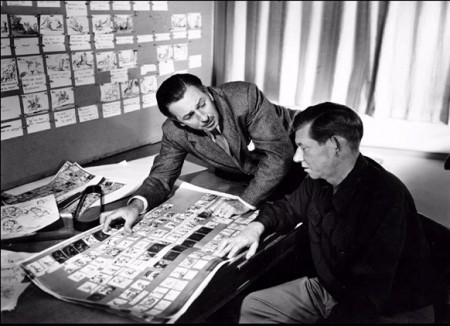 53
Walt and Wilfred Jackson.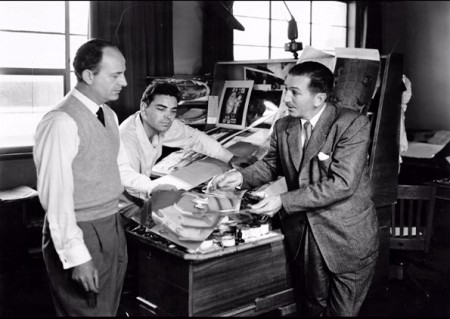 54
Walt going over some artwork with
John Hench (L) and Claude Coats (center)
Thanks to Hans Bacher and Gunnar Andreassen for identifying them.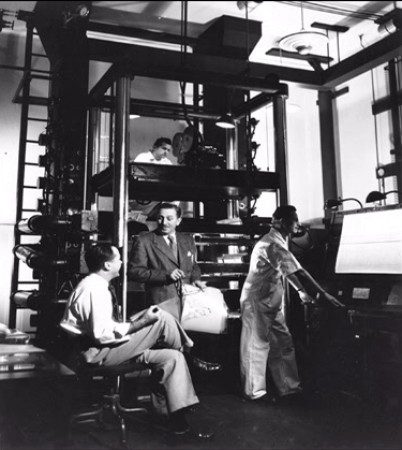 55
Before riding his toy train into the sunset, Walt sits
in front of his real toy, the multiplane camera.
If anyone can identify any of those I couldn't, or if you think I've mistakenly identified anyone, please leave a comment.
There's an art gallery of images, many of which are by Mary Blair (and I've already posted her pictures a while back.) I'll finish this post with some more of the images on the dvd.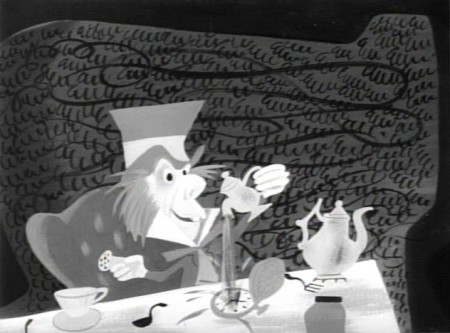 1
Mary Blair in B&W.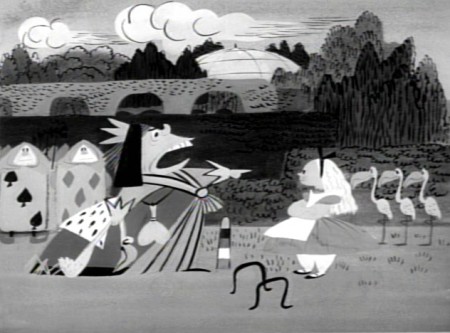 2
More of the same.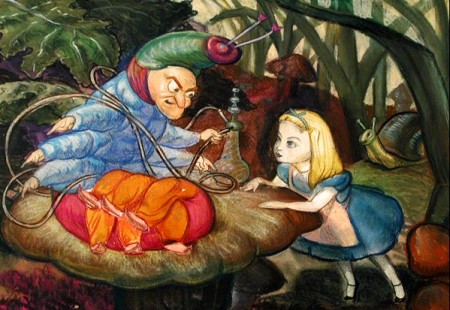 3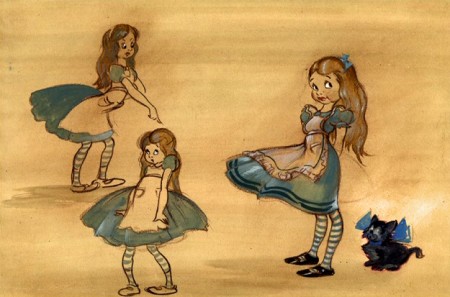 4
Thiis looks like it comes from HOPPITY GOES TO TOWN.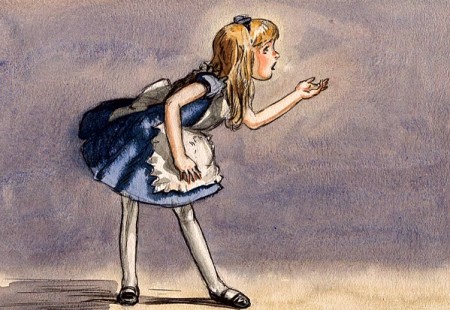 5
Lots of David Hall designs, here.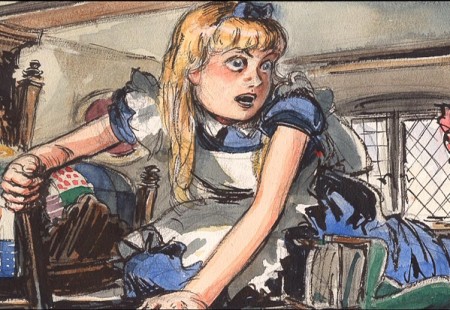 6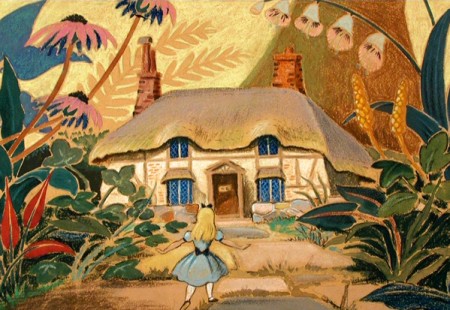 7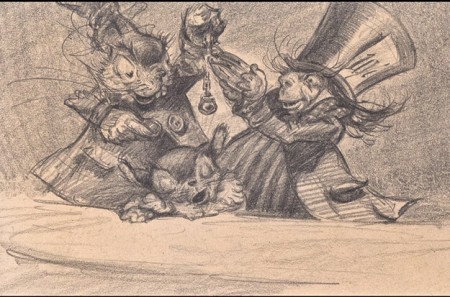 8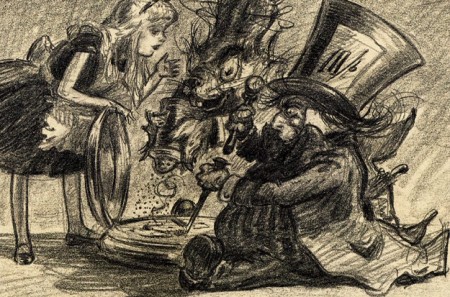 9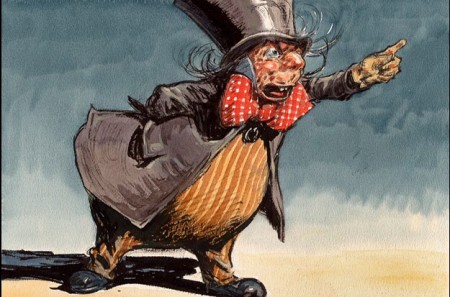 10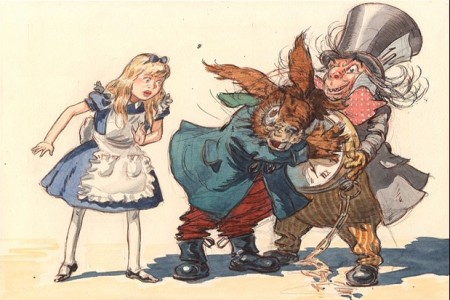 11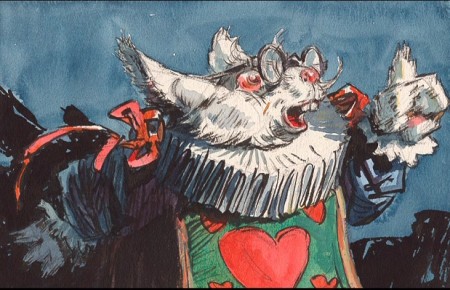 12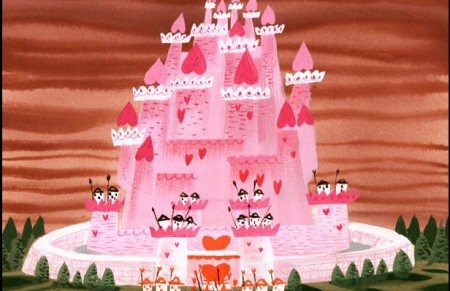 13
More Mary Blair.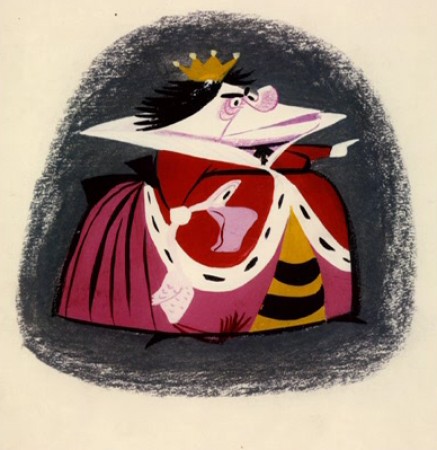 14

To see more Mary Blair designs for Alice go here.
One Response to "Operation Wonderland Redux"
Leave a Reply