Animation Artifacts 30 Mar 2006 08:10 am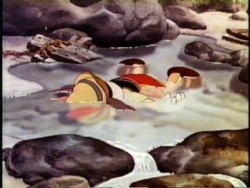 - Here are four more pages of the production scene drafts for Pinocchio. It takes us to the point where Gepetto turns out the light, and the small family goes to sleep.
- I always was curious as to why all of these books about the production of animated films rarely talk about the actual production. I'm not even talking about books written today; they're all about the stars at the microphones and not about the films – in other words all they want to do is sell dvds.
These production drafts, to my knowledge, have never made it into any such book. Halas came closest with his Techniques of Film Animation book when he talked about the director's workbook, and we've seen plenty of versions of exposure sheets.
As a kid, I would have gone crazy over the image of such a chart. It was out of my experience, and I knew nothing about it. The first time I encountered such a thing was in working on Everybody Rides A Carousel. The production chart – not too different from the Disney ones – were posted on oaktag in the studio, and I, managing the production, would literally check off scenes as they moved from phase to phase. It was nothing I'd ever heard about in a book – I mean, it's obvous, I guess, to have them. But I just hadn't thought about it.
To this day, I still don't know what a production chart/draft would look like in a couputer animation house; I'm sure they're there, but no one mentions them. I guess I should look into it.
5 Responses to "Gepetto goes to sleep"
Leave a Reply