Animation &Daily post &Miyazaki 05 Apr 2006 06:48 am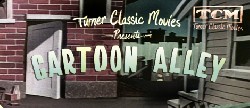 - This is a short reminder that Turner Classic Movies airs some older animated shorts with excellent prints on Saturday mornings at 11:30am. (Naughty But Mice is Chuck Jones' first short starring Sniffles.)
The schedule for April is as follows:
April 8 11:30 AM Cartoon Alley #13
Features three Sniffles the Mouse cartoons: Naughty But Mice (1939), Little Brother Rat (1939) and Sniffles and the Bookworm (1939).
April 15 11:30am Cartoon Alley #14
Features three Droopy Dog cartoons: Dumb Hounded (1943), Shooting of Dan McGoo (1945) and Wild and Woolfy (1945).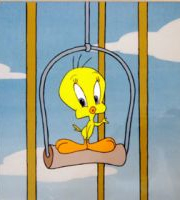 April 22 11:30am Cartoon Alley #15
Features three Tweety Bird cartoons: A Tale of Two Kitties (1942), Birdy and the Beast (1944) and A Gruesome Twosome (1945).
Apil 29 11:30am Cartoon Alley #16
Features three MGM Cinemascope Cartoons: Millionaire Droopy (1956), The Cat's Meow (1957), Tops With Pops (1957).
- For those desperate for their monthly Miyazaki hit, May will offer a rerun of the Miyazaki films in the late night schedule on TCM (with dubbed English versions). The schedule is as follows:
May 5 – 2:00am Castle in the Sky (1986)
A boy and girl race pirates to find a legendary floating castle.
Cast: Voices of James Van Der Beek, Anna Paquin, Mark Hamill. Dir: Hayao Miyazaki
4:15am Porco Rosso (1992)
An airplane pilot with a pig's head devotes his life to rescuing others.
Cast: Voices of Michael Keaton, Cary Elwes, Kimberly Williams. Dir: Hayao Miyazaki
May 12 - 2:00am Princess Mononoke (1999)
A woman raised by wolves leads forest animals in a fight to save their homes.
Cast: Voices of Billy Crudup, Claire Danes, Minnie Driver. Dir: Hayao Miyazaki.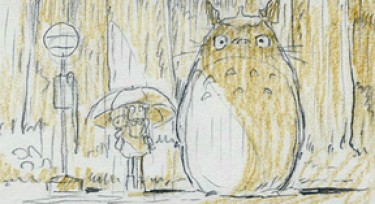 4:30am My Neighbor Totoro (1993)
Two girls with a sick mother find escape with the spirits of the forest.
Cast: Voices of Dakota Fanning, Timothy Daly, Lea Salonga. Dir: Hayao Miyazaki.
May 19 - 2:00am Whisper of the Heart (1995)
A young girl goes looking for the boy who has checked out all the same library books as she.
Cast: Voices of Brittany Snow, Cary Elwes, Harold Gould. Dir: Yoshifumi Kondo.
4:00am Pom Poko (1994)
A group of magic raccoons use their shape shifting powers to save their forest home.
Cast: Voices of Jonathan Taylor Thomas, Clancy Brown, J.K. Simmons. Dir: Isao Takahata
Leave a Reply