Photos &repeated posts &Steve Fisher 10 Feb 2013 06:34 am
New York has had another snow storm. Oh not as bad as Boston has received, but bad enough. To tell the truth, I didn't want to include pictures of snow in this week's post, but what the hell. How do you avoid it? However, I do think one snow storm isn't too different from others, and since I have one from the past from which I really like Steve Fisher's photographs, I decided to repost those images. So here they are – the ice storm February 2011.
Here they are, NY in a different light.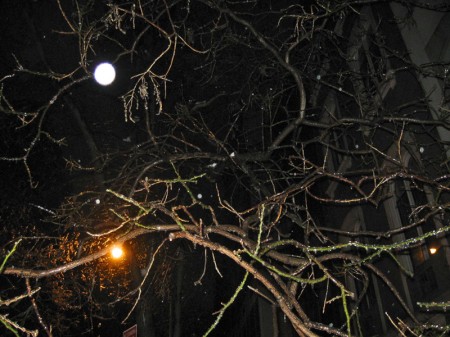 1
These first two pics were the ones I shot at 6am
but wasn't crazy about.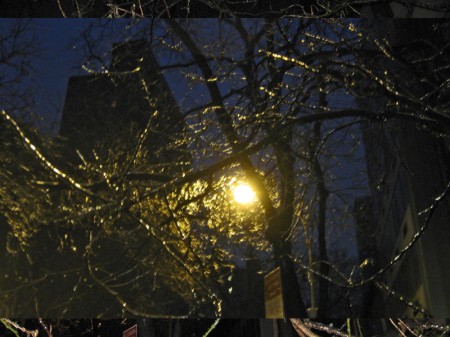 2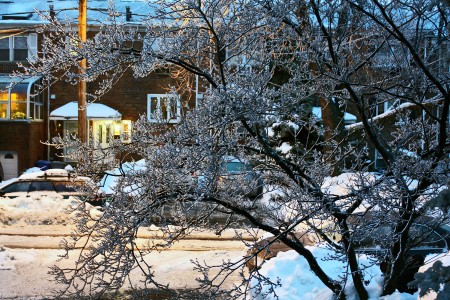 3
The rest of these are by Steve Fisher.
They're all color shots.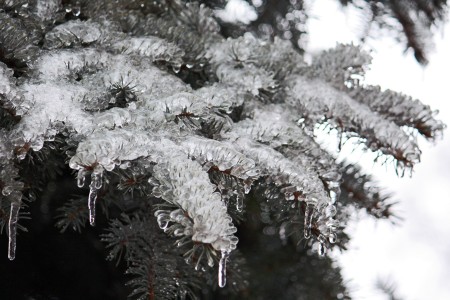 4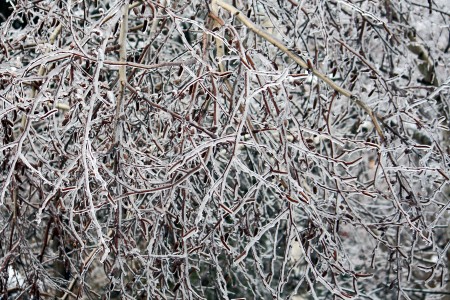 5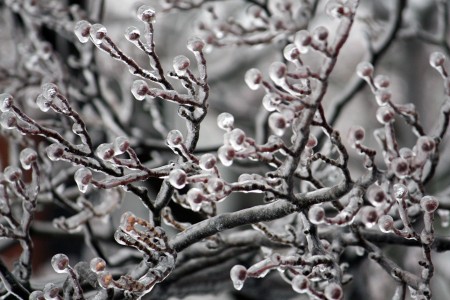 6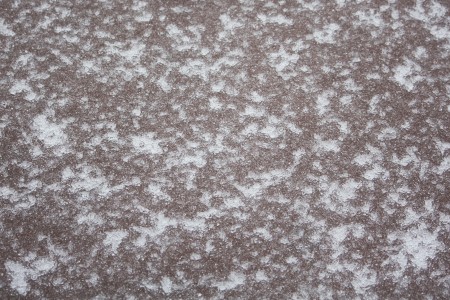 7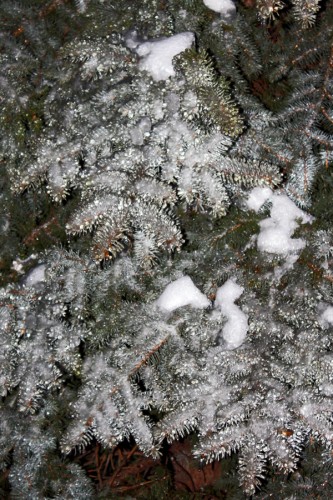 8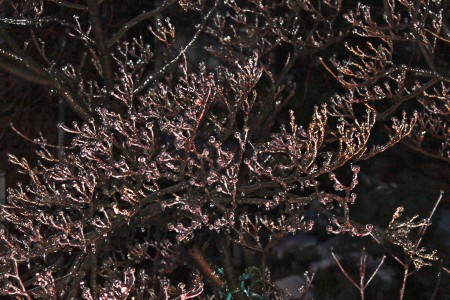 9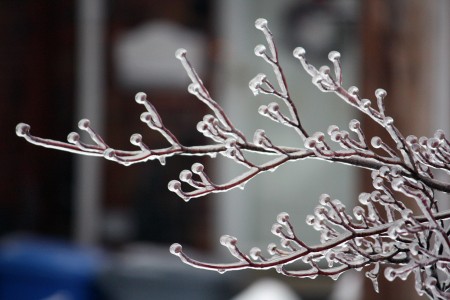 10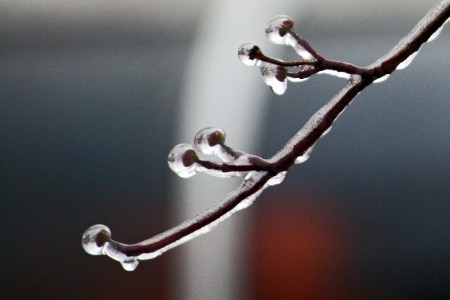 11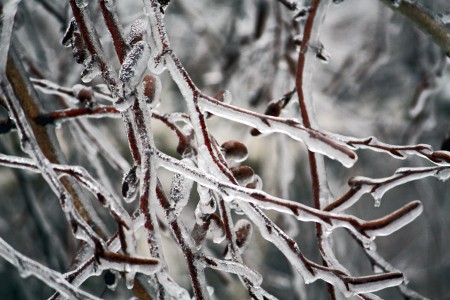 12
___________________________
- It's a couple of days later. The weather has gotten a bit warmer by Saturday, and another smaller snow dusting is expected. I decided to walk to the studio at 6:30am and figure out how to use my camera-phone thing. I've had it for two months and haven't really figured out the machine. So here are some pictures. Note that a light hail was falling throughout the two mile trek.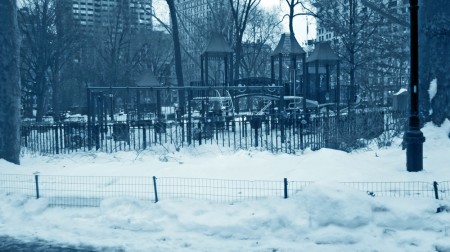 1
First off I walk through Madison Square Park.
I haven't been here since Christmas, the first big snowfall.
I mistakenly had left the B&W feature setting on the camera.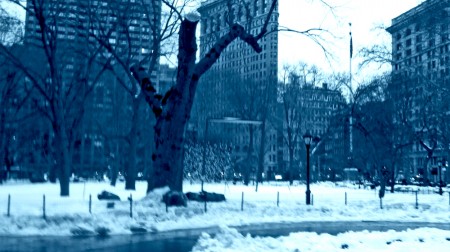 2
This tree looks to be dead. They've cut off a lot of it.
(See the logs on the ground.) Masses of squirrels are
climbing into the hole at the top of it.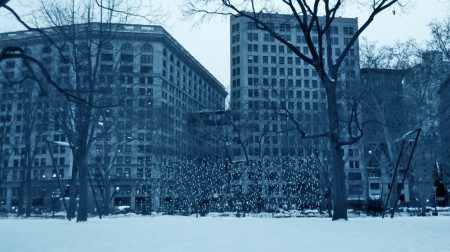 3
This is that light "Art-piece" I featured last year.
The lights (you have to look for them) aren't on,
and the piece is silent.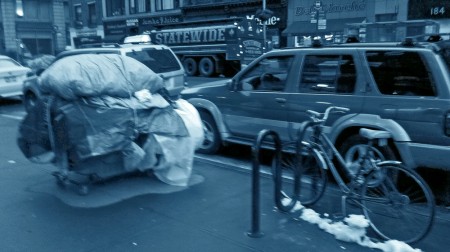 4
Then I walk down Fifth Ave. to Washington Square Park in the Village.
Some homeless person left their bin parked near a bike stand just
outside of the 23rd St. subway entrance. I guess they're keeping warm.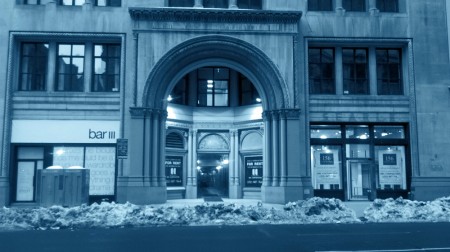 5
I almost forgot why I'd shot this photo.
If you look closely you'll see that the entire building is
"For Rent". I guess they gave up on the idea of selling it.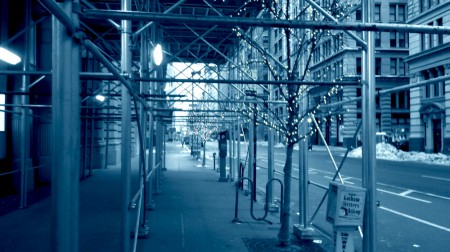 6
Are these Christmas tree lights, still hung?
They look nice (in person) under this construction tunnel.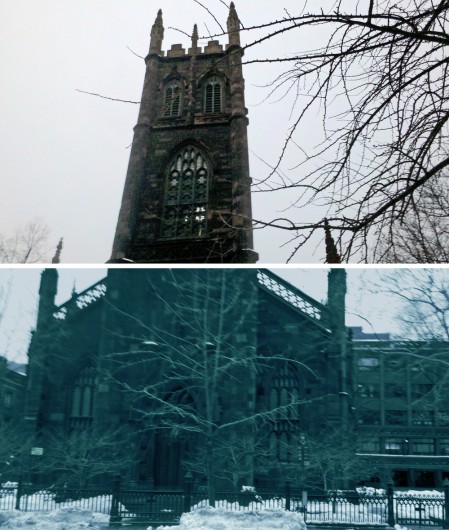 7
The First Presbeterian Church on 13th Street and Fifth Ave.
I've realized I'd been shooting in B&W.
This is the first pic in color.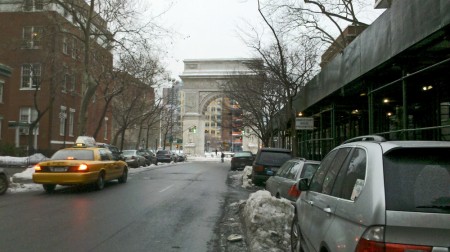 8
Here's the Arch at Washington Square Park , shot from 8th Street and Fifth Ave.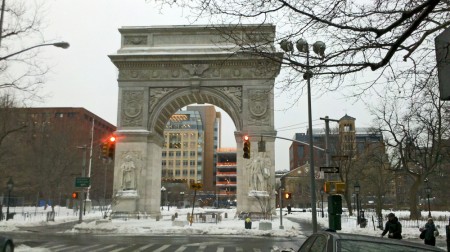 9
Here's a closer shot.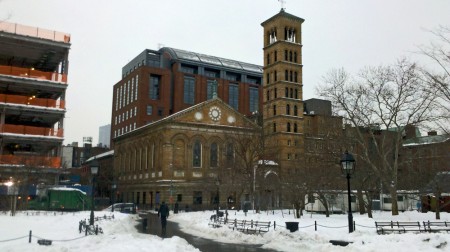 10
This is Judson Memorial Church near NYU shot from within the park.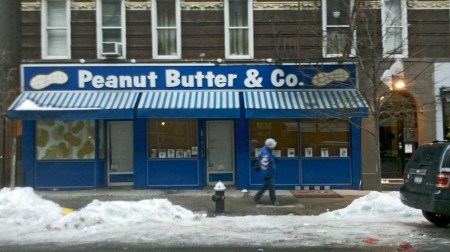 11
A sort-of famous restaurant a couple of blocks from the studio.
All they serve is PB&J hundreds of ways. I haven't been in there.
I keep PB and Jelly in the studio and my home; I love it.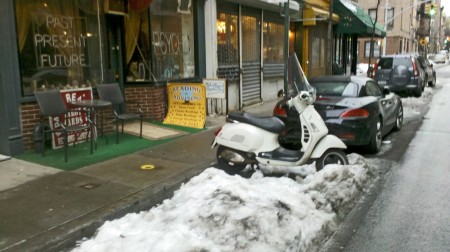 12
I turn West on Bleecker to Downing which leads me to Bedford.
"Hey ma, I can see our house from here!"
Finally, I reach the studio. The hail's getting heavier.
Leave a Reply