Animation Artifacts &Hubley 15 Apr 2006 07:49 am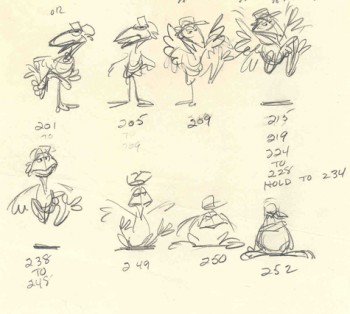 – Years ago I worked at the Hubley studio on a pair of commercials for Vlasic pickles. One of the two spots made it to the air.
This is from the spot that never made it.
Vlasic had a commercial they wanted, and because of the agency's long time relationship with the Hubleys, they came to him to try to develop the character. (The agency was W.B. Doner, the agency that had done so well with Hubley's Maypo commercials.)
(Click on image to enlarge.)
The agency came with two already-recorded voices: one was a Groucho Marx impersonator (I'm not 100% sure, but I think it may have been Frank Gorshin); the other was character actor, Edgar Buchanan. John wanted Edgar Buchanan – it was a much richer voice, lots of cowboy appeal.
John designed the character to look like one of those stationmasters in cowboy films. The guy who gives out tickets and does morse code when he has to. The stork had a vest and a blue, boxy, stationmaster-type cap cocked off to the side. It was a great character.
Phil Duncan was the animator. A brilliant character guy who had done everything from Thumper to George of the Jungle. I loved cleaning up and inbetwwening his work. It was all fun and vibrating with life.
This pictured piece of art fell out of one of Phil's packages. It was a thumbnail plan of the action. Phil would do these things which usually stretched around the edges of his final drawings. In a nutshell, you could see the scene and how he worked it out. Lovely stuff.
I felt this drawing was as beautiful as the original animation drawings.
4 Responses to "Duncan Stork"
Leave a Reply