Animation Artifacts &Hubley 16 Apr 2006 08:19 am
– Continuing the saga of Vlasic Pickles, the agency approved the stork, Edgar Buchanan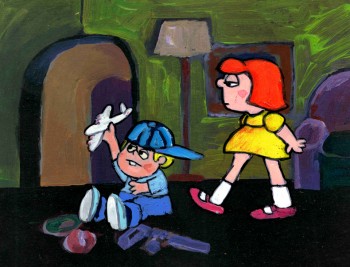 and the plan of action.
We'd already finished the first commercial which was on the air. (Represented by the two set-ups posted here. The style was done with acrylic paints – out of a tube – on top of the cel. Ink with Sharpie on cel; paint dark colors – ON TOP of cel – up to and over ink line; after drying paint again with lighter tones, and again. Imagine kids & a gun in a spot today!)
(Click on images to enlarge.)
Phil Duncan did a great job animating it. I inbetweened, and the Agency loved it and approved it to color.
All this time, John and Faith were busy preparing the start of Everybody Rides the Carousel. It was to be three half-hour shows (Eventually CBS changed their mind and asked the shows, still in production, to be reconfigured to make a 90 min film) and was in preproduction. I did the spots on my own with John checking in. Faith wanted nothing to do with a commercial and was somewhat furious that a commercial was ongoing.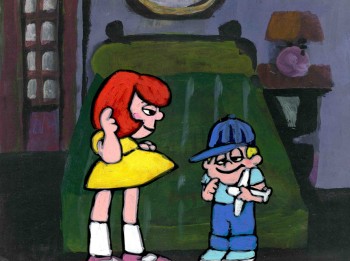 Within weeks the spot was in color and two junior exec. agency guys, John and I stood around the Hubley moviola. (It was a great machine with four sound heads and a picture head that was the size of a sheet of animation paper. Pegs were actually attached to enable rotoscoping!)
The two agency guys were buttoned up with good suits and briefcases. They stood behind John and me, and I operated the moviola.
We screened the spot the first time. I turned around and these two guys had come undone. Their ties were loose and astray; they were visibly sweating. I swear this all happened within the course of 30 secs.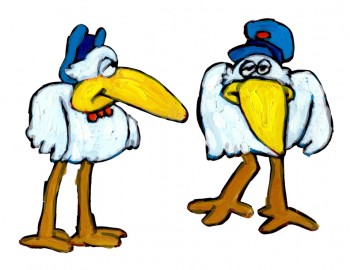 John smiled and optimistically asked how they liked it. They looked at each other, and couldn't answer. I don't think they were able to form a decision or say what they actually thought. Eventually, they left with the spot in their briefcase and would get back. It wasn't good.
They did get back. I was asked to pack up all the elements and ship them back to W.B. Doner. The spot was thrown out of the studio by John who refused to change it. (Hubley's stork.)
He liked what was done, and apparently had a rider in his contract
which covered him – somehow.
The spot showed up at Jack Zander's studio, Zander's Animation Parlour. They used the Groucho impersonation and slicked it up a lot. Vlasic is still using that stork, and that was John's last commercial endeavor.
(Note: Thanks to Mark Mayerson's comment, yesterday, we know that Pat Harrington was the Groucho impersonator later used for the stork's voice.)
2 Responses to "Vlasic continued"
on 18 Apr 2006 at 4:40 am 1.Charles said …

That's impressive. Anyway I can see the finished version of the commercial?

Didn't Zander's Animation Parlour also made cartoons for "Saturday Night Live" featuring a turtle?

on 18 Apr 2006 at 2:20 pm 2.Tom Minton said …

Groucho Marx died in September, 1977, outliving Elvis by three days.
Leave a Reply