Commentary &Pixar 16 Dec 2005 08:57 am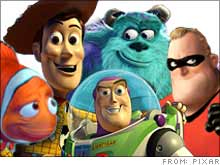 The New York Times reviews the PIXAR exhibition at MOMA.
I have to say the author of the review well articulates some of my thoughts about the show.
The Times also has an interactive slide show of the exhibit.
There's another, less insightful review in today'sThe New York Post.
For those of you who can't make it to NY, I overheard, at the opening, a discussion of where the show would travel once it leaves New York. It's going to Europe and several cities in the US ending in San Francisco. All I have is hearsay, but I'll try to find out more about this.
2 Responses to "Pixar Exhibit"
on 20 Dec 2005 at 1:56 pm 1.Jen said …

Excellent blog, Mr. Sporn! I'll be adding it to my regular stops, if that's okay.
It's great to see such a legendary animation figure weigh in
(we've never met, but one of my friends did her earliest work for you in the business, Elinor B.–and of course I've read about you since the late 70s, which is when I started dreading everything I could about animation).

Thanks for the news/hearsay about the Pixar exhibit traveling–hope it happens for those of us stuck on the west coast.

on 22 Dec 2005 at 7:26 pm 2.Jen said …

CORRECTION: …um, that should be "READING everything I could about animation, NOT "dreading"—god! Sorry about that. Talk about awful typos. Yeesh!
Leave a Reply