Animation &Daily post &Illustration 24 Apr 2006 09:06 am
Looking at a number of sites out there, I found a couple of postings I thought worth sharing.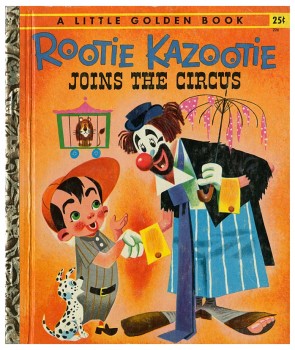 - Who is the boy that is filled with pep and joy?
He's Rootie Kazootie.
Who is the lad who'll make you feel so glad?
He's Rootie Kazootie.
The ASIFA-Hollywood Animation Archive gives us a complete look at the Little Golden Book, Rootie Kazootie Joins The Circus.
For those of you who don't know, or remember, Rootie Kazootie was a puppet who, with his sister Polka Dottie worked to foil the evil plots of Poison Zoomac on early 1950′s television. The puppet show was a craze that took hold of the entire country for a few years. Other similar shows included Bob Clampett's Time for Beany, and Burr Tillstrom's Kukla, Fran and Ollie. There was also the original superstar puppet show: Howdy Doody.
So devoted were many of the Baby Boomer fans, that all of these shows still have active websites. It's hard to think of them as cancelled. (Personally I think these shows were a diversion; a way of avoiding the ills foisted on the unsuspecting Americans fighting off the dull McCarthy-HUAC hearings. Oh, and fighting communists, too.)
How the dim, gray, constricted show, Rootie Kazootie, was able to inspire this brilliantly colored gem of a book is something only Mel Crawford can tell us. He was the illustrator of the book who now works out of New England. An ex-Disney artist, Mr. Crawford has a number of other successful books to his credit including Gerald McBoing Boing.
- Emru Townsend at FPS has an insightful commentary on the presentation and marketing of animated features in our dull, gray, constricted world.
- There's a short interview with the Quay Brothers at AWN.com which I found interesting.
- The publicity machine's in play. Yet another article about the Robert Smigel's animated pieces for Saturday Night Live. This one appeared in yesterday's NYTimes. At least the two studios that do the work got mentioned: J.J. Sedelmaier and Wachtenheim/Marianetti.

- At Jim Hill Media, we learn why Gnomeo & Juliet has moved off the defunkt list of Disney animated features (canned by John Lasseter and other incoming execs) and onto the Miramax release plans. Move over Hoodwinked II & III.
Jim Hill also lets us in on a plan expected for the distribution of Song of the South to computer/download fodder in a couple of years. Of course, we'd heard not-too-long-ago that this feature would be revived for dvd release, that is until Robert Iger came into power and canned it. The poor little feature-that-could has been the story of many soap-opera endings over a short time. Too bad I didn't buy a vhs copy when it was in release years ago. (Though there are enough sites on google that'll lead you to relatively inexpensive, illegal dvd's.)
3 Responses to "Wayback Machine"
on 24 Apr 2006 at 5:52 pm 1.oscar grillo said …

"Song of the South" is legally distributed in the UK, and often is shown on terrestrial television. I recorded it from the air and I have a legal Disney's video of it..I think it is a terrific movie.

on 03 Aug 2006 at 10:49 pm 2.Betsy said …

Just wanted to let you know that I'm selling a Rootie Kazootie record on e-bay. I've been scanning the internet trying to find people who might be interested. It's Rootie Kazootie and the Polka Dottie Polka.
Leave a Reply