Commentary 02 Mar 2013 05:15 am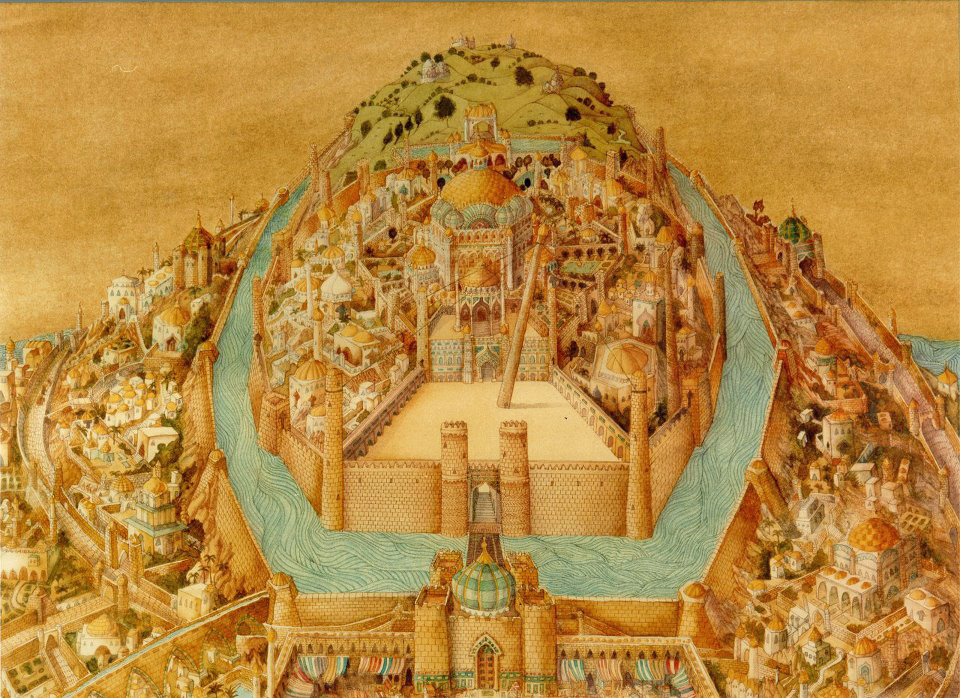 - I was asked by Kevin Schreck to introduce, on Thursday at the 92Y Tribeca; it was the second of two evenings celebrating the work of Richard Williams. The three day program was timed to celebrate Dick's 80th birthday. On March 19th he becomes an octogenarian.
Kevin is the film maker who has produced and directed a documentary about the history of Dick's magnum opus, The Thief and the Cobbler. Kevin's documentary, called Persistence of Vision, was unveiled on Friday night.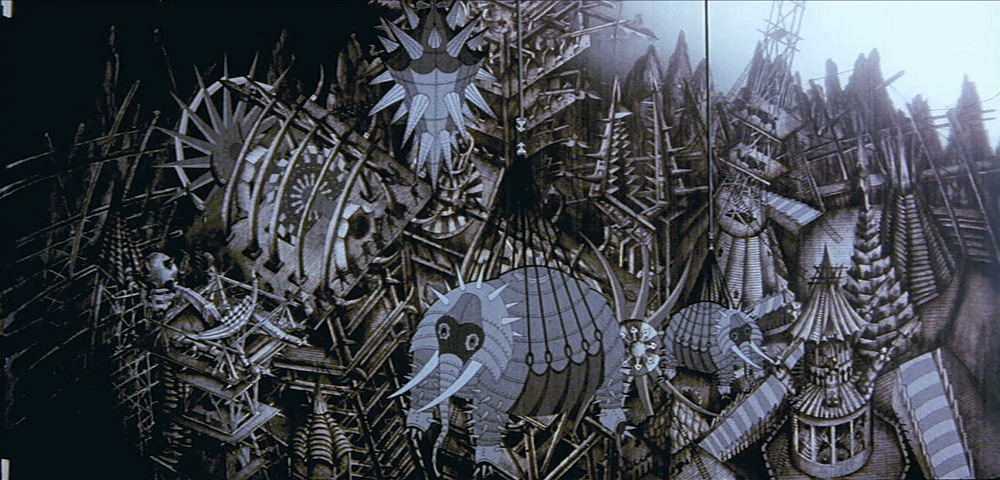 AS I said, I introduced Thursday's program (commercials, movie title sequences and the short, The Little Island) with a short telling of how I first heard of Dick Williams, then came to meet him, work for him, befriend him and, finally, sit at a distance from him. Dick's one of the more interesting personalities I've met in my life. He's one of those few characters you get to know who lights up a room whenever he walks in. Energy just overflows the room, and everyone is happier for their presence. In all my years I've known possibly three people who filled this description, and it always was enriching for me. Bedazzling.
The program included a number of sample reels from Dick's Soho Square studio. Mostly humorous commercials, all excellently animated. I wish there had been some of the earlier ones mixed in; the Pushkin Vodka commercial shown was not the one I think of as genius; it was the 2nd of two spots they did. The original 2 minute spot was everywhere back in the 70′s; now you can't see it. The film that was shown is well done but doesn't soar like the original. Both were designed and animated by Rowland B. Wilson and Russell Hall; they did a bang up job on it. Several of the commercials animated by Eric Goldberg were among those screened; naturally they were funny pieces. There was the cat who uses 8 lives trying to get his hands on a beer product (can't remember the brand). There was the baby, animated by Russell Hall, and his Q-tips commercial; done in a thick/thin line with watercolor. These are brilliant when compared to today's live action babies speaking for E-trade.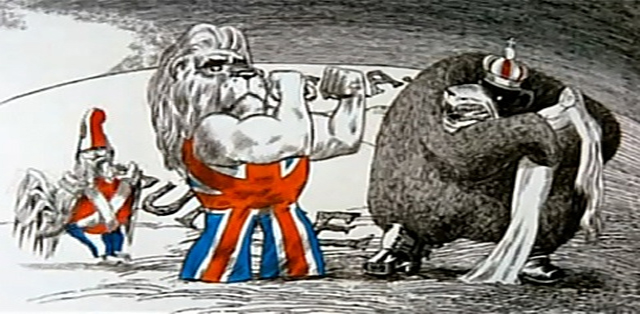 The spots turned into the title sequences for Charge of the Light Brigade. The print for this was significantly better than that of the commercials. This was followed by other title sequences including What's New Pussycat?, and Return of the Pink Panther. No Murder on the Orient Express newspaper sequences with the glorious music by Richard Rodney Bennett; no Prudence and the Pill. I've always had a small problem with Williams' work on title sequences. It's hard to read the titles/credits on display. That's the purpose of the job, and yet the type is always at war with what's behind it. It's all beautifully, no . . . brilliantly done. Except for that legibility problem.
This show ended with the half hour long The Little Island. A very good print, this was the short Dick did virtually by himself with the help of Tristram Cary's strong musical score. The film is at least twice the length it should be, and feels somewhat dated. However, one can understand its success when it was originally screened at the early animation Festivals where it won many awards and brought Dick Williams some fame.
__________
Then last night we saw Kevin Schreck's documentary, Persistence of Vision. This was the story behind Dick's feature, The Thief and the Cobbler. A 70 minute tour back through more than a decade's worth of history on the making of an animated feature that never really was completed. Some patches and staples were added at the end so it could be released in the most shameful way possible, but that's the way Dick's "master piece" ended up.
Not all of the footage in the documentary was of the best quality. Some of the shots were a bit on the dark side. The information passed on was wholly there, though. Very good. The film gives us interviews with a number of truly fine artists. Roman Modiano, Richard Brett, Greg Duffell, Julianna Franchetti all spoke with Schreck's camera about their history and involvement with Williams feature. They paint a relatively positive pickture of Dick Williams, though somehow bits of his blustery side come across clearly.
The film only barely touches on Omar Ali-Shah's financial games on Dick's studio. He cooked the books, and didn't do a very good job of it. Everyone was aware of his discrepencies. A hurtful separation with the Idres Shah (Omar's brother) who wrote the book on Nasrudin which Dick had illustrated and was now animating as an animated feature. They left with any permission to do a feature starring their character. Dick had to completely overhaul his animated feature and rework the script as well as most of the completed animation. A setback.
The Thief and the Cobbler emerged, and Dick worked his tail off, destroying several marriages in the way of his work. He worked through The Christmas Carol, Raggedy Ann, Ziggy and Roger Rabbit all in pursuit of financial stability. He finally got the budget he asked for to produce The Thief, and sure enough, it wasn't sufficient. Dick ran out of money without completing the movie, and the insurance company, the Completion Bond Co, was forced to step in and take possession of Dick's movie, which now belonged to the Completion Bond Co. They hired 2nd rate all the way to rework the film, trying to make what they felt would be a success out of it. A friend who was a final checker on the movie, had to visit the morgue for drawings that could be reused. She came upon a mass of broken and crushed boxes with artwork spilling out covering the warehouse's entire cemnt floor. This was the artwork that took many hours to color since its rendering was so delicately done in England.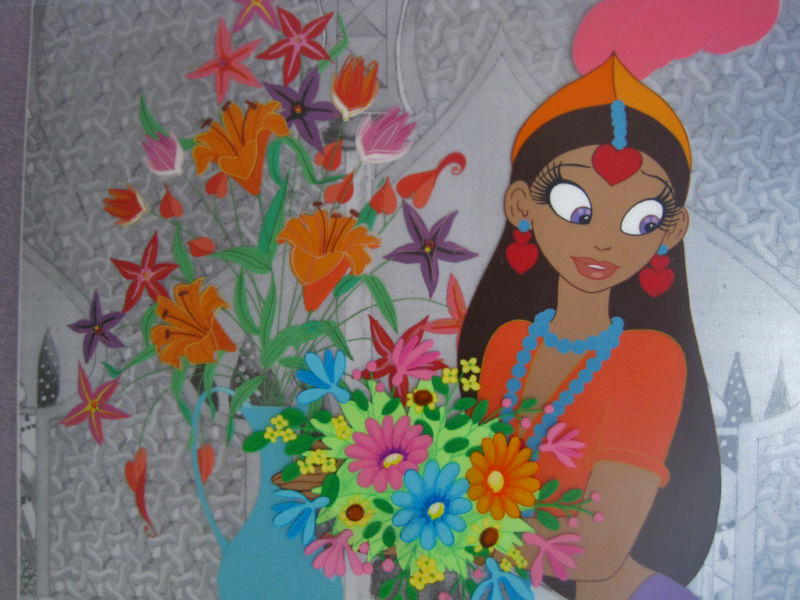 That, to me, was the sad ending. Tissa David had worked for more than a year animating the twin sisters, Yum Yum and her twin sister, Mee Mee. Tissa was left behind, and Dick cut Mee Mee from the film, reworking some of Tissa's animation. I sat next to Tissa watching the Fred Calvert version of the film; I was aghast. Tissa was quietly sad as if a friend had died. It was a bit reminiscent of our watching Watership Down together after Hubley had been fired and had died of heart complications. We both cried during the "Bright Eyes" sequence of that film. Watchya gonna do?
Kevin Schreck captured the feeling of that film -The Thief and the Cobbler, I mean -in all its disappointment. He's a young film maker, and seems to have caught Dick Williams in this documentary. That's plenty.

__________________________________

Ursus
Signe Baumane shared this film with me yesterday; a friend of hers in Latvia. had sent it to her, and she wanted to see what I thought. The film went to Clermont Ferrand and 70 other festivals. It's a real beauty and I couldn't help but share it with you. I hope you enjoy it as much as I did.
__________________________________

Crood History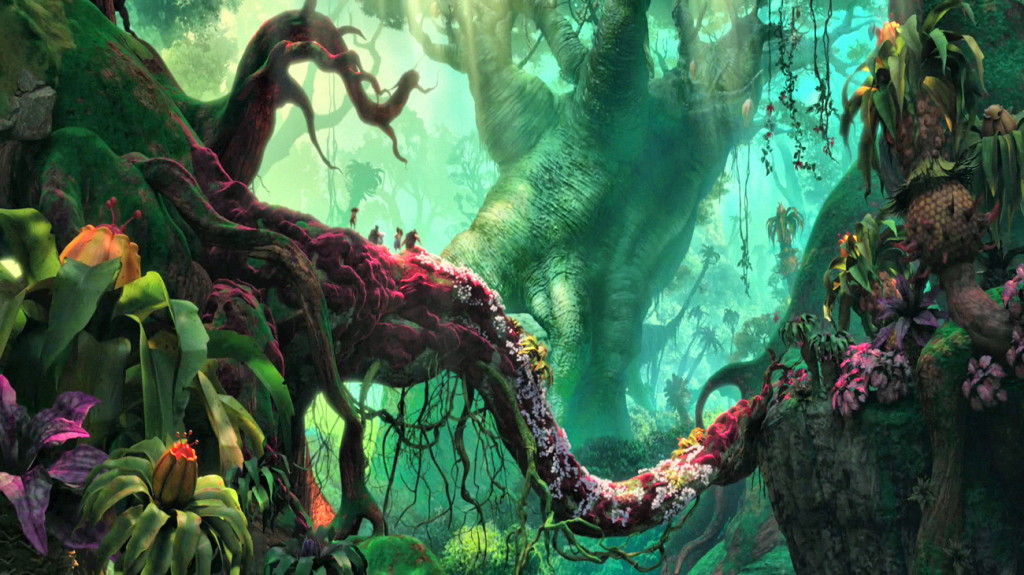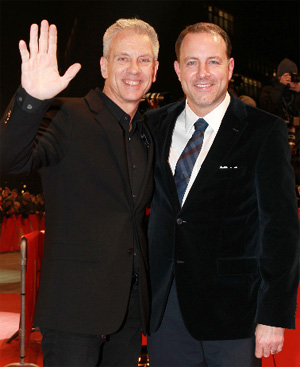 Jim Hill has a piece in The Huffington Post about The Croods talking about its history – when it was to be done by Aardman and was co-authored by John Cleese. How and why it's changed is revealed in this article.
Though in one sweeping sentence Hill says, "… Aardman Animations stepped away from its five-picture deal with DreamWorks Animation." I question whether that's what happened and if it can be so casually dismissed for the purpose of this puff piece. But it's Jim Hill, so we'll not get a full story.
Pictured to the right The Croods directors, Chris Sanders and Kirk DeMicco.
Speaking of Dreamworks, they are performing a "crood" measure. They've promised to lay off some 350 of their 2200 employees by the end of the year. I doubt this has anything to do with what is happening in Washington, but certainly that isn't helping. Perhaps Katzenberg can help get some of the idiots in congress to "lose their jobs" by 2014. Maybe that'd help our economy. This news of the layoffs came from a Hollywood Reporter story and really has all to do with the poor performance of The Rise of the Guardians.
9 Responses to "Shows"
Leave a Reply