Animation Artifacts 23 May 2006 07:54 am
- Once again, Amid Amidi has sprinkled some real gold before us through his Cartoon Modern site. He talks in some depth about Dolores Cannata's work on the Charles Eames film, THE INFORMATION MACHINE: CREATIVE MAN AND THE DATA PROCESSOR. There's such a wealth in this short article that Amid leaves for us this morning.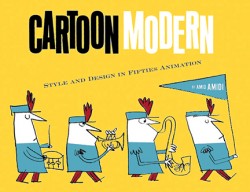 The underrated Cannata family gets some modest and well deserved attention here because of the one film, but what it really does is get me drooling to get my hands on Amid's new book, CARTOON MODERN: STYLE AND DESIGN IN FIFTIES ANIMATION due out in August.
This is one of the best sites available to us. I return often; when there are no new posts, I revisit some of the old. The artwork here is such an inspiration.
Back in the day, when I spent my lunch hours or after hours working at the Hal Seeger studio as an apprentice editor cum messenger, one of the first studios I visited to show my portfolio of drawings and cartoons in search of an animation job, was ECA, George Cannata's studio. George is the one who looked through my artwork, but I also got to meet Dolores briefly.
He's the one who told me that my work demonstrated that I shouldn't try to be an animator; it indicated too strongly that I'd be a good designer. There was no job there, but it sure made me feel good to get interesting and positive feedback. It wasn't the usual rejection from a stagnant NY animation industry in 1972. I held George Cannata close to my heart after that.
8 Responses to "Amid Gives Us Cannata"
Leave a Reply