Animation 25 May 2006 07:00 am
- Tonight's the official opening of MOMA's celebration of CalArts' influence on the film industry. I'm looking forward to the opening and after dinner party and will write about it tomorrow.
-Today, I want to continue my celebration of an unheralded CalArts grad who I think will have a significant effect on the animation industry.
Matthew Clinton came to my studio in 2003 and has done a resplendent job for me. When he got here from Michigan via LA, there was plenty of work for him to bite into, and he seemed to have no trouble doing it at all.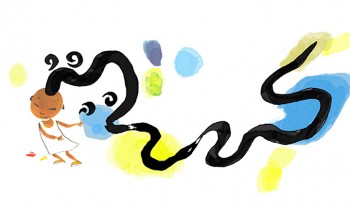 One of the first pieces he worked on was animation for an HBO special entitled HAPPY TO BE NAPPY AND OTHER TALES OF ME. As a new guy, Matt was supposed to be plugging in some animation bits to fill out the show. I gave him lots of pieces that ended up dancing around my less poetic animation. He helped define the art style to match illustrator Chris Raschka's beautiful, loose watercolors.
Then, for the same show, I gave him a number of more limited short films to animate, himself. In the end, the two of us did all of the animation for the half-hour show (about 17 mins) in 2½ months.
Things got quiet for a bit, and he helped define the style of my in-progress feature, POE. We wanted it to match the daring graphics Jason McDonald was putting into his storyboard pages. Matt found a solution once I defined the problem.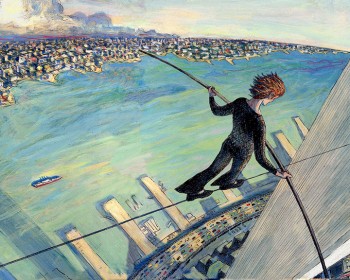 With The Man Who Walked Between The Towers, I dove into the meat & potatoes animation for the 10 min film and gave all the poetic pieces to Matt and Tissa David. By this time, I was aware of the talent I had working for me.
The scenes where Philippe Petit first steps onto the highwire were those done by Matt. Of course, I directed and coaxed elements I wanted from the scenes, but it was magic finding someone who so easily and quietly was able to give me what I sought and do it with such sublime grace and ease and so little fanfare.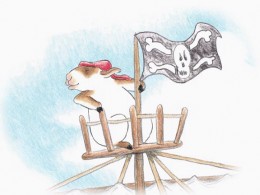 There were three films for PBS's Between The Lions.
Sheep On A Ship is almost completely Matt's. It was a delicate watercolor style from a best selling book that we had to match exactly. Needless to say, it did.
Here are stills from the PBS show,
Between the Lions:
Sheep On A Ship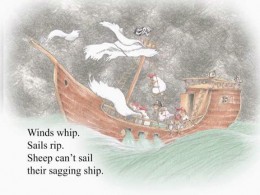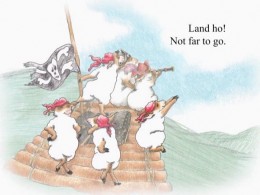 (Click any image on this page to enlarge.)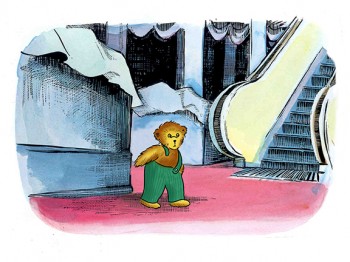 There were also five DVD's we did for Scholastic & Fisher-Price. Each featured a world class, famous children's book and included about 60 minutes of animation to illustrate the book and games included. Jumping over five different illustration styles in a few months and animating emotionally and delicately, Matt was able to always rise to the occasion and perform as a first rate actor with delicacy, grace and charm.
Corduroy for Scholastic/Fisher-Price
I obviously love this guy's work. No doubt he brought a lot of knowledge away from CalArts, but he also brings an inherent world of taste dignity and charm to everything he does; that wasn't learned in school. Matthew Clinton's a rare talent.
2 Responses to "Matt Clinton II"
on 05 Jun 2006 at 5:57 pm 1.Dan Lisuk said …

I was Matt Clinton's art instructor in High School. I'm very happy to see him getting the praise I knew he would deserve one day. I hope he continues to find success in art and I hope that his success is coupled with commensurate happiness. Hi to Matt.

Would you please also tell him that after 32.5 years teaching art, I'm retiring to make my own art. He is certainly one of my finer memories of my career. In fact I still have a couple pieces of his work that I show students. Does he remember "Breakfast tray for Walt Disney?"
My best to you all,
Dan Lisuk

on 06 Jun 2006 at 11:34 am 2.Matt Clinton said …

Mr. Lisuk,
It sure is great to hear from you! Thanks for the kind message. I do remember the "Breakfast Tray" assignment. I think I had sculpted little figures of Mickey and Donald doing a scene from "Mickey and the Beanstalk." I was always trying to incorporate animation into my assignments! Those were great days, hanging out in the art room at the high school. It was always a treat to be able to draw and paint for a couple hours a day during art class.

Thank you for all your help and excellent instruction during those years. If you see Mrs. Hoth and Mrs. Correll tell them I say hi.

Matt Clinton
Leave a Reply