Animation Artifacts 27 May 2006 07:19 am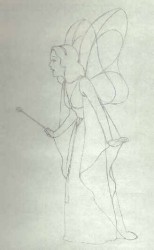 – These are the last of the drafts I have for Pinocchio.
They continue from the last sheet I had posted where Jiminy was getting the clocks to finally quiet down and preparing to go to sleep (posted back in April) , and these which represent the arrival of the Blue Fairy.
I'm curious about the design of the Blue Fairy in this film. She's markedly different than any other character in Pinocchio. They filmed the entire movie to use as a reference guide for the animators, but only the Blue Fairy is so tightly linked to the rotoscoped drawings. However, it seems quite appropriate for her to be different; the other-worldly quality is enhanced by the rotoscope and the effects glimmering off her dress and eyes and the glow around her body. It's beautiful.
However, her difference accents the difference that was starting to show up in acting styles among the animators. Tytla and Babbitt, roommates for a long while, couldn't have been more different in styles.
Geppetto is probably Babbitt's greatest animation; the character is complex in design and simple in spirit. He feels a bit like an older man being played by a masterful young actor.
Stromboli is an explosive temperament on display. The character even distorts between poses to accent that violence. Oddly, in small ways, this character reminds me of Grim Natwick's giant in the Iwerks film, Jack & The Beanstalk . Stromboli is much more complex, but his roots are still back there in that theatrical crudeness of the earlier 30′s.
The Disney studio was at the height of its sophistication, and they were beginning to be more demonstrative about it.
If anyone out there has more of the Pinocchio drafts, we'd all love to see them.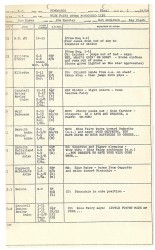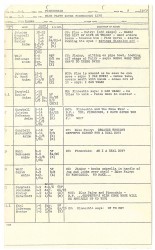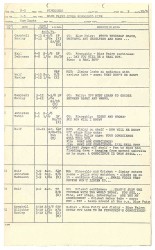 (Click on any image to enlarge.)
One Response to "Last of the Pinocchio Drafts"
on 30 May 2006 at 9:53 pm 1.David N said …

Michael,

Thanks again for posting these drafts . I really appreciate it .
I'm sure you've seen the ones that Hans Perk is posting at his A-Film
blog .

I'm so glad the internet is allowing for the widespread sharing of this fascinating information from animation's past .
Leave a Reply