Animation 30 May 2006 06:51 am
– If Bruno Bozzeto has been called, the Disney of Italy, Guido Manuli is the Tex Avery. This, at least, has been the opinion of Giannalberto Bendazzi, Italy's foremost animation historian.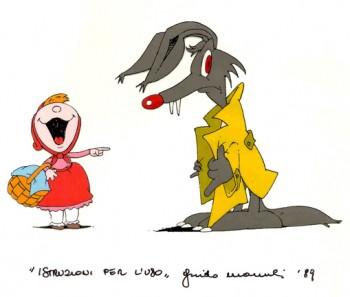 Manuli has been a master animator and director in Italy whose solo work has rarely been very successful in the United States.
He collaborated with Bruno Bozzetto on the Mr. Rossi series and was one of the key animation directors on the brilliant feature, Allegro Non Troppo before establishing his own studio in 1979. His collaboration with Maurizio Nichetti produced the animated/live-action mixed feature Volere Volare (To Want To Fly) in 1991.
(Click on image to enlarge.)
In his own films, Manuli tends to replay scenes from varied angles to get every bit of juice out of a gag. He has had a wild streak in his work that he has turned into laughs; he has often played for the "cartoon" in any situation. There's also a surreal bent in his work which provides for some outrageous ideas; it explains his enormous, deserved success in Europe. I'm curious as to why this doesn't translate to Americans, or at least American buyers.
This is a cel-setup from one of Guido Manuli's films, a randy take on Little Red Ridinghood. Even the cel set-ups are jokes.
2 Responses to "Guido Manuli"
on 11 Feb 2007 at 3:59 pm 1.Chris Sobieniak said …

As a kid, I can remember watching some of his work on TV like a short series that aired on a few channels called "Mr. Hiccup" and once catched "Fantabiblical" on one of the premium channels one day in the 80′s and that warped my 9 year old sensibilities!

Being reminded he had recently worked on an odd co-production some years back for DIC called "Monster Mash", haven't seen it, though I'm not sure if it's that great (typical D2V crap).
Leave a Reply