Commentary 23 Dec 2005 09:46 am
There was a time when Christmas Specials lit up CBS TV, and a few dotted the other networks prior to Christmas. But then cable came, and everything changed. The same one or two shows bounce around the fringes of cable: The Grinch (with and without Jim Carrey), Charlie Brown's Christmas, Rudolph.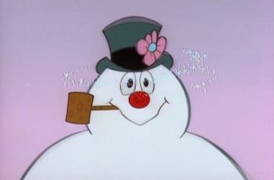 Last night I actually was looking for one of those little shows, say a Rankin-Bass bad/gem – maybe Frosty The Snowman, or The Night Before Christmas (ycch!). But no, not even a soapy live-action film on the Hallmark Channel about Christmas. One of the hundred-odd versions of The Christmas Carol; definitely no Mr. Magoo. All that I could find was Jim Carrey as the cartoon Grinch on A&E and the 2000th rerun of A Christmas Story – this time on TCM sans commercials. There was also a short, mean, clay animated program "mocking" all the Rankin-Bass shows by animation expert, Seth Green. Nastiness was certainly not what I was looking for. I'm sorry to say I didn't even have a Christmas dvd at hand.
Presumably there will be better fare on tonight, but this isn't Kansas anymore; things have definitely changed. I guess Christmas is in Bill O'Reilly's hands, the rest of us have holidays.
4 Responses to "Xmas "Specials""
Leave a Reply