Commentary &UPA 24 Dec 2005 09:26 am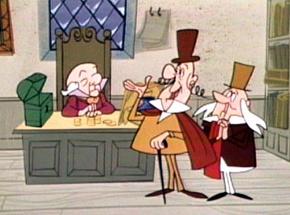 Follow up to yesterday's post:
Mr. Magoo's Christmas Carol will air today at noon on the Cartoon Network.
Good thing I have TiVo . . . wait I don't, but I do have a copy of the dvd in my studio . . . I'll bring it home to watch tonight for Christmas Eve.
One Response to "Magoo's Xmas Carol"
on 29 Dec 2005 at 1:51 pm 1.Jen said …

God, I loved that special! I remember well thinking(as a 6 year old or so)how weird it was to see Magoo playing it straight…it was all done pretty seriously and as a result, really chilled me. Isn't the ending frightening? I haven't seen it for 30 years. Seems to me it also had some fun songs.
Leave a Reply