Animation Artifacts &Comic Art 22 Jun 2006 07:23 am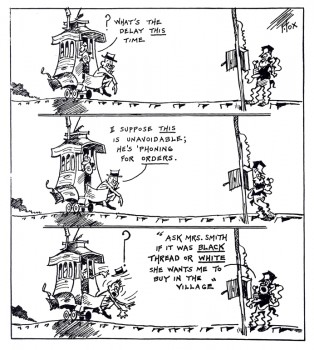 - I've been a big fan of the "Toonerville Folks" for a long time. I didn't find the strip for a while. When I was young, a local TV channel, an ABC subsidiary, ran a lot of old silent Aesop's Fables. They had classical music backing them up; usually Bizet filled the bill.
One year they upgraded by throwing a number of the Van Buren shorts in betwen the Terry silent films. These Van Buren films, many of them directed by Burt Gillette or Tom Palmer, were odd. There were a number of films with Greek gods as their stars. Then came the shorts with Molly Moo Cow and those with the Toonerville Trolley characters.
(Click on any image to enlarge.)
I liked these and learned from the credits that they were adapted from a comic strip by Fontaine Fox. So, I sought out the comic. Of course, in those days, prior to computers, all you had was the library to research things. My local branch had only one or two examples of the comic strip which ran from 1915 through 1955.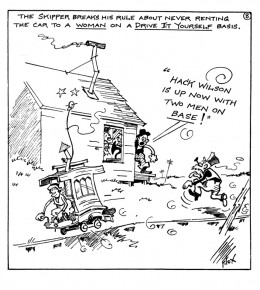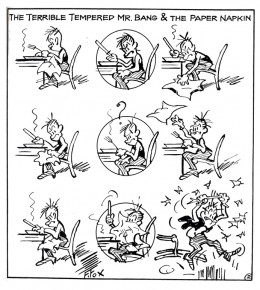 The animated shorts were made in the mid-thirties when Van Buren tried a run to improve their films. Neither sound and color nor the acquisition of the rights to this strip didn't help; even the "terrible tempered Mr. Bang couldn't help." The studio closed before the decade had ended.
In 1978 I worked with R.O. Blechman as his Assistant Director to put together the PBS show, Simple Gifts. This was a packaged of six segments adapted around Christmas with a number of different illustrators designing the segments. One of them, the one I was most attracted to was The Toonerville Trolley. Blechman bought the rights from King Features (at an enormous price) for a four minute film in the middle of the program. I'd worked hard to get the piece to animate. I even did a one minute sample of the film in my off time at night, and I thought it was pretty good. However, Blechman was afraid of losing me in the operation of his studio. (We were doing more commercials than show, and I hated it.) Bill Littlejohn did a nice job of animating the entire piece which was completely subcontracted out to him. That was probably appropriate since Bill worked at Van Buren when they produced these shorts.
3 Responses to "The Toonerville Trolley"
on 22 Jun 2006 at 8:20 pm 1.Dave Levy said …

Hi Michael,

This is a little off topic, but, do you recall early silent animation that was run on black and white TV with juggband style music backing? Was it Terrytoons' Farmer Grey, perhaps? I've been trying to track that down.

Thanks…

Dave Levy

on 23 Jun 2006 at 8:02 am 2.Michael said …

The only silent animation I saw on Tv used composers like Offenbach and Berlioz (impressionists) to underscore their films. I have no doubt those you remember were on as well. They would have used any music that they didn't have to pay rights for.

on 08 Apr 2007 at 3:35 pm 3.Bill Tait said …

If you are still interested in Toonerville, you should think about joining the Toonerville Collector's Club.

We put out a great quarterly newsletter.

You will find all the info on our website.

Bill Tait
President,
Toonerville Collector's Club
Leave a Reply