Animation Artifacts &Richard Williams 25 Dec 2005 07:31 am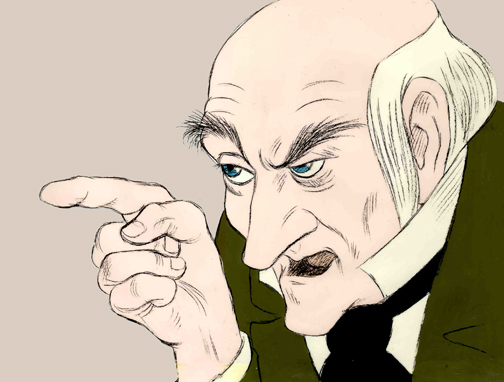 "God bless us every one!" said Tiny Tim, the last of all.
2 Responses to "God bless us every one!"
on 27 Dec 2005 at 12:00 am 1.David said …

Indeed, God bless us every one !

That's a beautiful drawing from the Dick William's version of A Christmas Carol, Michael . Do you own the original cel ? That one is a still frame I've never seen published before from that film.

I've always wondered why William's "A Christmas Carol" doesn't get more airplay . You'd think with all the animated junk that is broadcast that someone would want to pick up an classy, Academy Award winning version to show year after year . I was fortunate to buy a VHS copy of this film a couple of years ago , but I notice it's now out-of-print and no DVD version seems forthcoming . When the film was broadcast in the early 70′s I saw it and it made a definite strong impression on me . I love the cross-hatched look of the drawings. When I was in school (Sheridan College) I tracked down the Koh-In-All grease pencils and also the Mars Omnichrom grease pencils that the Williams studio used to draw directly on the cels . I loved working that way .

When I review "A Christmas Carol" nowadays the film feels way too short , of course, but they did the best they could with a 30-minute time constraint . I wish they could have had an hour .

I have a cel from this film, purchased at an ASIFA cel sale fundraiser many years ago. It's the Ghost of Christmas Past. When Dick came through the Disney Florida studio (where I worked) in 2002 or early 2003 to promote his book , The Animator's Survival Kit" , I showed him my cel and asked if he would sign it. He was genuinely surprised and touched to see the cel . He told me the cel I had was from a scene animated by Abe Levitow and that's how he signed it : "Dick Williams proxy for Abe Levitow"

on 27 Dec 2005 at 7:47 am 2.MS said …

The picture on view is, indeed, a cel I own from Dick Williams' film. It's a drawing by Dick from a scene he animated. The film is interesting. I agree the 30 min. format makes it difficult to pack the whole story in. At times the Alastair Sim voice reminds us too much of the live-action version that Sim starred in. Some stunning pan scenes. My favorite scene is one that Abe Levitow animated where the ghost of Christmas Past reveals hunger and ignorance under his robe.
Leave a Reply