Animation Artifacts 28 Jun 2006 07:32 am
Spunky and Tadpole is a dark spot in my unconscious memory of bad animation that I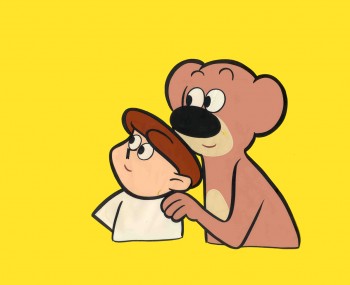 somehow have an affection for.
Jerry Beck listed it as one of the ten worst animated series ever created. (I don't agree with that, certainly not with all those abominable Hanna-Barbera/Filmation/ Ruby-Spears shows that were so godawful and unwatchable. At least Spunky and Tadpole had a bit of style; perhaps because it stands out, it can be recognized as bad. It was bad; just not among the very worst. But I'm splitting hairs; bad is bad.)
There seems to be very little recorded about the production of the show. A couple of vhs copies of the series exists in the remainder bins of the internet and can be bought for little. The only credit listed anywhere on-line is that of a director, Art Moore, whoever he may be. I haven't been able to locate any information about him either. (Someone on a chat room thinks he may be the producer of The Regis Philbin show.)
The show went into distribution via syndication in 1958 and was virtually knocked out of business by the rise and popularity of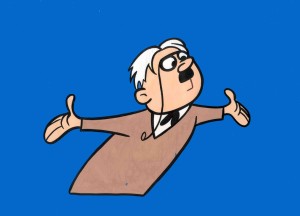 Hanna-Barbera's product, Huckleberry Hound and Yogi Bear. Spunky & Tadpole were featured on local programs that had local hosts introducing shorts. I was surprised to find out that as many as 150 episodes of the serialized cartoon series were produced.
The cast included: Joan Gardner as Spunky, Don Messick as Tadpole. Ed Janis replaced Don Messick in the last episodes.
This cast means the show was probably done in LA.
(Click on images to enlarge and properly view the excellent inking.)
Some time ago, I still couldn't resist buying a couple of cels which were selling on Ebay for just about nothing. They still amuse me.
- Speaking of good animation acting, Mark Mayerson has another chapter in his provocative series on Acting in Animation. I enjoy these posts; they get my mind working on a sore subject. (Sore subject because Bad Acting is pretty much all I see these days. Lots of jerking from pose to pose animation.)
25 Responses to "Spunky & Tadpole"
Leave a Reply