Daily post 19 Jul 2006 07:55 am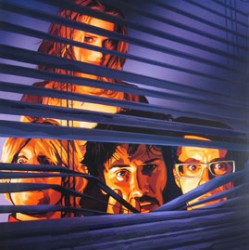 - Last night I saw A Scanner Darkly. I was impressed, and I have to somehow convey my thoughts about it.
- As an animator, I saw two films up there.
One is the film, the Richard Linklater film. It's a brilliant take on the novel: a well acted, tightly scripted, Orwellian, tour de force by a literate and intelligent person.
The second is a rotoscoped, computer-driven, 100 minute animated film.
One: This is a film that doesn't look like other films. It doesn't resemble Waking Life in that the story is driven in a direct and purposeful way. It is a tense good guy – bad guy – good guy drama with lots of twists and turns in a difficult story. There's tension throughout, as there would be in any police drama, but there is nothing obvious about this story. It's about drugs – an experimental, government-controlled drug. But, on a deeper level, the story is about duality. People are split in two – jobs vs home, tedium of life vs the reality of life, friends vs users, good vs bad vs grey.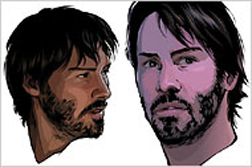 Everything works toward revealing that story: the acting is superb (acted for the rotoscope in a slightly more aggressive manner – more like theatrical acting than tradiitional film acting). Robert Downey Jr. has his mannerisms locked in; Woody Harrelson acts similarly to other pieces he's done (and comes off feeling more like a live-action person than an animated version of live-action person). Winona Ryder plays the role and is good at it. Keanu Reeves is a wonder. His acting gets better with each film as he reveals complications within his characters more through his eyes than through his oddly graceful movements. (There are tight closeups in this film that make you feel as though you could enter the character's sad eyes.) The three guys play a trio of housemates that really work off each other in dynamic ways as their characters jar with each other.
Linklater has decided to rotoscope this film rather than leave it as a live-action film. The reason is that theme of duality. People are not people are not animated people. They are what they are on the screen, and our brains have to accept that duality before we can move forward. We have to share that information lode before we can accept the people on the screen. It's the duality, we, as an audience, have to get past.
- Two: as an animator, I was always just a bit outside the film watching the technique – just as I was outside of Cars, or King Kong or Lady and the Tramp. The film is rotoscoped, but in a new sense; it's done by computer.
In NY, there's an ad on YES, the NYYankee network, for a show featuring two radio hosts, Mike and the Mad Dog. They are two radio jocks who sit at their desks, earphones on, and talk to their callers. The ad is a quick cutting rotoscoped version of them at their desks, screaming excitably about sports, as they do on their show. The rotoscoping is the kind we're used to seeing – badly traced off drawings, moving wildly about, almost out of registration. They're badly colored, photoshop drawings, with the coloring moving almost as much as the erratically drawn lines. It's the rotoscoping we're used to seeing in student animation.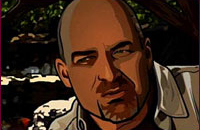 A Scanner Darkly is not that rotoscoping. In a way, it's not even the rotoscoping of those Charles Schwab ads. It's tight, much tighter than the old rotoscoping technique, but it's more translucent than the Schwab ads. (Pictured to the right)
The style's a bit hypnotic after awhile, you do have to step into it to get into this film. There is that constant motion, but it's very controlled here. You can easily get lost in the shading over the shading over the shading. There's an oddness on screen.
The old rotoscoping technique has no weight; characters always seem to be floating over their environs. Not here; these characters are just the opposite. I often felt that the heads of the characters had a weight I wasn't used to seeing in animation. And though the characters are anchored to the backgrounds, there are many times when the camera will move around them, and they lose that anchoring. As the camera shifts, so do the characters – but they shouldn't. It's just an odd part of the process.
There's a lot to talk about here, and I certainly don't understand how Bob Sabiston's process works. I just know that Richard Linklater uses it wisely. It is different in A Scanner Darkly than it was in Waking Life, and it's done for a reason.
The film is good; it's not great. However, it's an ADULT film, not one made for 14 year old boys. If you want to complain about the rotoscoping go see the predictable, juvenile Monster House or The Ant Bully. Richard Linklater is trying to push animation to an adult level. It may be rotoscoped, but it is animation, and it is grown up, and it's about time.
3 Responses to "A Scanner Darkly reading"
on 19 Jul 2006 at 9:57 pm 1.Galen Fott said …

I'm most interested here in your grouping "Lady and the Tramp" with "Cars" and "King Kong"! You seem to feel that's a film where awareness of the technique keeps you from fully immersing yourself in the world of the film…is that accurate? Care to elaborate?

on 20 Jul 2006 at 7:24 am 2.Michael said …

I'm saying that, in some sense, as an animator I am fully aware – always – that I am watching animation and aware of the craft involved. No matter how engrossed I am in "Snow White" or "Lady and the Tramp," I am conscious of the methods used to get the effect on the screen. Is it on one's or two's? Is that a peculiar walk cycle? Is it a cycle at all? Could the assisting of the eyes have been tighter?

Since I'm less knowledgeable of cgi effects, I'm more aware of bad film making techniques – cutting LS to CU; ignoring the MS; crossing the 180; one shot to three shot.

It's not only mistakes I'm aware of. In the "Incredibles," on my first viewing, I was aware of a small, unusual bit of acting on a character's part and found it delightful. If I hadn't been in the business, I wouldn't have noticed it (though I might have unconsciously felt it.)

on 29 Nov 2006 at 4:22 am 3.theresa said …

nice to see someone tooting keanu's horn for a change—I, personally think he's got a lot of talent and pretty easy on the eyes too.
One of my all time personal faves.
Leave a Reply