Commentary &SpornFilms &Theater 24 Jul 2006 08:57 am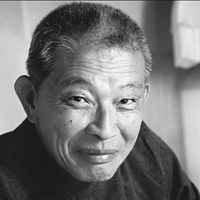 The actor, Mako, died Friday at the age of 72. He was a Japanese born American whose work I first came upon in Robert Wise's film, The Sandpebbles. This is the role that brought him a well deserved Oscar nomination for Best Supporting Actor.
In 1976, I saw Mako live in Stephen Sondheim's brilliant musical, Pacific Overtures. As the center of the show – the reciter, shogun, emperor and American businessman – his voice dominates the soundtrack record which I played over and over until it was virtually one long scratch. His lines ever in my head. Unfortunately, I can only hear them spoken in his voice – other readings of the lines don't work for me. It's not the same.
In the middle of the world we float,
In the middle of the sea.
The realities remain remote
In the middle of the sea.
When it came time for me to cast my version of The Nightingale, I sought out Mako's talent. We had shifted the Andersen story from China to Japan, and I got to play off some of those memories of Pacific Overtures. He was the consummate professional. He had just about memorized the script when he arrived; he recorded it quickly, and we parted. His voice is the strength behind my soundtrack.
Mako also was the voice of the Evil Sorcerer in Samurai Jack.
The NY Times obituary.
13 Responses to "Mako"
Leave a Reply