Art Art &Daily post 29 Jul 2006 07:34 am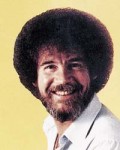 - For the Bob Ross fans out there who miss the afro-haired painting instructor's PBS program, a number of clips from the show have shown up on YouTube. Quiet entertainment for the internet on a rainy day.
When I was young, Jon Gnagy was the on-air art instructor. His paintings might have been a little better than Bob Ross', or maybe it's my memory that makes them better. Just like Bob Ross, Jon Gnagy had his own line of supplies, instruction manuals and kits designed to help the beginning artist.
The first thing I'd ever won was 3rd prize in a cub scout Halloween dress-up contest. (I was a robot.) The prize was a choice of whatever was left after winners 1 & 2 had chosen. Of course, I was the only one in the pack that wanted the Jon Gnagy kit, so that was my #1 prize. It contained a lot of newsprint paper, conte crayons, charcoal pencil, kneaded eraser and a book.
I'm not sure it helped very much. Rather than use up all the art supplies, I treated the kit with delicacy. To keep it away from my four other siblings, I hid the box of materials above a wardrobe in the basement. I pretty much forgot about it after that, and discovered years later that the supplies had withered under the heat of the pipe just over the wardrobe. The box lay against it, and all the newprint turned brown and dried out.
Needless to say, I knew I didn't need those chalks and paper to draw. I seemed always to be doing it anyway.
- The NY Times offers an audio slide show from the director of Monster House, Gil Kenan, about the development and creation of the house, itself.
11 Responses to "Bob Ross meet Jon Gnagy"
Leave a Reply