Animation Artifacts &Daily post 31 Jul 2006 09:41 am
Hans Perk has posted the drafts to Building A Building on his site, A Film LA. It brought an immediate memory back to me.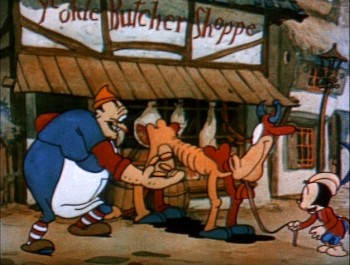 When I was 12 I got my first 8mm projector. This was before the days of dvd, before the days of vhs. I rigged the projector to project one frame at a time so I could study every frame of the films I was able to buy. Ub Iwerks' film, Jack and the Beanstalk was probably the first of the films I watched this way. One frame at a time. As a matter of fact, I traced the characters off the projected screen. (Little did I realize it was Grim Natwick's anima- tion that I was studying so ardently. He wasn't enormously impressed, years later, when I mentioned this to him in an interview. Regardless, his influence on me was strong.)
Building A Building was another of these I studied; it's a film I loved the second I saw it – even in that silent world of 8mm.
There were a lot of films I went through, but only a few I treasured (the 8mm library wasn't a great one.) I was a big Iwerks fan, and his films were accessible back then. Aladdin's Lamp, Sinbad the Sailor, and a Willie Whopper film; What Makes Daffy Duck gave me a real appreciation for Art Davis' direction; Little Lulu's Bored of Education gave me Bill Tytla's direction; a couple of Heckle & Jeckles offered the treat of Jim Tyer's animation.
It was a bric-a-brac animation education, but it colored my thoughts. My early influences became Bill Tytla, Grim Natwick, Art Davis and Jim Tyer. A feast for someone in love with animation and the graphic arts.
- Today any kid can watch anything they want. It's all available. After seeing Lady and the Tramp in 1955, I wasn't able to see it again till 1962. The same is true of all of those Disney classics – every 7 years, and that was it. Unless there was a Disneyland TV special compiling clips.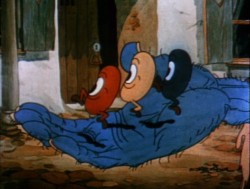 Today, any child can watch any of the features, then make frame grabs from the film. They can put a section up on YouTube if they want. It's a whole new world, and there seems to be less to see, somehow. Is it all appreciated? Does any of it get to be special?
I wonder if in being forced fed that "specialness" , I was made to appreciate something in any greater way. Does a child, today, desperate to go into animation, have the same influences? Are they better and greater since the film choices are so much better? I'd love to know if the overabundance of seed thrown by the wayside is equal to the paltry few doled out. I guess it's a question I can't answer.
- 4 animated features are currently in theaters. Here are the box office receipts for the past weekend:
Monster House grossed $11,500,000 with an average daily per-theater take of $1079.
The Ant Bully grossed $8,145,000 with an average daily per-theater take of $890.
Cars grossed $2,467,000 with an average daily per-theater take of $1500.
A Scanner Darkly grossed $454,000 with an average daily per-theater take of $1726.
Next weekend Barnyard enters the fray. My favorite figure is for A Scanner Darkly which makes the highest per screen average. Maybe some intelligent entrepeneur can try an adult animated feature with an other technique rather than rotoscoping. Imagine Waking Life with a drawn, not rotoscoped, style. (It wouldn't have worked with Scanner.)
5 Responses to "Building & Building"
Leave a Reply